Jackie Aina Is More Than A Makeup Mastermind. She's The Advocate The Beauty Community Needs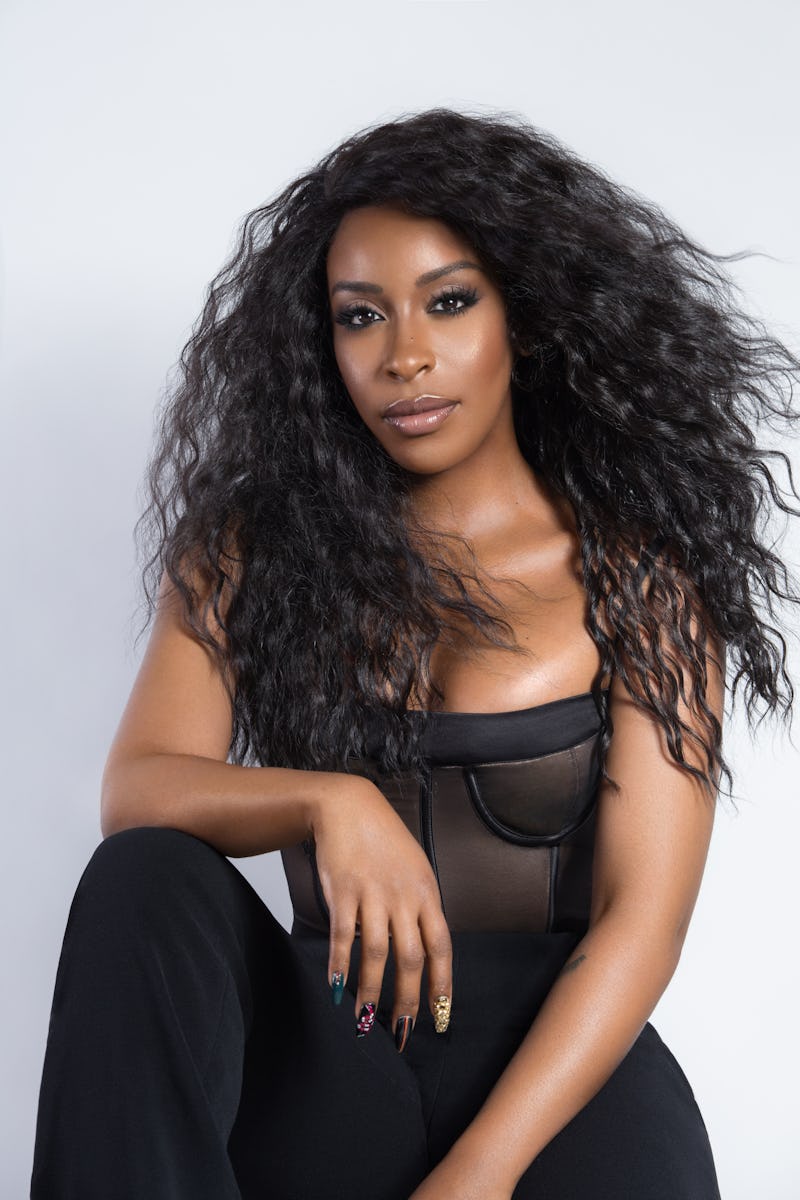 Courtesy of Too Faced
Jackie Aina is infectiously effervescent. One listen to her classic "Jackie" theme song, and it's hard not to fall hard in love with the beauty guru and inclusivity advocate. Now, in partnership with major cosmetics brand Too Faced, Aina is bringing together beauty and inclusivity, proving that makeup matters — and the messages brands send through their shade ranges and advertisement are important.
Too Faced and its founder, Jerrod Blandino, knew there were gaps in the brand's Born This Way foundation range. They wanted to fix that. With shades and undertones missing from its deeper range of color options, Too Faced executives decided to act — and they decided to do so in partnership with Aina, who has reviewed and used Too Faced products multiple times in the past.
For her 30th birthday in August of last year, the beauty blogger announced that she would be partnering with Too Faced to expand its Born This Way foundation line. In her announcement, Aina said the collaboration was a dream and explained the pair has been working tirelessly to "fill in the gaps."
The brand and guru are launching nine new foundation shades together — alongside two others not formulated by Aina. The new 11 shades will extend the Born This Way Foundation range to a full 35 color options.
But Aina wanted to make sure that her perspective wasn't the only one that went into the shade expansion. In her announcement video posted to her YouTube channel, the guru explained that not only did she reach out to her followers, but she reached out to other influencers of color as well to ask them what was missing from the industry, what they already liked, and what could be added.
"I think it's just important to realize that black women aren't a monolith," Aina tells Bustle. "We all come from so many different backgrounds and we also come in different shades and varieties, and what may be something that I'd be willing to overlook may not be the case for someone else."
Throughout her career, Aina has been an outspoken advocate for diversity and inclusivity within the beauty space. In 2017, she went home with the inaugural NAACP Influencer of the Year Award. Aina explains that her platform has been based on the idea of visibility, making her visible in a space that often overlooks women of color.
"It's been about making myself visible in a time where I wasn't and felt like we weren't," Aina says, referring to the black community.
Now, the beauty blogger is working in a new way with Too Faced to make women of color more visible with the shade expansion of Born This Way.
Of course, with any launch comes criticism. There are those who would target Too Faced as cashing in on the "Fenty Effect" and expanding its shade range as a marketing ploy. Aina, however, says she isn't buying it. She explains that her relationship with the brand goes back several years, well beyond the time she spent over the past year working on Born This Way. For her, the brand has established a pattern that shows a desire to diversify That desire comes from what she calls their "pro-people" attitude.
In fact, Aina tells Bustle that Too Faced actually reached out to her long before she hit 1 million followers on YouTube, a major marker of success for YouTubers and beauty vloggers that often comes with celebratory posts. The brand explained that they wanted dark swatches for their website so deeper complected women could see shades of Too Faced lipsticks on models with similar skin tones. Aina was that model. The brand sent her every shade of lipstick, and she became Too Faced's swatch model.
"It was just things like that that really made me feel like they're really trying to diversify and really trying to reach out and be more and more visible and available to everyone," Aina says of Too Faced. "That was three years ago, so you can't say that was a response to anything, you know?"
Too Faced's desire to help make people of color seen and heard in the beauty community is a value that Aina and the brand share. Bringing in a black woman to assist a brand in a shade expansion carves out a space that is typically unfilled for women of color. For the beauty guru, filling these spaces means telling women of color's own stories.
"Brands will maybe get backlash for doing certain campaigns that maybe didn't resonate with women of color too nicely," Aina says. "You can avoid instances like that by giving us a seat at the table to make sure we are visible behind the scenes and making sure that everyone is represented fairly. I think if anything it just speaks to being represented fairly and we can't do that if someone else is writing the story for us."
Now that Aina has a major brand collaboration under her mightly impressive belt, what's next for the beauty star? According to her announcement video, it could be her own line. That's just a maybe, though, and far into the future.
"That's definitely like a passion of mine," Aina says. "It wasn't always at one point, but I think that because of where I am now, I definitely have grown to realize that now I get where the gaps are in the industry, and how I feel like I can add to that. It's definitely something that I want to do, and that I'm actively making some way for."
While it may be a while before subscribers and fans see Jackie Aina Cosmetics, what they can expect from the guru is a continued mission of inclusivity and more bubbly, humor-filled videos. The guru, who has been on YouTube since 2009, doesn't seem to be slowing down any time soon and with voices like her within the beauty space, the industry is only looking brighter.