JT Performed The Same Song That Got Janet Jackson Banned In 2004 & Twitter Is So Annoyed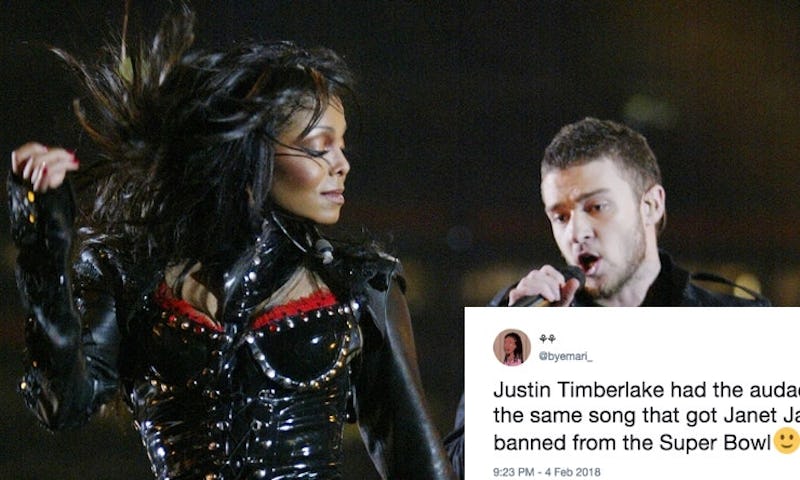 Frank Micelotta/Getty Images Entertainment/Getty Images; byemari_/Twitter
While everyone may have a different reason for tuning in, those who were most excited about Justin Timberlake's Super Bowl halftime show likely had their eyes peeled for one specific moment. No, not a potential *NSYNC reunion, or that rumored Prince hologram. Instead, fans wondered if Janet Jackson would be included in Timberlake's performance in any capacity. Suffice to say, that didn't quite happen. Making the situation all the more frustrating, Timberlake sang the same song he performed with Jackson years ago — but without her there this time. And no, fans were not OK with this (even if it was most likely a coincidence).
As a quick rewind, Timberlake and Jackson performed together at the 2004 halftime show — leading to the "wardrobe malfunction" that may be best known as Nipplegate. In a moment causing jaws to drop across America, Timberlake tugged at Jackson's top during the song "Rock Your Body" and accidentally exposed her breast to viewers everywhere. While her publicist later explained the move was intended to reveal a red lace bra, the garment "collapsed" by accident.
At the time, Jackson released an apology, stating, "The decision to have a costume reveal at the end of my halftime show performance was made after final rehearsals. MTV was completely unaware of it. It was not my intention that it go as far as it did. I apologize to anyone offended." After being uninvited from presenting at that year's Grammys, the impact on Jackson's career seemed far worse than any repercussions Timberlake faced. He even joked about it at the Grammy ceremony that year, according to Newsweek. He said at the time, "Listen, I know it's been a rough week on everybody. What occurred was unintentional, completely regrettable, and I apologize if you guys were offended."
It wasn't until a few years later that Timberlake addressed the debacle fully, telling MTV in 2007:
"In my honest opinion now ... I could've handled it better. I'm part of a community that consider themselves artists. And if there was something I could have done in her defense that was more than I realized then, I would have. But the other half of me was like, "Wow. We still haven't found the weapons of mass destruction and everybody cares about this!" ... I probably got 10 percent of the blame, and that says something about society. I think that America's harsher on women. And I think that America is, you know, unfairly harsh on ethnic people."
He brought it up again this year, telling Beats 1 that he "stumbled through it" — which feels like a bit of an understatement. Per E! News, Timberlake's full comments were:
"Yeah and I stumbled through it, to be quite honest, I had my wires crossed. And it's just something that you have to look back on and go, like, 'OK, well, you know, you can't change what's happened but you can move forward and learn from it.'"
And it's why all eyes were on the Man of the Woods singer to see if he finally gave her the spotlight she so rightfully deserved — without any public humiliation.
While you could say that Timberlake warned everyone there would be no Jackson cameo ahead of time, that doesn't make it less disappointing. According to People, he was asked at a pre-game press conference if he'd have any special guests and said,
"Well … no. To be honest, I had a ton of grand ideas about special guests. There's a whole list. I think Vegas has a lot of odds on it, from *NSYNC to Jay [JAY-Z] to Chris Stapleton to Janet."
At the time, he'd said he wanted to shine the light on his band called the Tennessee Kids, according to People. Timberlake added, "I feel like they're my special guests and I'm excited to rock the stage."
Even Jackson tweeted that she wouldn't attend beforehand. The singer wrote on Saturday, "To put to rest any speculation or rumors as to whether I will be performing at the Super Bowl tomorrow; I will not. Thank you for your support and I do look forward to seeing you all very soon."
Still, it's frustrating that he gets to re-take the stage, while her career gets pushed to the backburner. Of course, a few minutes during JT's spot wouldn't totally erase the past, but it could've been a solid step forward in righting this wrong. And fans on Twitter made that clear that him performing the very song that impacted her career was not cool, intentional or not.
Who knows, maybe the Super Bowl will give her the whole halftime show next year to make up for it. Highly unlikely, but again, more wild things have happened. Still, this accidental song connection from the '04 show definitely was not the Jackson reference fans were rooting for.