January Jones & Nick Viall Have Been Leaving Dating Clues All Over Instagram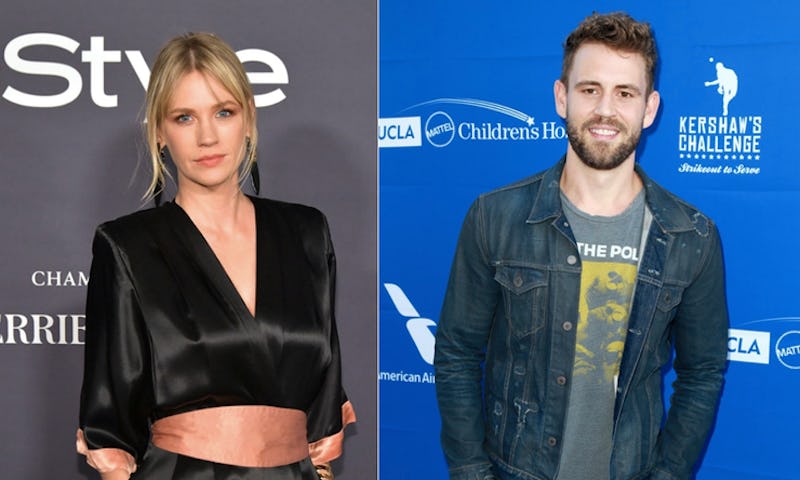 Getty Images
Just as Bachelor fans are reeling from the news that Nick Viall and January Jones are reportedly dating, it turns out that we all should have seen this coming a long time ago. Viall and Jones have been communicating on Instagram for a couple of months — the same amount of time their relationship has been reportedly going on for — so this union was actually right under their followers' noses the whole time.
On Monday, Page Six was the first to report Viall and Jones were a couple, writing that after the Mad Men star turned down his invitation to join him on Lip Sync Battle, they started spending time together. So far, no photographic evidence of them dating exists, and neither of them have confirmed or denied the report yet. (Bustle has reached out to reps for Viall and Jones for comment, but did not receive a response at the time of publication.)
To many fans, this news seemed pretty shocking. After all, The Bachelor universe tends to exist in its own bubble, and dating between former contestants is par for the course. It's not often that world crosses over into the rest of Hollywood... except in the case of Wells Adams and Sarah Hyland, and now, Jones and Viall. And now that the news is out, it seems there were clues there all along — and outside of Jones commenting on Viall on The Late Late Show. As it turns out, after speaking about Viall with host James Corden, the reality star and actor starting following and interacting with each other on social media.
Exhibit A: Back in December, Viall shared this photo on Instagram, noting in his caption that his Zack Morris on Saved By The Bell style was purely a coincidence:
To which Jones responded:
And then, there this was this post from Viall, where he showed off his Golden Globes look:
Jones commented:
An eye roll and a heart. Doesn't that just sum up every Bachelor fan's feelings about Viall? Welcome, January. You'll fit right in around here.
And that's not all, either. Viall has been all over Jones' Instagram, as well, and shared a sweet "RIP" comment when her dog, Maxi, passed away last week. That's definitely something that someone you're dating would do — if he's worth your time, anyway.
And then, there's the matter of the two of them clicking "like" on practically everything the other one posts, which is also very important. Of course, all of these likes and comments could easily be construed as friendly, but in this case, it seems like they were hinting that something more was going on between them, long before anyone suspected that they might be in a romantic relationship. How did we all miss it?
After two rounds on The Bachelorette, a summer on Bachelor in Paradise and a stint as the actual Bachelor, it seems impossible that Viall has found love with someone outside of the famed Bachelor mansion. Hopefully, Chris Harrison doesn't feel too left out that he wasn't part of this connection like he was when Viall has fallen in love in the past.
And other than wondering whether or not they're actually dating, the big question right now is this: Will Viall ever send Jones roses or is that particular flower attached to too many bad memories for him? Can we expect, at the very least, a rose emoji in the comments of one of her upcoming Instagram posts?
Now that fans know to look out for Viall and Jones' interactions online, does that mean there are more clues in our future? Or maybe it means that now that they've been found out, they'll stop interacting with each other's posts entirely. Either way, an official statement confirming or denying this relationship better be on the way. The curiosity is so real right now.