'Vanderpump Rules' Stars Jax & Brittany Have Already Started Planning Their Wedding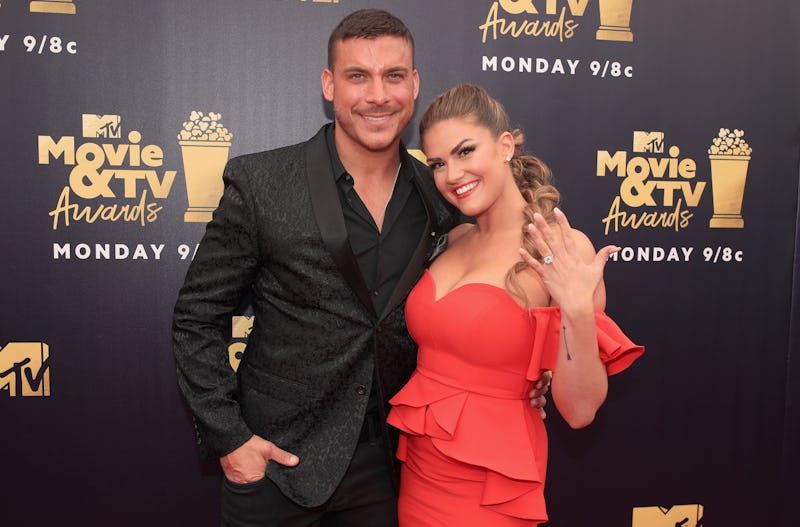 Christopher Polk/Getty Images Entertainment/Getty Images
Once upon a time, Jax Taylor was very open about not being the marrying type. Now the (hopefully) reformed Lothario of Vanderpump Rules is not only the marrying type, but happens to be the very-eager-to-get-married type. On Monday, June 25, Jax tweeted that he's working on his wedding guest list. He and fiancée Brittany Cartwright sure are getting that ball rolling; there isn't any Sexy Unique Procrastination going on over at the Cartwright-Taylor household.
Monday evening, Jax wrote,
"About to start a guest list for the wedding while watching #staircase on @netflix thoughts on this???"
Does he want to know if fans have thoughts on The Staircase, thoughts on coming up with a wedding guest list, or thoughts on coming up with a wedding guest list while watching a true crime docuseries about a murder? Because this fan right here *points at own face with a Sexy Unique Thumb* sure has some thoughts on Jax and Brittany putting their wedding guest list together already.
And no, that "already" is not a bad "already." It is an impressed "already." It is an oh-wow-you-guys-are-good-about-getting-stuff-handled-and-not-putting-off-daunting-tasks-for-as-long-as-possible "already." Finalizing the guest list can be one of the more time-consuming and emotionally taxing parts of planning a wedding, and hats off to Jaxany for getting it out of the way, like, immediately.
Jax and Brittany have been together since May 2015, and their relationship has not been without its complications. On Season 6 of Pump Rules, the couple dealt with the fallout from a cheating scandal, and by the finale, they were broken up. When it came time to film the reunion, they were back together: Jax said he has changed for the better and for good, Brittany said she senses his change is sincere, at least as far as she's concerned.
On June 7, Jax popped the question to Brittany at Neptune's Net in Malibu. A few hours after she said "yes," Brittany wrote on Instagram,
"Omg omg!!!!!!!! We are ENGAGED! What a way to start our summer and season 7!! I am so happy, so in love, and so beyond excited for this next chapter of our lives! I can't wait for all of you to see how he proposed! I am the happiest girl ever right now. love can win."
Jax confirmed on Twitter that he and Brittany plan on tying the knot in Kentucky, Brittany's home state. He did not say when the big day would take place. However, he did assure his Twitter followers that Taco Bell, Hooters, and KFC would all be part of this wedding process in one way or another, and uh, that feels like a crucial piece of information.
It sounds like the wedding guest list, the wedding event food options, and the wedding time zone may not be the only things Brittany and Jax have figured out. Last Wednesday, RadarOnline reported that Brittany might've already picked out her bridesmaids. A source claimed to RadarOnline that the future Mrs. Jason Cauchi's bridal party will include Brittany's co-stars and real-life pals Scheana Shay, Katie Maloney, Stassi Schroeder, Kristen Doute, and Ariana Madix.
If this is indeed the case, that means the woman Jax called "Divorce-o," the woman whose relationship has ended up in Jax's crosshairs multiple times, the woman who dated (and was reportedly cheated on by) Jax for several years, the woman who "watched" Drive with Jax, and the woman whose boyfriend once got into a fistfight with Jax at SUR would all be part of Jax and Brittany's wedding party.
Wow. The healing power of time cannot be overstated. What a world, what a show, what a cast, and what a friend group.