Jenna Johnson & Grocery Store Joe's First 'DWTS' Meeting Will Delight 'Bachelor' Fans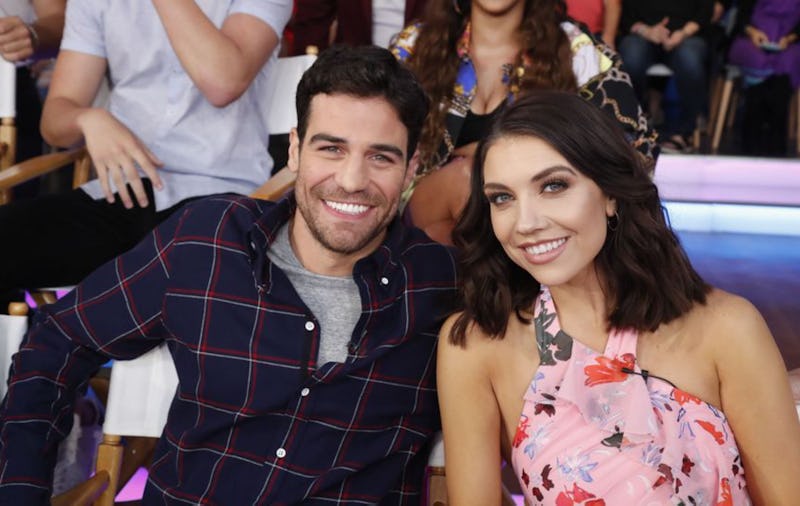 Lou Rocco/ABC
When Chris Harrison announced Bachelor in Paradise contestant Joe Amabile would be on Dancing With the Stars Season 27, waves of joy rippled through Bachelor Nation. And when Jenna Johnson found out Grocery Store Joe would be her next DWTS partner, waves of joy rippled through the rehearsal studio. And we know this because this moment was caught on camera.
On Monday, People shared a video of Jenna screaming as Grocery Store Joe walks through the dance studio doors, and duh, it's great. She cannot believe she, a fan of The Bachelor franchise, has been partnered with the breakout star of The Bachelorette Season 14. And duh, she is thrilled. Grocery Store Joe suggests she put a pin in her excitement, adding, "I don't know how to dance."
Jenna doesn't seem fazed by his lack of dance training. Rather, she's worried her totally understandable reaction to the situation was too much. (It was not too much.) In a talking head, the dance pro says, "I'm so embarrassed because I just fan-girled so hard, and he doesn't even know who I am."
After they hug hello, the DWTS star tells Grocery Store Joe she is "such a fan." Grocery Store Joe gives her one of his Grocery Store Joe grins and tells her it's "going to be really bad" and tells her, yet again, that he does not know how to dance.
The guy who stole America's heart after a short but sweet appearance on Becca Kufrin's season of The Bachelorette is an expert when it comes to picking out produce, but as far as picking up choreography goes? That is a different story. As he explained to Us Weekly at the Bachelor in Paradise Season 5 finale taping,
"I'm going to start doing some yoga. I'm very nervous. I don't know how to dance … like, I don't know how to dance at all. So, it's exciting!"
Lucky for Grocery Store Joe, reigning DWTS champion and So You Think You Can Dance all-star Jenna Johnson will take him under her wing. As out of his element as he may be, it sounds like Grocery Store Joe is going for the Golden Delicious apple, er, the gold.
Whether or not they win, hey, at least they're having a good time. The day after Bachelor Nation learned Grocery Store Joe joined DWTS, he explained to Us Weekly,
"We're having a lot of fun. We're having fun with and I just gotta, you know, do my best."
And his dance partner sure seems impressed by the progress he's made so far. As Jenna expressed to People earlier this month,
"He's never danced before, but he's getting better and better everyday. I'm super proud and I can't wait to show everyone what we've been working on!"
And Bachelor Nation can't wait to see Grocery Store Joe hit the dance flo— wait. In another DWTS video, Grocery Store Joe revealed that he does not own a grocery store anymore. So… do we call him Joe the Former Grocer now? Aspiring Ballroom King Joe? Joe No Grosh?
Oh, what do you know? Joe's already got this covered. In the latest behind-the-scenes DWTS video, the Bachelorette alum offers up a suggestion: Dancing Joe. Well, there it is. Out with the Grocery Store Joe, in with the Dancing Joe.