This Video Of Jennifer Lawrence Laughing At Emma Stone At The Oscars Is ICONIC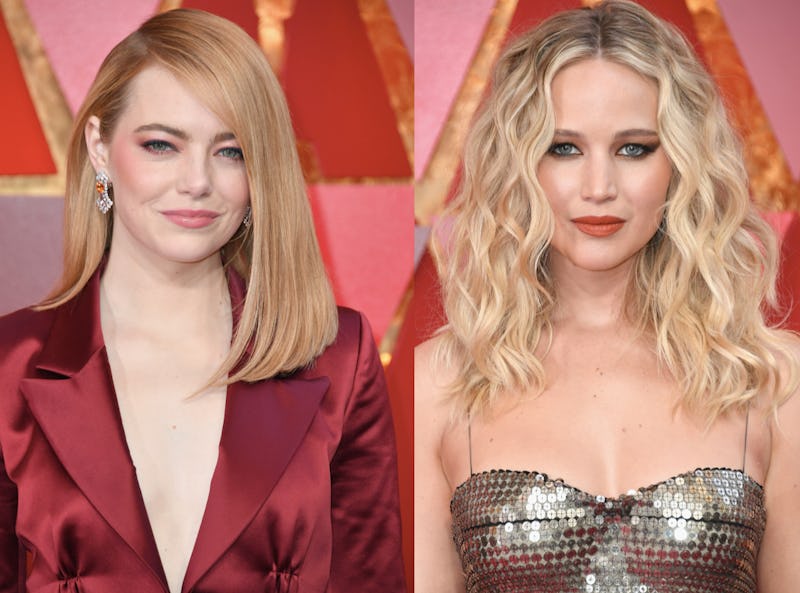 Neilson Barnard/Getty Images Entertainment/Getty Images; Neilson Barnard/Getty Images Entertainment/Getty Images
When Jimmy Kimmel took the stage for his 2018 Oscars monologue, it was expected he'd reference last year's #Envelopegate. And when he did, Jennifer Lawrence laughed at Emma Stone, as pointed out by TV Guide on Twitter, in a moment that will remind you of your own BFF. As you'll recall, Stone starred in La La Land, which was mistakenly announced as the Best Picture winner last year, and she stood on stage with her fellow cast members as they realized what was really happening. Moonlight ultimately took home the well-deserved trophy, but to call the scenario "awkward" is an understatement.
Kimmel hosted the ceremony last year too, so of course, him referencing the moment was inevitable. He joked to the crowd on Sunday, March 4:
"When you hear your name called, don't get up right away. Just give us a minute."
In the clip, Lawrence literally points right in Stone's face and lets out a giant laugh. Stone took the moment like a champ, slightly gritting her teeth and smiling through it. But still, J. Law continues her reign as one of the most relatable stars in Hollywood, who isn't afraid to laugh at her pal's expense. Because really, what better way to get through an uncomfortable moment like that than to shrug it off with a sense of humor? Plus, true friends never really let you forget a blunder like that.
Fans weren't oblivious to this iconic show of friendship. Twitter weighed in on Lawrence's BFF moment, even if chances are, she probably didn't expect it to get captured and show up on Twitter later on.
As the fan below points out, we all have that friend, who isn't afraid to be a bit of a jerk (but with lots of love behind their teasing, of course).
Someone even deemed it the "GIF of 2018," and considering we're only a few months into the new year, that may be a bold statement — but it doesn't seem the least bit inaccurate. It's applicable for so. many. scenarios.
Not only are Stone and Lawrence hilarious friends, but they're also both talented actors, who have both taken home the Best Actress award at previous Oscars ceremonies. It was just last year (yes, the same year as the aforementioned movie mix-up) that Stone won Best Actress for her role in La La Land, and in 2013, Lawrence took home the trophy for Silver Linings Playbook. So, no matter how awkward the whole 2017 Best Picture snafu was, at least Stone didn't go home empty-handed.
Since they are both former Academy Award winners, wouldn't it be too perfect if the pair teamed up to host next year's ceremony? As proven when Tina Fey and Amy Poehler were Golden Globes hosts together on multiple occasions, a duo of funny women tends to be the best possible option to host an award ceremony. And since Kimmel took the Oscars stage two years in a row, he probably wouldn't mind giving J. Law and Stone a shot.
Seriously, fans couldn't get enough of their dynamic. And it's just further proof they need their own hosting gig ASAP.
Besides her bond with Stone, Lawrence is no stranger to famous friendships. She recently made headlines for not hiding her obsession with the Kardashian family, and even interviewed Kim Kardashian on an episode of Kimmel's show last November. She asked all the hard questions, but also reminisced about moments she's shared with another one of her celeb pals — Kardashian's momager Kris Jenner.
J. Law is also known for being one of Amy Schumer's best pals, appearing at the comedian's recent wedding. They posed for photos together, including taking over the dance floor.
So, whether she's at weddings, award shows, or on late night talk shows, Lawrence is that friend who's always cracking jokes and having a blast. And her memorable Oscar moment with Stone only makes that even more clear.