Here's Why Jennifer Lopez & Alex Rodriguez Prefer To Keep Their Private Life Public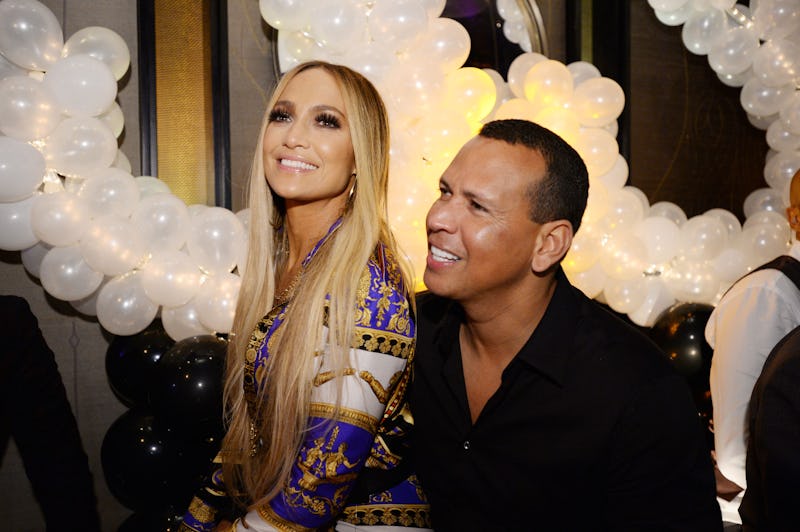 Andrew Toth/Getty Images Entertainment/Getty Images
When it comes to celebrity romances, some couples prefer to keep their personal lives private. Then there's these two, who pretty much prefer to do the exact opposite. Jennifer Lopez and Alex Rodriguez keep their relationship public — very public — not only when they're out and about, but across social media channels, too. They lay it all out there for a reason, though, according to a new interview Lopez did with the New York Times — and it actually makes a lot of sense.
J. Lo and A-Rod — whose widely-used nicknames are uncannily similar in nature — have been dating for a little more than a year and a half. If you're just now hearing this news, well ... is this your first day on the internet?
The fact that Lopez and Rodriguez are an item isn't just fodder for fans of pop culture. The pair have purposefully made their relationship well-known. Whether they're posting romantic snaps up on their respective Instagram pages, opening up about their love in interviews, or proudly taking pictures of each other on the sidelines, they're pretty much shouting it from the rooftops.
Putting their romance on blast allows them "a chance to have a direct-to-consumer control of your narrative," Rodriguez told the Times. Huh. That's actually a super fascinating way to think about it. Very business-minded, very reasonable, and totally makes sense for two world-renowned stars.
Lopez and Rodriguez first got together around February 2017. In May, they made their relationship red carpet official at the Met Gala, and by December, the couple had landed their very own Vanity Fair cover. It was't just a cover, though — they gave the publication a candid joint interview, and let famed photographer Mario Testino take pictures of them in their skivvies.
Shortly after the duo celebrated their one-year anniversary, Lopez explained to Harper's Bazaar why she and Rodriguez are such a good fit. "It's good, it's healthy; we communicate well," she told the publication.
The pop star continued,
"We understand each other's lives in a way that most other people couldn't. We both entered the public eye in our early 20s and overachieved right from the start. And that affects every dynamic in your life, from your family to your work to your relationships. We have a similar makeup."
Again, that totally makes sense. These two are just like, the most reasonable. So mature, so grown-up, so very relationship #goals.
But what's more important is that they make each other better. Benny Medina, Lopez's long-time friend and business associate, revealed to the Times that, "[with Rodriguez, Lopez's] personal confidence and comfort level has risen to a high that I've never seen before. We're experiencing a new version of Jennifer Lopez."
OK, now that is relationship #goals right there. Finding someone that makes you more confident, more comfortable, the best you that you can be. Lopez and Rodriguez truly seem like they're a perfect fit, and they're totally cool letting the whole world know it.