J. Lo Reveals That She Was Sexually Harassed During One Of Her Earliest Films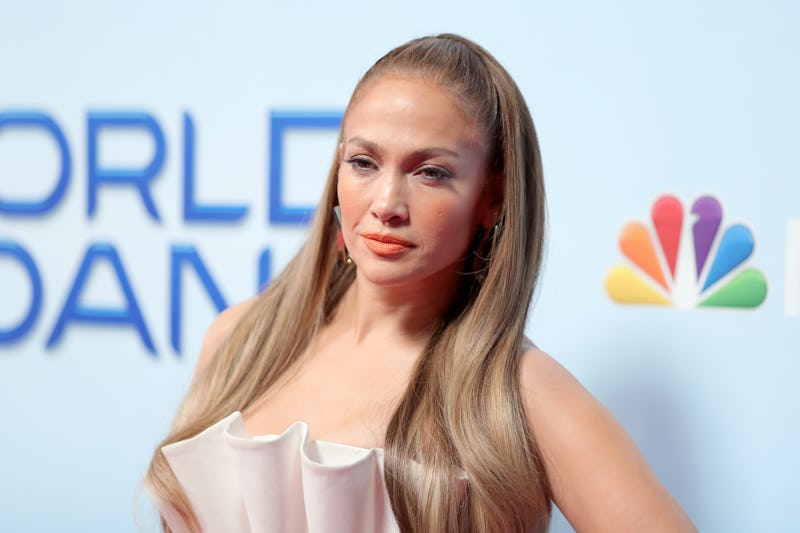 Neilson Barnard/Getty Images Entertainment/Getty Images
The Time's Up and #MeToo movements in Hollywood are leading the conversation these days, and, in support of both, Jennifer Lopez has shared her sexual harassment story — though the singer says many women have had it worse than she did. Sexual abuse in the workplace an issue that has been ongoing within, and outside of, the entertainment industry. Time's Up and #MeToo mark a call to action properly ignited by silence breakers like Ashley Judd, Salma Hayek, and more, who spoke out against their alleged abusers and who stand up against these injustices against women. Lopez is the latest celeb to share her story, and the situation she describes is one that, sadly, sounds all too familiar.
During a recent interview with Harper's Bazaar, the singer explained,
"I haven't been abused in the way some women have. But have I been told by a director to take off my shirt and show my boobs? Yes, I have. But did I do it? No, I did not."
Even though she revealed that she ultimately decided to speak out against the misconduct, Lopez explained just how horrifying it was to be forced to make a decision that could have potentially affected her then-budding film career forever.
She continued,
"When I did speak up, I was terrified. I remember my heart beating out of my chest, thinking, 'What did I do? This man is hiring me!' It was one of my first movies. But in my mind I knew the behavior wasn't right. It could have gone either way for me. But I think ultimately the Bronx in me was like, 'Nah, we're not having it.'"
This is the first time that Lopez has shared the story of her abuse with the world, but the topic of sexual harassment in general is one that the Shades of Blue actor has spoken out about in the past.
Even though she was unable to attend the Golden Globe Awards ceremony earlier this year because she was working to help Puerto Ricans still affected by last year's devastating hurricane, Lopez wore all black in a show of solidarity with the women who have joined forces to create change in the industry. The "Love Don't Cost A Thing" singer became choked up with emotion as she addressed the media about the issue:
"You know, today is the Golden Globes in Los Angeles, and a lot of the women, with #TimesUp, are standing up for equality, to be treated equally, and for sexual harassment. I stand here in black doing the same from far away. It's the same with here in Puerto Rico, we want to be treated equally."
Although the 48-year-old entertainer says that she hasn't been abused in the way some women in Hollywood have, any level of sexual harassment should never be tolerated.
In telling her story to Harper's Bazaar, Lopez joins the long list of women in Hollywood who have come forth to share their harrowing tales of abuse. This list includes Rose McGowan, Jennifer Lawrence, Björk, Mira Sorvino, America Ferrera, Reese Witherspoon, Gwyneth Paltrow, Angelina Jolie, Rosanna Arquette, Angie Everhart, Cara Delevingne, Heather Graham, Ashley Judd, Gwyneth Paltrow, Amber Tamblyn, and many, many more.
While sexual abuse is not unheard of for women in any career industry, it's of the utmost importance that women like Lopez continue to share their stories and stand up for change. Not only does it ensure that those suffering in silence know that they aren't alone in these experiences — not to mention help give them the tools they need to protect themselves if and when they can — but perhaps future generations will not be forced to endure anymore of this type of abuse.
If you or someone you know has been sexually assaulted, call the National Sexual Assault Telephone Hotline at 800-656-HOPE (4673) or visit online.rainn.org.