Attention, 'Jersey Shore' Fans: Mike "The Situation" Sorrentino Revealed His Wedding Date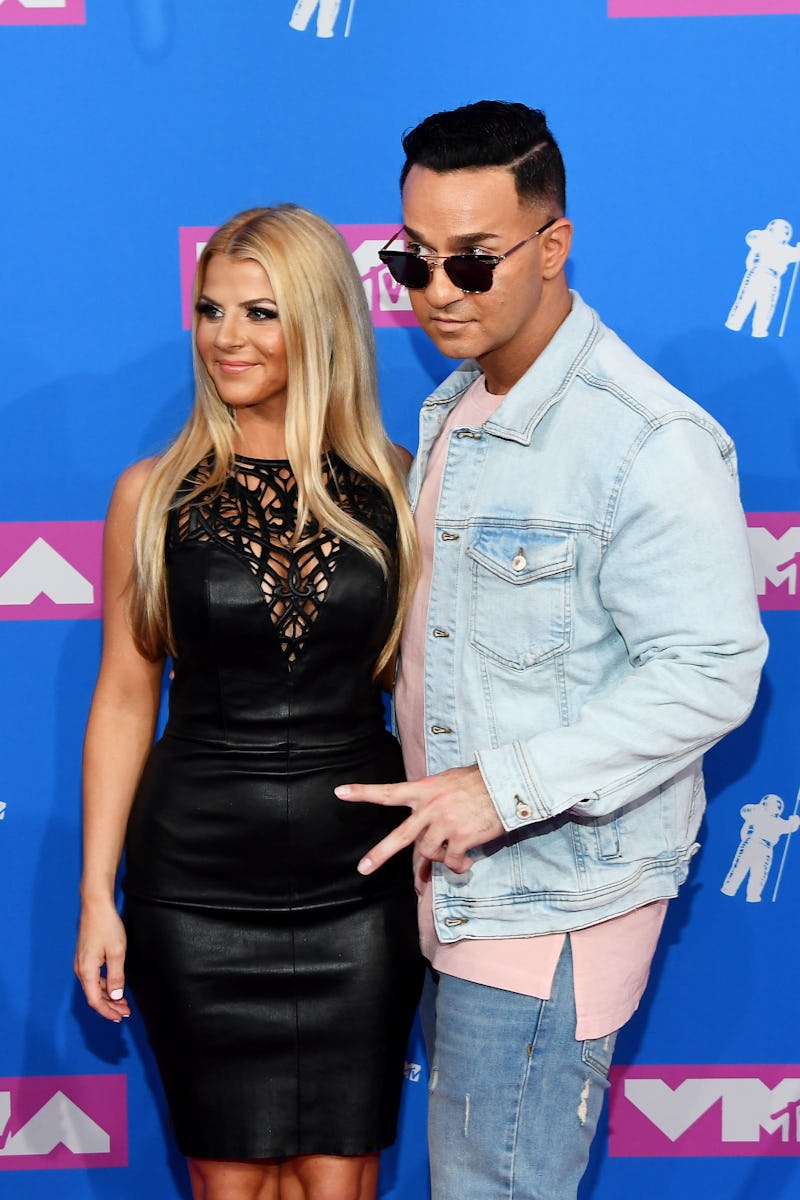 Nicholas Hunt/Getty Images Entertainment/Getty Images
Oh, yeah. A Jersey Shore cast member is getting hitched, yeah. Mike "The Situation" Sorrentino's wedding date has been set, yeah. Sorrentino has announced when he and Lauren Pesce will get married — and yes, just as promised, they will walk down the aisle at the beginning of next month. Like, at the very beginning. In a post that went up on Instagram on Friday, the Jersey Shore star shared that he and his fiancée will tie the knot on Thursday, Nov. 1. The couple will wed before Sorrentino serves his eight month jail sentence for tax evasion.
Sorrentino wrote on IG,
"#Thehitchuation is happening November 1st, 2018. I will be marrying @lauren_pesce My rock , my best friend, my better half & my soul mate . You are my everything & I am so excited to call you Mrs Situation #gymtanlaurens"
Well, there it is. The best wedding hashtag of all time has happened. "The Hitchuation" is unstoppable and anyone who believes otherwise needs a Paul "DJ Pauly D" DelVecchio-style wake-up call.
Sorrentino proposed to Pesce on Feb. 14 while the Jersey Shore cast was down in Miami filming the first season of Family Vacation, and they announced their engagement on April 26. In a statement provided to Us Weekly, the Situation said,
"I have always dreamed of proposing on Jersey Shore, the show that introduced me to the world. I'm currently living the dream and proposed to my college sweetheart, Lauren Pesce, amongst my best friends on the biggest reality show in the country. We are so proud and excited to share this chapter of our story with the world."
This chapter is about to get even more official: On Nov. 1, it'll be wedding shirt tiiiiiiiiiime.
But for now, it's wedding gift tiiiiiiiime. As People pointed out this week, Sorrentino and Pesce's wedding registry is totally public. The future Mr. and Mrs. Situation are registered at Crate and Barrel, and there are a bunch of items that still haven't been scooped up. So, if you've ever dreamed of sending the Situation a strawberry huller, a set of espresso spoons, or a marble tic-tac-toe set, now is your chance to make it a reality.
And now for what may be the most important question: On the day of their nuptials, will Sorrentino and Pesce have themselves a Situa-Funfetti?
Will there be a Funfetti wedding cake?
It seems… like something that might actually happen. As Sitch told Entertainment Tonight back in June, he and Pesce were seriously considering making Funfetti a part of their big day. He told ET,
"But so far the best thing [about wedding planning] has been the cake testing. We're thinking about having two cakes. One for the wedding and one Funfetti cake for the groom."
If there is indeed a Funfetti cake at the wedding, may Angelina Pivarnick come nowhere near it. The thought of her desecrating yet another one of the Situation's precious Funfetti cakes is too much to bear.