Here's What Jessica Szohr Had To Say About The Allegations Against Her Ex Ed Westwick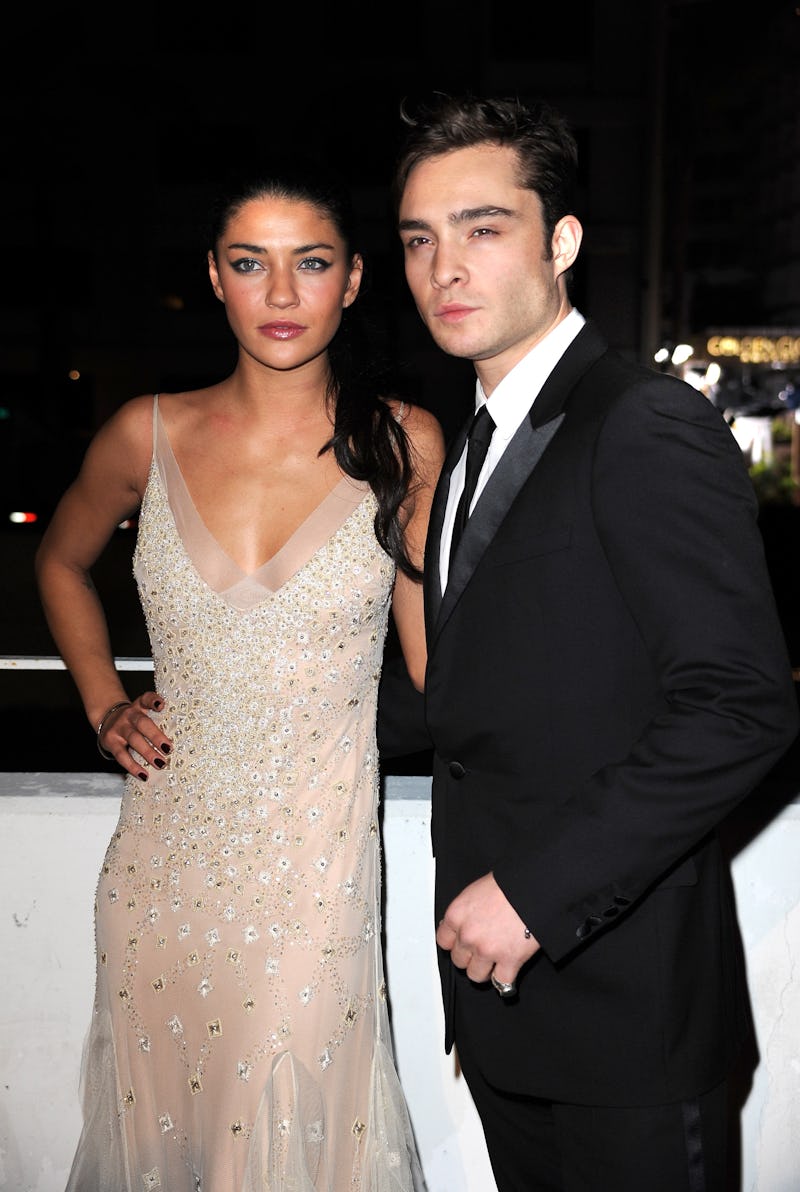 Frazer Harrison/Getty Images Entertainment/Getty Images
In an interview with Cosmopolitan published Wednesday, Jessica Szohr responded to the Ed Westwick rape allegations. (Westwick has already denied the allegations.) Not only did the two star together in Gossip Girl, but they also dated in real life for reportedly around two years. They have a close relationship, which is something Szohr makes clear in her lengthy statement.
After being asked what it's been like for her to hear the allegations about Westwick, she said, "It's a difficult subject right now for anyone that's involved on either side … I don't even really know how to answer it, if I should, because I don't want anything to get twisted, because I have known Ed for years and know how lovely he is, and don't think he would ever put someone in a position like that."
She continued, "It's difficult, because you don't want someone you know to go through that or do that to someone, or knowing them well, knowing that you don't think they would, and you don't want, for the girls that are coming forward, it's like, are they stretching the truth?" The Shameless actor went onto say that not only is it "a touchy, tough" subject, but she, "[prays] it's not true".
Szohr also explained that she's happy women are coming forward with the claims they have against men. However, she also said, "But I also think it's a touchy, crazy thing too, because some people are going into these different situations and they're not coming out true. So it's like, well, why are people making it up, because that takes away from the girls that are going through it." The 32-year-old actor also added, "So, I'm really trying to answer this as open and nicely as I can, because it is touchy, and I obviously for any of these situations, wasn't there, for either side, so I can't say it did or didn't happen."
For Szohr, personally, this is a difficult situation, especially since she's known Westwick "for years" and knows him "well." As she said, she was "shocked" when she heard the allegations made about him. "And I hope that it's untrue, but I also feel bad for anyone that's been in that situation, for the women that have to deal with that, for the situations that are true," she said.
As for whether or not she believes the allegations made against Westwick, Szohr said she personally "can't see him doing that to someone," but she also reiterated that she wasn't present during any of the alleged incidents, so she can't say either way. She added, "But if you're asking me, 'Do I think he would do that to someone?' No, I don't. But was I there? No."
Three women have alleged Westwick sexually assaulted them all at different points in 2014. The first accuser, Kristina Cohen, came forward on Facebook on Nov. 7 with her accusations of rape against the actor. Soon after, Westwick denied her claims on Twitter by posting, "I do not know this woman. I have never forced myself in any manner, on any woman. I certainly have never committed rape." On Nov. 7, the LAPD confirmed to Bustle that Cohen had filed a police report against Westwick, where she alleged sexual assault. The investigation is currently ongoing.
On Nov. 9, former actor, Aurélie Wynn alleged the actor had also raped her. Westwick also responded to Wynn's allegations on Twitter. He denied her claims calling them "unverified and provably untrue social media claims." (You can read his entire response below.)
On Nov. 14, a third woman, Rachel Eck, came forward accusing Westwick of sexual assault, including allegedly groping her breasts. Westwick did not respond on Twitter or elsewhere to her claim. Bustle reached out to Westwick's lawyer for comment regarding all of the allegations made by the three women, but has yet to receive a response.
Following the allegations, two of Westwick's BBC series', Ordeal of Innocence and White Gold, were affected. The former will not air as originally scheduled, whereas the latter's filming was interrupted. The BBC said in a statement given to Variety on Nov. 10:
These are serious allegations which Ed Westwick has strenuously denied. The BBC is not making any judgement but until these matters are resolved we will not include Ordeal by Innocence in the schedules. The independent production company making White Gold has informed us that Ed Westwick has paused from filming while he deals with these allegations.
Szohr revealed to Cosmo that she has spoken to Westwick since the allegations against him were made public. She briefly reflected on the conversation they had and said, "he's going through a difficult time." She also said he told her the following: "The truth will come out and hopefully people see that and hopefully that's it." Szohr added, "I don't know those girls at all, and they could be lovely and awesome and all that. From the Ed I know and working with him for five years and having a friendship through all of that and after, it was shocking. It was shocking."
It seems Szohr is trying to be careful in how she responds to the situation involving Westwick. She appears to be walking the line of defending him and believing his accusers. It's definitely, as she made clear in her interview, a "tough" situation.
If you or someone you know has been sexually assaulted, call the National Sexual Assault Telephone Hotline at 800-656-HOPE (4673) or visit online.rainn.org.