Jessie J Addressed *Those* Jenna Dewan Lookalike Comments In A Moving Instagram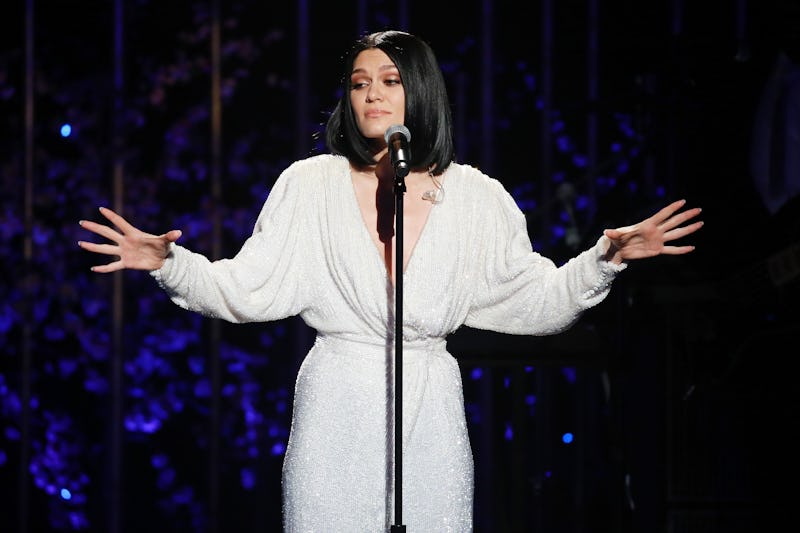 Leon Bennett/Getty Images Entertainment/Getty Images
Jessie J has taken those lookalike comments down like a domino (sorry). In a powerful Instagram post that went up on Friday, Jessie J responded to the Jenna Dewan comparisons that have been circling overhead ever since the singer reportedly began dating Channing Tatum. Not only is it not fun to be measured up against your ex's current significant other/your current significant other's ex, but as Jessie J points out, getting involved in any sort of "Who prettier'd better?" debate isn't exactly an empowering experience — and that goes for the subjects and the people perpetuating the conversation.
"I rarely, but sometimes see that my name is involved in stores online that I do not agree to," Jessie's note begins. "I often ignore them as 99% of the time it is something that doesn't serve any positivity to speak on. However there is a story I have seen be re written over and over again in the past few weeks that talks about myself being compared directly to another woman regarding our looks and people picking who they think is prettier."
She goes on to say that she takes issue with stories that pit women against one another, noting there isn't anything positive to be gained from "picking who is prettier and then continuing to say why."
"You only have to look at a few of the comments to see that these stories are not inspiring women supporting women but mostly women ripping other women down," Jessie J writes. "I am so disappointed and embarrassed that my name is even involved. It's not something I stand for, at all."
She adds,
"I don't take stories like this lightly. Because I know the kind of impact it has on younger girls reading it. I spent so much of my childhood trying to be comfortable in my skin just like so many other little girls, and when I got older, decided to spend my career making lots of music to try and help/inspire myself and all other women to see their beauty from the inside out and will continue to do so. Man does the world need it. More now than ever."
At the end of her note, Jessie J asks the reader to "be sensitive with your words. Be kind with your words. You have no idea what they can do to someone." She continues, "Alone ladies, we are strong. But TOGETHER?! US WOMEN can truly CHANGE THE WORLD."
Dewan has also acknowledged the comparisons. When someone brought up the subject in the comments section of Dewan's Instagram account earlier this week, the World of Dance host replied with grace and positivity. She wrote, "Positive vibes all the way [kissy face emoji]."
In April, Dewan and Tatum announced that they'd split up after nearly nine years of marriage. Several months later, reports surfaced that Jessie J and Tatum were seeing each other. In the wake of this scoop folks have taken it upon themselves to draw comparisons between the the singer and Dewan. And as Jessie J expresses in her IG note, these comparisons can take a turn for the hurtful.
Yes, both have dark bob haircuts, and yes, both have been linked to Tatum, and all of that is well and good. But let these ladies live! Lift each other up! And keep the vibes positive all the way.