So, What's Going On With Dumbledore & Newt?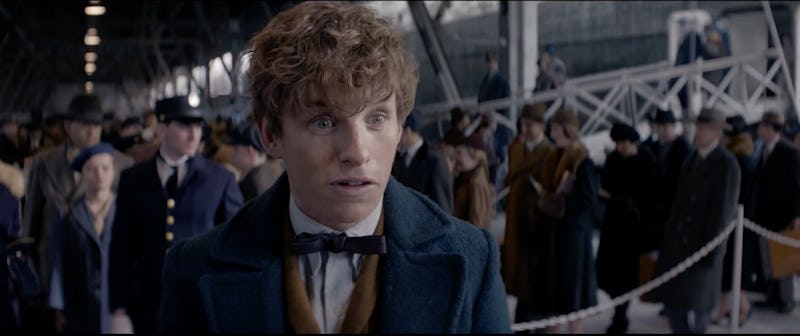 Warner Bros.
Who's ready for a shiny, new ship? In the newly updated edition of J.K. Rowling's Harry Potter tie-in book, Fantastic Beasts and Where to Find Them, Newt Scamander says Dumbledore was "more than a schoolteacher" to him. Hmm — what could that possibly mean?
Spoiler Warning: If you have not yet seen Fantastic Beasts and Where to Find Them, you should know that there are spoilers for the movie ahead.
Newt Scamander's big reveal comes in response to rumors from a book by tabloid writer Rita Skeeter, who accuses the Hogwarts flunkie of being Dumbledore's spy in the U.S. Skeeter's book, The TRUTH about Newt Scamander, claims that the young wizard "used Magizoology as a 'cover' to infiltrate the Magical Congress of the United States of America (MACUSA) in 1926," by order of Dumbledore. Scamander calls Skeeter's claim "absurd," noting that magizoology "was considered dangerous and suspect" in the 1920s, but he does not deny the witch's assertion that he was Dumbledore's spy. In fact, he goes so far as to suggest that there was "something more" to his relationship with the future Hogwarts Headmaster:
It is true that I was the first person ever to capture Gellert Grindelwald and also true that Albus Dumbledore was something more than a schoolteacher to me. More than this I cannot say without fear of breaching the Official Magical Secrets Act or, more importantly, the confidences that Dumbledore, most private of men, placed in me.
We've known for months that Dumbledore would appear in the upcoming Fantastic Beasts sequels, and the first Fantastic Beasts film is rife with potential references to Harry's beloved mentor. Credence Barebone's unfortunate turn with an Obscurus — a dark-magic affliction that strikes witches and wizards whose abilities are repressed — gave rise to the theory that Dumbledore's young sister, Ariana, may have shared the same fate. As RadioTimes points out, the truth about what happened to Ariana may be the secret Scamander mentions above.
Even without the Ariana-Obscurus theory, the end of Fantastic Beasts reveals Percival Graves to be none other than Gellert Grindelwald himself, setting up the potential for a Grindelwald vs. Dumbledore showdown in Fantastic Beasts 2. Although many Greater Good shippers have hoped that we'll get to see the relationship between the two wizards play out on the big screen, in the decade since she revealed Dumbledore's sexuality, Rowling has never confirmed that Grindelwald returned his feelings. With that being said, after this new Fantastic Beasts reveal, it's difficult to read Grindelwald/Graves' words to Newt — "What makes Albus Dumbledore so fond of you?" — as anything other than ship fodder.
What do you think? Let's talk about it on Twitter!