Joe Jonas & Sophie Turner Congratulated Nick & Priyanka With These Loving Messages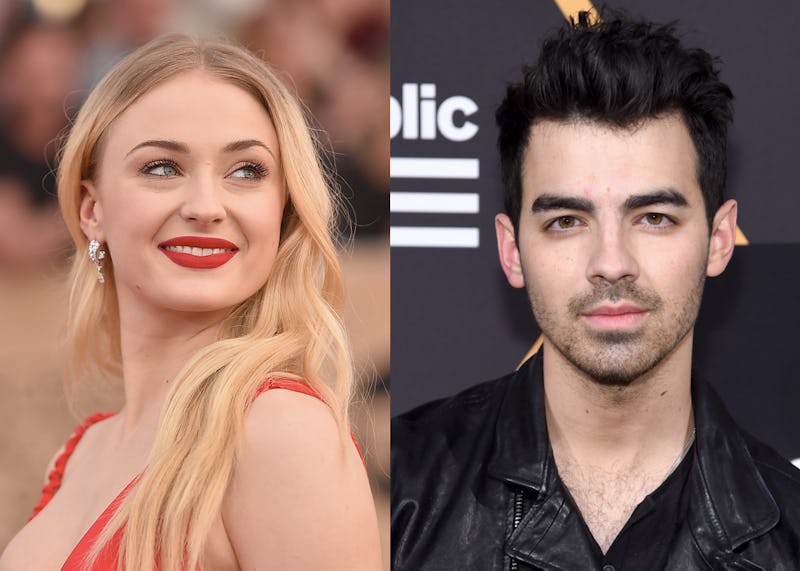 Alberto E. Rodriguez/Getty Images Entertainment/Getty Images; Jamie McCarthy/Getty Images Entertainment/Getty Images
After weeks of reports and speculation, Nick Jonas and Priyanka Chopra finally confirmed their engagement on Saturday, Aug. 18 after celebrating with an engagement ceremony in Mumbai. It's unclear if the Jonas' brothers themselves were present at the traditional Indian roka ceremony itself, but Joe Jonas and Sophie Turner congratulated Nick and Priyanka Chopra via social media, along with brother Kevin and father Kevin Sr. as well.
After Nick and Chopra shared a sweet photo of themselves on their respective Instagram accounts to announce that they were "taken ... with all of my heart and soul," Nick's family and friends also hopped on social media to share their own messages of love and congratulations. In addition to Papa Jonas — Paul Kevin Jonas Sr., the Jonas Brothers patriarch — who wrote that the family "welcome[s] @priyankachopra into our family with love and excitement," after the traditional roka ceremony, both Joe and Kevin Jonas shared their congratulations for their younger brother.
While oldest Jonas brother Kevin kept it simple with a short and sweet note reading, "Congratulations, @nickjonas and @priyankachopra," on his Instagram story, DNCE frontman (and middle JoBro) Joe gushed over his baby brother's happiness. Sharing the same adorable photo that both Jonas and Chopra posted on Instagram, Joe wrote, "I couldn't be happier for my brother. Welcome to the family @priyankachopra We love you."
Of course, it wasn't just the immediate Jonas family who shared their congratulations for the happy couple — Joe's fiancée, Sophie Turner, also wrote a sweet message on social media, wishing her future brother and sister in law a long and happy marriage.
"Wow," the Game of Thrones actress wrote on Instagram, alongside a snap of Chopra and Jonas. "First I'm blessed with an incredible future brother-in-law, and now such an beautiful, inside and out, future sister-in-law. I'm so excited to welcome you into the family @priyankachopra . I love you both @nickjonas."
Turner seems to have gotten to know her future sister-in-law over the past few months while out on double dates with the Jonas brothers. In July — just a few days before Jonas reportedly proposed to Chopra at her birthday party — the couples (and Kevin Jonas) were spotted out to dinner together in London, per Entertainment Tonight. The outlet also reported a few day earlier, on July 4, that both couples enjoyed a bike ride around New York City in order to celebrate the Fourth of July.
Joe and Turner's support of Nick's romance with Chopra is especially touching considering how much the "Chains" singer has gushed about his big brother's relationship. Shortly after the DNCE frontman shared the news of his engagement to Turner back in October 2017, Nick posted a photo of the actress' ring on Instagram, along with the excited caption, "Ahh! Congratulations to my brother... and sister in law to be on your engagement. I love you both so much."
In December 2017, Nick Jonas opened up to People about Joe and Turner's relationship, noting that since the brothers were living together in Los Angeles at the time, he got to see how much love had changed Joe. "It was pretty clear to me early on that this relationship was one that was sort of meant to be, in a sense," Nick revealed at the time. "Their connection is beautiful," he said, later adding, "I'm really happy for them."
It looks like now, Nick is getting to experience that same "meant to be" feeling for himself, thanks to his whirlwind relationship with Chopra. Here's to sharing their own "beautiful" connection with the world ... and to having plenty more double dates in the future.
As for Joe and Turner, the globetrotting couple don't seem to be in a rush to tie the knot, and are currently enjoying their long engagement. When asked about wedding plans by the Evening Standard in June, Joe said that they weren't thinking about their big day, and were instead "trying to take some time off while running around Europe," later adding that they were "just being tourists."
Perhaps a double JoBro wedding could be on the horizon. But for now, both couples are happily engaged.