Joey Fatone's Post Malone Look Is So Good It's Spooky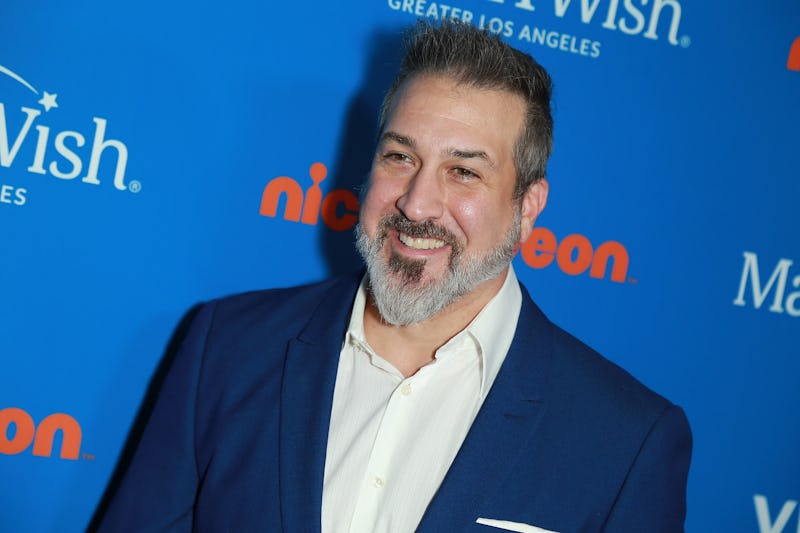 Leon Bennett/Getty Images Entertainment/Getty Images
It's Friday night and a guy from *NSYNC just, just, just, just, just got made… to look like a certain extremely successful SoundCloud rapper. In an Instagram post that went up earlier this week, Joey Fatone showed his new Post Malone look. And yes, this look involves a bunch of tattoos all over the former boy bander's face and neck.
OK fine, they are almost certainly "tattoos," but whatever. The payoff is still great. Did he actually stick the "tattoos" to his face? Is it a filter? Is he testing out a Halloween costume? Is this just for fun? Is it all a dream? Frankly, it does not matter. All that matters is that we have a photo of Joey Fatone paying homage to Post Malone.
Fatone wrote in the caption,
"Amazing how time goes by and you have to go with what is trending now ... hey if you can't beat em join em ! @postmalone ‬#postmalone #facetattoos #trending #cantbeatthemjointhem."
There's a "before" pic of Fatone that during his *NSYNC days. He called this "Pre Fatone." And as for his Post Malone-ified look? Meet "Post Fatone." Post Fatone. Post. Fatone. That is… wow. Just wow. Way to stick the landing with that one. You might even say he put it all... on the line.
What came first: The urge to Post Malone-ify his face, or the realization that "Fatone" rhymes with "Malone"? Here for either scenario.
Fatone is not the only celebrity who has poured "Candy Paint" all over his face. Pop singer Rita Ora went to the KISS Haunted House Party at Wembley Stadium dressed up as Malone. Oh, but she did not just go to KISS Haunted House Party in head-to-toe Post Malone garb. She performed her entire set in the costume. And apparently, it took the crowd a minute to realize who she was when she took the stage.
"@postmalone i LOVE you bro," Ora wrote on Instagram. "Surprised Wembley as you tonight at my show my fans didn't even recognise me LOL." Her costume really was that good. The queen of the Who? Weekly podcast strikes again.
If you think you'd like to follow in the footsteps of Fatone, Ora, and a fan named Jessica Esposito who, as BuzzFeed pointed out, really nailed the costume last October, Inked magazine has created a DIY tutorial that should help you make sure you get the look just right. And don't worry if you are not the most artistically inclined person— all of the tats in this video are the stick-on temporary kind. You can get the temporary tattoos featured in this video over at Ink Daze.
If you're feeling extra ambitious this All Hallows' Eve, why not try to put together a Joey Fatone-as-Post Malone costume? Or a Rita Ora-as-Post Malone costume? I haven't quite figured out what would go into these 'stumes, but I am positive that if you made either one work, every Halloween costume contest judge would say "Congratulations" to you.