This John Boyega Quote About Carrie Fisher WILL Reduce You To Tears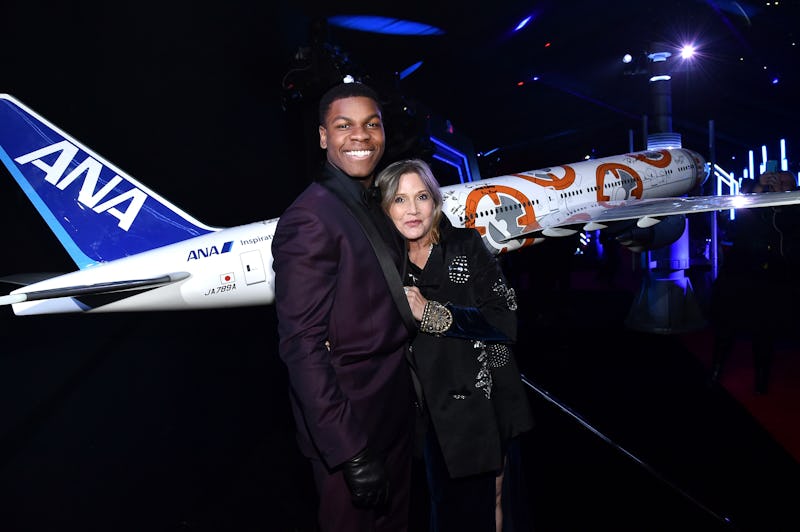 Mike Windle/Getty Images Entertainment/Getty Images
Here's hoping that you have a galaxy sized box of tissues nearby, because you're going to need them. In an interview with Variety, the ever lovely John Boyega spoke about Carrie Fisher in a way that's sure to make you smile while also breaking your heart. Discussing how Fisher's death was hard on the Star Wars cast, the actor also celebrated the Fisher's positive influence on everyone she met, and her inimitable spirit. "Carrie Fisher means freedom," Boyega said. "She influenced people to be authentic and say what you want, however you want. I'll miss her energy. You were always going to hear Carrie Fisher somewhere saying something that she has no business saying, that makes everybody laugh."
Carrie Fisher means freedom. It's too perfect. It's also a phrase that captures what so many fans loved about Fisher's outspoken, laid back spirit. Her "don't give a damn" attitude, which was always evident in Fisher's droll, hilarious interviews, always felt like a breath of fresh air among the well-rehearsed press takes we often see from Hollywood celebrities.
Whether it was taking her bulldog, Gary, along with her while she traveled the globe for press tours or sharing unexpected anecdotes about partying with The Rolling Stones during an interview, she was the living embodiment of rebellion. Thanks to her honesty and bravery, she achieved that rebellion in the most positive manner possible for fans, and presumably her celebrity peers, to enjoy.
Her power, not just as an actor and a star, but as a human being was evident in the tributes shared about her by the cast and crew of the Star Wars franchise. Harrison Ford called her, "one-of-a-kind… brilliant, original. Funny and emotionally fearless. She lived her life, bravely." Actor Peter Mayhew, who played the original Chewbacca, described her as "the brightest light in every room she entered." Even the creator of Star Wars, George Lucas, celebrated Fisher's "very colorful personality that everyone loved." These were unique messages for a unique woman, and, obviously, hers is a legacy that will continue to be celebrated.
At the start of August, Boyega confirmed to ABC news that Star Wars: The Last Jedi will pay tribute to Fisher's legacy, explaining that the movie "sends her off in an amazing, amazing way." He continued, "she is still kept alive in this franchise. That's the beauty of it: She lives forever in a sense." That's a touching concept for fans to cling to — that Fisher will be immortalized within the franchise as a whole.
However, Boyega's more recent comments to Variety about how Fisher's attitude and energy influenced people is perhaps the most authentic continuation of her legacy possible. Carrie Fisher means freedom. Say it, remember it, celebrate it.