John Hurt's Wife Releases A Touching Statement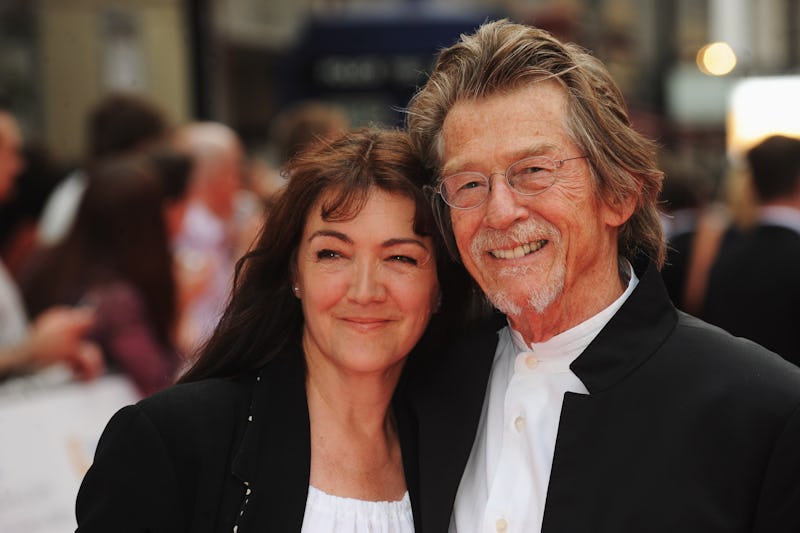 Samir Hussein/Getty Images Entertainment/Getty Images
The entertainment world just lost quite a bit of magic. On Friday, news broke that British actor John Hurt had died at age 77 earlier in the week, his rep confirmed to Bustle. While Hurt earned praise for his on-screen roles — ranging from The Elephant Man to Doctor Who — a certain generation will always know him as Mr. Ollivander from Harry Potter. Hurt starred in three of the HP films, and in that time, left a lasting impact on the fandom. On Saturday, Hurt's wife, Anwen Hurt, released a heartbreakingly beautiful statement, highlighting the actor's true character off-screen.
Hurt's rep shared the following statement with Bustle on Anwen's behalf:
"It is with deep sadness that I have to confirm that my husband, John Vincent Hurt, died on Wednesday 25th January 2017 at home in Norfolk.
John was the most sublime of actors and the most gentlemanly of gentlemen with the greatest of hearts and the most generosity of spirit. He touched all our lives with joy and magic and it will be a strange world without him.
I ask that we are allowed to come to terms with our loss without further intrusion."
Fans can certainly attest to the "joy and magic" he added to the universe. Following the news of his death, Harry Potter fans paid tribute to Hurt on social media by raising their wands in his honor with the hashtag #WandsUp. It's a truly touching movement during an otherwise dark time.
Tying into that spirit, Harry Potter author J.K. Rowling also honored the star on Twitter, emphasizing Hurt's talent and extending condolences to his loved ones.
But it just wasn't in that role that he dazzled audiences. Whenever he appeared on camera, Hurt brought his A-game. He already is deeply missed.