John Krasinski's Favorite 'Office' Episode Is A Classic That Will Make Fans So Nostalgic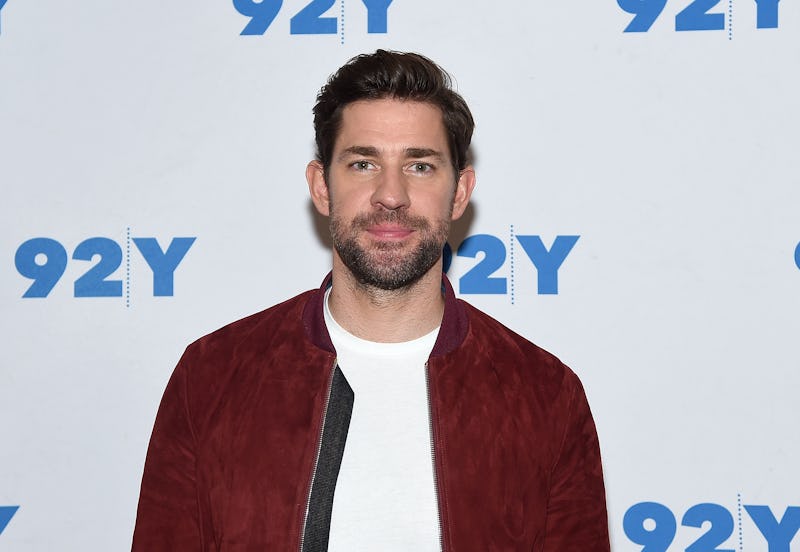 Jamie McCarthy/Getty Images Entertainment/Getty Images
Everyone has a favorite episode of The Office — even the sitcom's writers, directors, and stars. In fact, John Krasinski's favorite Office episode is enough to make any fan instantly nostalgic. Literally, every aspect of it — from the writer to its cameos to its significance to Kransinski himself. According to Vulture, he recently appeared at the 92nd Street Y to discuss his newest project — a new Jack Ryan series for Amazon, adapted from the Tom Clancy novels — and it was only a matter of time before talk turned to the television series that made him famous.
As it turns out, the actor and filmmaker's all-time favorite episode of The Office is Season 1, Episode 2, better known as "Diversity Day". Yes, that one. When moderator Stephen Colbert asked him to elaborate on why, Krasinski had the sweetest reasons. The actor went to high school with B.J. Novak, and former classmate "B.J. Novak wrote 'Diversity Day," as he explained to the audience, per Vulture. Krasinski recalled:
"I remember that day when [the diversity sensitivity counselor played by Larry Wilmore] comes in and says, 'My name is Mr. Brown,' and Michael says, 'I'm not gonna call you that.'
Anyone who remembers the episode will instantly cringe, but he wasn't done. "It was that moment combo'd with Kelly [Kapoor, played by Mindy Kaling] slapping him where I said, 'Oh my God, we're a part of something totally unique — and I don't think anyone will watch this," he joked.
Still, Krasinski felt, nay, "knew" that The Office was "really good", adding that he "[remembered thinking] we were a part of something special."
So, if he loved the second episode, how did he feel about the pilot? "If I'm honest, I remember the pilot of The Office was word-for-word the British show at the time," he explained to the audience, joking that, "It made no sense to any of [the cast]." Not that it was bad, in his opinion, just that "there are actually British jokes in there that don't even apply [to Americans]". Fortunately, by Episode 2, that had changed.
Krasinski went on to describe his earliest days on the series as "amazing as a family and as a group and as a circus, and I'll never forget it", which is like hearing a hug. He picked a good one to recall as his favorite, too. Wilmore's character would go on to appear in bit parts in multiple episodes, and "Diversity Day" is special for reasons on its own. It provided the first charged Pam and Jim moment of the series, for example, and was Novak's first full-length episode he wrote on his own.
It's honestly beyond cute that the second ever episode is Krasinski's favorite, as it's obvious that it goes beyond just liking "Diversity Day." It's a more intense, emotional connection, one that makes him feel just as nostalgic as the fans probably do. Further, it provided the impetus to cast Kaling in an on-screen role, which helped cement her as a certifiable legend. Sure, Kelly's first real appearance was in a non-speaking part, but it's all thanks to Novak's script.
In the end, "Diversity Day" is important for so many reasons — and having one of the series' breakout stars cite it as his favorite only makes it even more so. Great choice, John Krasinski.