Fans Are SO Furious Johnny Depp Appeared At The 'Fantastic Beasts 2' Comic-Con Panel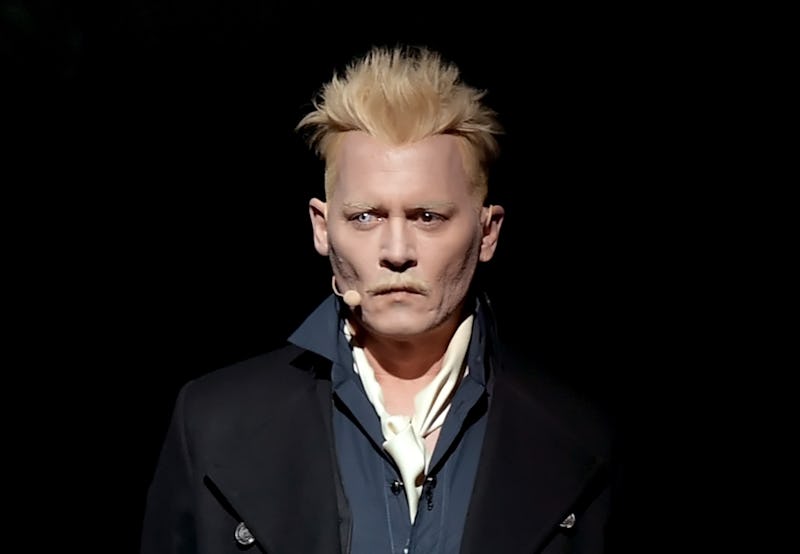 Kevin Winter/Getty Images Entertainment/Getty Images
There continues to be controversy surrounding the Fantastic Beasts sequel The Crimes of Grindelwald. On Saturday, July 21, actor Johnny Depp was at the Fantastic Beasts 2 Comic-Con panel, and the surprise was not well-received. The three-time Oscar nominee appeared at the panel in-costume as Grindelwald to deliver a monologue at the panel, which was in the same hall as ex-wife Amber Heard. She took the stage afterward as part of the Aquaman panel, according to E! Online
There has been much controversy surrounding the casting choice, which stems from Depp's divorce from Amber Heard and her allegations of domestic violence against him. In May 2016, Depp denied Heard's claims of abuse through his lawyer, Laura Wasser, who told People, "Amber is attempting to secure a premature financial resolution by alleging abuse." In August 2016, Depp and Heard settled their divorce, which also brought Heard's withdrawal of her domestic violence restraining order petition she filed against Depp. At the time of their divorce settlement, the former couple released the following statement to TMZ:
Our relationship was intensely passionate and at times volatile, but always bound by love. Neither party has made false accusations for financial gains. There was never an intent of physical or emotional harm. Amber wishes the best for Johnny in the future. Amber will be donating financial proceeds from the divorce to a charity.
Based on previous allegations, there were many who questioned why Depp was cast in the first place. Depp's scene in 2016's Fantastic Beasts And Where To Find Them upset a number of fans, many of whom were vocal about not wanting to support Depp's work. Longtime fans of the Harry Potter franchise campaigned to have Depp removed from the upcoming sequels, however, J.K. Rowling issued a statement in December 2017 in which she defended the casting of Depp in the role. Part of the statement read:
Harry Potter fans had legitimate questions and concerns about our choice to continue with Johnny Depp in the role. As David Yates, long-time Potter director, has already said, we naturally considered the possibility of recasting. I understand why some have been confused and angry about why that didn't happen.
The huge, mutually supportive community that has grown up around Harry Potter is one of the greatest joys of my life. For me personally, the inability to speak openly to fans about this issue has been difficult, frustrating and at times painful. However, the agreements that have been put in place to protect the privacy of two people, both of whom have expressed a desire to get on with their lives, must be respected. Based on our understanding of the circumstances, the filmmakers and I are not only comfortable sticking with our original casting, but genuinely happy to have Johnny playing a major character in the movies.
According to Twitter, fans are still troubled by the casting and did not approve of Depp's appearance at the Comic-Con panel.
Several fans were horrified that he appeared at the panel, considering Amber Heard was close by.
According to the social media accounts of the panel, Depp's appearance at the panel received a lukewarm reception. E! Online's report of the panel and the audience reception supported this, stating that Depp's appearance "drew both cheers and boos."
In the end, it's safe to say Twitter felt like a misstep considering the controversy.
If you or someone you know is experiencing domestic abuse, call 911 or the National Domestic Violence Hotline at 1(800) 799-SAFE (7233) or visit thehotline.org.