Jordan Denied Fabricating Texts From Jenna, Making This 'BiP' Saga Even Messier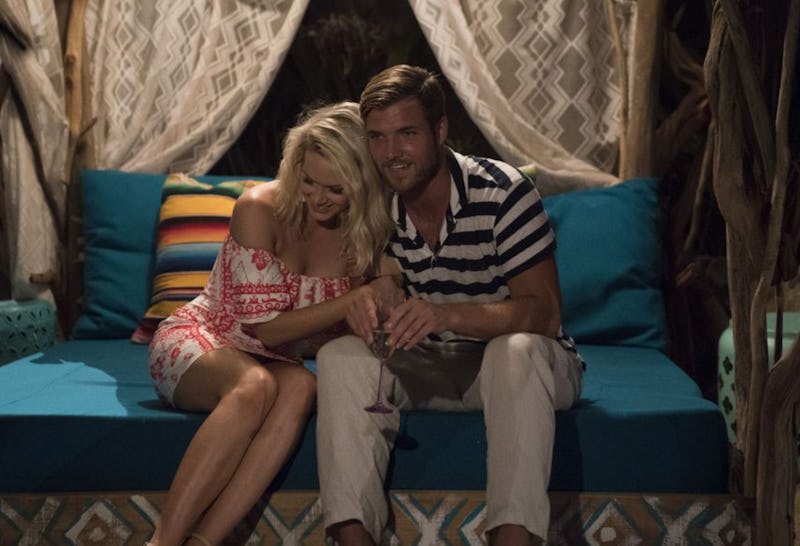 ABC/Paul Hebert
Like a piña colada that has been expertly blended by Wells Adams, the text message drama brewing between Bachelor in Paradise's Jordan Kimball and Jenna Cooper is thick as can be. In a new interview with Entertainment Tonight, Jordan maintained he did not fake the text messages that led some members of Bachelor Nation to believe Jenna was cheating on her now ex-fiancé, contrary to the claims in the email Jenna's lawyer reportedly sent over to The Bachelorette alum. In the email allegedly sent to Jordan from Jenna's lawyer, Justin Apple, Apple asked that Jordan issue an apology to Jenna, and release old text correspondence from his ex-fiancé for the public to see. And no, Jordan is not too happy about that email. (Bustle has reached out to reps for both Jordan and Jenna for comment, but did not receive an immediate response.)
"I absolutely, 100 percent did not fabricate those text messages," Jordan told ET. "I'll put my hand on the Bible for that." He also said he is "trying to live his life and move on" from the BiP breakup saga.
This whole fiasco began the week that the Bachelor in Paradise Season 5 finale aired, which also happened to be the week viewers watched Jordan and Jenna get engaged on TV. On Sept. 11, Bachelor Nation's premier spoiler guru, Reality Steve (real name: Steve Carbone), released some screengrabs of potentially incriminating text messages on his site. According to Reality Steve, Jenna allegedly exchanged romantic messages with another guy while she was in a relationship with Jordan. And on Sept. 12, Jordan posted on Instagram that he had "come to terms with a decision to remove myself from the relationship." Their BiP love story was over.
Jenna, however, has denied cheating on Jordan, insisting time again on social media and in interviews that she was not behind those text messages. The same day Reality Steve shared the screengrabs of the text messages in question, Jenna told People,
"I am aware of the allegations being made against me and they are simply untrue. I am choosing to focus on my relationship right now. Thank you for respecting my privacy at this time."
The following day, Jenna addressed the drama on Instagram. She denied the claims and announced that she was working with an attorney to "investigate this hurtful and fraudulent attack on my character." Several days later, she posted another statement on Instagram, which reads in part,
"My attorneys have begun an investigation which included requesting that Stephen Carbone give the actual files of the fake texts to us so that the files may be forensically examined. My attorneys also requested that Stephen Carbone identify whoever provided the fake texts and tell us how he claims to have 'vetted' the texts that I know I didn't send."
And now that the forensics results are allegedly in? Apparently, Jenna's team are alleging that Jordan wrote the messages and sent them to Reality Steve. Last week, Jordan shared screenshots of an email allegedly sent by Jenna's lawyer, Justin Apple. In the email, Apple claimed Jordan "created the fabricated texts posted by Stephen Carbone," and told him he had "until 12:00 pm (eastern) on October 6, 2018 to publicly state you have satisfactory evidence and you know that Jenna did not send those fabricated texts and you apologize for being quick to judge."
Jordan told ET that when he reached out to Apple to discuss the email, Apple allegedly "started shouting" at Jordan over the phone. Jordan continued,
"In my mind, that isn't OK. I ended the phone call and then his associate, Bill Young, called me several times within 10 minutes. At this point, I have nothing to say to them."
Jordan told ET that Jenna's legal team apparently wants to see everything he and Reality Steve have said to one another, and Jordan isn't stressed out over this request. He explained,
"They're asking me for all the communication I've had with Reality Steve. I would have no problem with that coming to light; I'd never even spoken to Reality Steve until the evening that all of these texts came out. The way they're portraying this situation doesn't add up for me. I'm not gaining anything from it."
For now, the situation remains messier than ever for all involved, with no immediate end in sight.