Juliet Evancho Defends Her Sister's Performance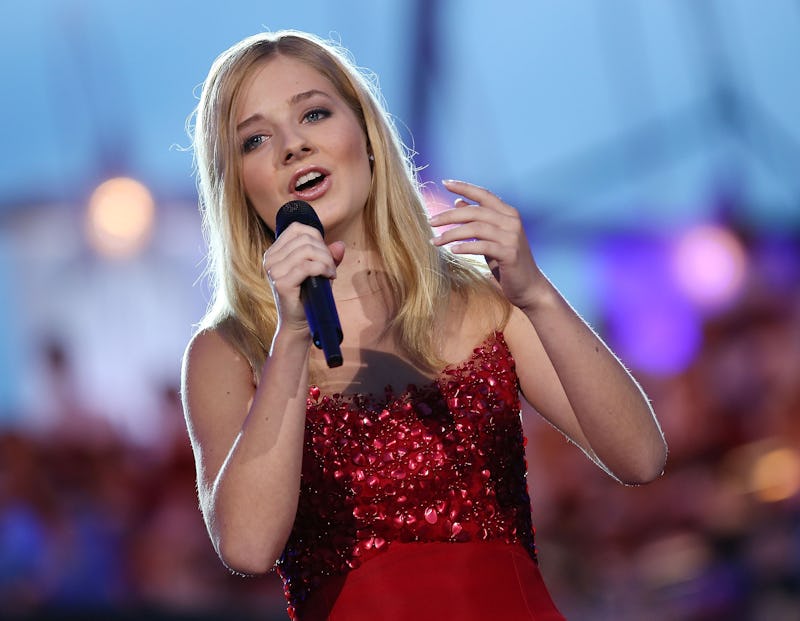 Paul Morigi/Getty Images Entertainment/Getty Images
As momentum builds toward Donald Trump's inauguration, the focus on the musicians performing for the incoming commander-in-chief continues to sharpen. One such focus is on Jackie Evancho, who was one of the first confirmed performers. Despite ongoing backlash, Evancho's sister, Juliet, is defending the inauguration performance by stating that it's for the American people, not specifically for Trump. However, Juliet's recent comments seem to be sending a bit of a mixed message. Why? Juliet, a transgender teen, is an outspoken LGBTQ advocate, and so is her sister.
According to The Hollywood Reporter and Billboard, Juliet supported Evancho's inauguration performance in a soon-to-be-released interview with CBS Sunday Morning. She said,
The way I look at it is, Jackie is singing for our country, and it's an honor for her to be singing in front of so many people. ... So I feel that's really where I look at it. And that's where I'm going to leave it right now.
While it's entirely noble that Juliet would defend her sister against the backlash she's experiencing, Juliet's comments imply that it is somehow possible to separate political views from a ceremony that is undeniably deeply political. Juliet's sentiments feel even more perplexing, because she and Evancho have abstained from endorsing or condemning the president-elect.
Juliet is not wrong in her CBS Sunday Morning statement (that Evancho is going to be performing for the entire country), and it's admirable that she would come to her sister's defense during this tense time. However, because Juliet and Evancho are avowed proponents for LGBTQ rights and equality, it's tough to understand how a young woman seemingly ideologically opposed to the incoming president and vice president on LGBTQ rights could stomach to perform for them. This confusion is enhanced when considering the fact that Juliet is a young transgender woman; how could the Evanchos privately support LGBTQ rights, but publicly align themselves with politicians who do not share their views? Herein lies the conundrum.
In a recent New York Times interview, Evancho confirmed she made the decision to perform for Trump on her own. She said, "I just kind of thought that this is for my country. So if people are going to hate on me, it's for the wrong reason." Juliet's latest comments echo this rejection of public criticism, while attempting to smooth out the frustrations people are feeling.
Showing that the support goes both ways, Evancho has voiced unyielding support for Juliet's fight for equality. In the aforementioned Times interview, the America's Got Talent alum said, "For me, it's not political. It's just accepting people for who they are." She was reportedly speaking of Juliet's ongoing legal battle to use the women's bathrooms, in accordance with her gender identity, at her high school in Pennsylvania. But Juliet and Evancho's words, on both the inauguration and the ongoing legal battle, attempt to nullify inherently political issues. While it's good to see the women fighting for what they believe in, they appear to consistently avoid being outspokenly political.
For whatever my two cents may be worth on the issue, I think it's admirable that these young women are remaining strong in their commitment to LGBTQ issues, including equality in all matters, despite the ongoing backlash. Evancho's true reasons for performing at the inauguration may only be known to her, and her performance will be closely watched on Jan. 20. But for now, let's take a moment to praise both sisters for staying true to their beliefs, even if they are sending a bit of a mixed message.