Justin Bieber & Hailey Baldwin's Latest Photos Together Are Full Of Unabashed PDA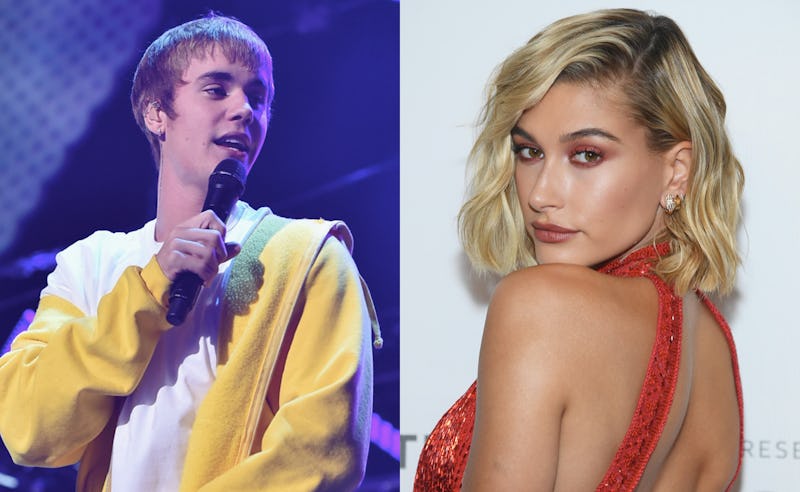 Theo Wargo/Getty Images Entertainment/Getty Images; Dimitrios Kambouris/Getty Images Entertainment/Getty Images
It looks like the summer of love is continuing for Hollywood's latest newly engaged couple. Justin Bieber's new photo with Hailey Baldwin is full of PDA. Like, so much PDA that the Instagram picture would totally get a PG-13 rating if it were a movie. The photo features the couple looking super cozy in what appears to be a swimming pool, or possibly a hot tub. Neither Bieber or Baldwin are looking at the camera, because they're a little too busy making out with each other.
For all the fans know, Bieber and Baldwin's make-out session might still be underway. The "Sorry" singer didn't bother captioning the photo, instead, he let the image speak for itself. And that image is saying he and Baldwin are super, super into each other.
On Friday, Baldwin shared her first photo of her and Bieber together since their engagement was announced. Like her fiancé, Baldwin didn't bother with captions, but the image made it appear that they were jetting off to somewhere. According to The Daily Mail, the couple is chilling in Miami, and they certainly seem to be having a good time together.
Baldwin shared another pool photo via her Instagram Story, and in it, Bieber is facing away from the camera, while Baldwin hugs him and stares off to the side. The imagery might remind fans of a music video or a modeling shoot, but the couple is seemingly just on vacation. Then again, these are the same two people who shocked the world with their engagement news just one week ago, so nothing is off the table.
As first reported by TMZ, Bieber proposed to Baldwin while they were staying at a resort in the Bahamas. A source told E! News that Baldwin appeared to be shocked, but happy when the pop singer popped the question. "The proposal was a very happy moment and Hailey was taken off guard," E!'s source said. "Her face was in shock but you could tell they are both so in love."
It didn't take long after the proposal for news of their engagement to break. While fans were shocked given the fact that the duo have seemingly only been dating for a few months, their relationship goes back to at least 2014. And as recently as 2016, Bieber discussed the idea of marrying Baldwin during an interview with GQ.
Bieber confirmed their engagement via a long caption on Instagram. He wrote,
"Was gonna wait a while to say anything but word travels fast, listen plain and simple Hailey I am soooo in love with everything about you! So committed to spending my life getting to know every single part of you loving you patiently and kindLY. I promise to lead our family with honor and integrity letting Jesus through his Holy Spirit guide us in everything we do and every decision we make. My heart is COMPLETELY and FULLY YOURS and I will ALWAYS put you first! You are the love of my life Hailey Baldwin and I wouldn't want to spend it with anybody else."
Shortly after, Baldwin tweeted about the news. She wrote, "Not sure what I did in life to deserve such happiness but I am so utterly grateful to God for giving me such an incredible person to share my life with! No words could ever express my gratitude."
So far, the couple doesn't appear to have set a date for their big day. However, they haven't exactly been predictable so far. For now, they appear to be living their best lives and enjoying themselves like no one's watching, even though their fans can't seem to look away.