Justin Bieber Honors The Victims Of The Manchester Attack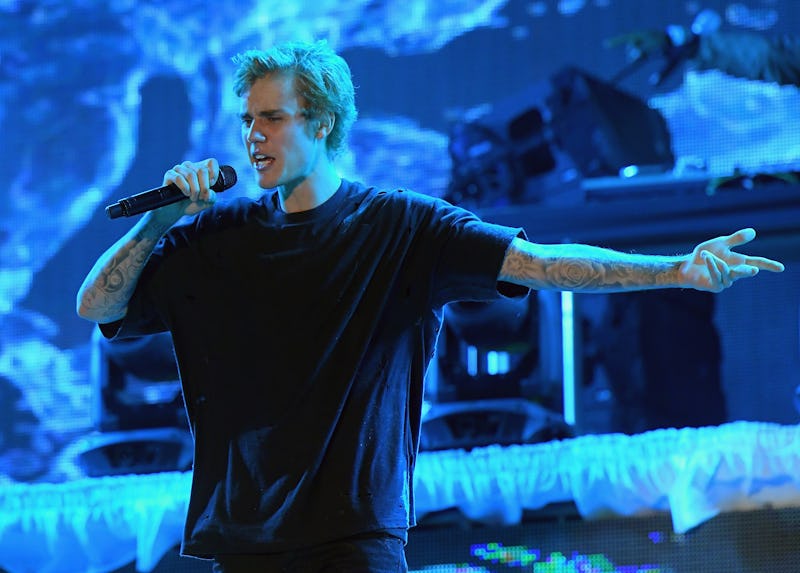 Gustavo Caballero/Getty Images Entertainment/Getty Images
The One Love Manchester concert has been full of beautiful moments, but Justin Bieber honoring the victims of the Manchester attack was one of the most emotional moments of all. The pop singer paused after playing two of his hits to ask everyone in the crowd to put one hand up if they were not going to give up. Then he asked them to put both hands up in honor of the victims and their families. "We honor you and we love you," Bieber said to the emotional crowd.
As the camera panned over the audience with their hands stretched toward the sky, it was hard not to feel teary. The artist spoke so eloquently about how faith gets him through hard times, and he even led the crowd in a chant of the word "love." It may sound like a small thing, but on days like this one, echoing sentiments of love and unity can have the power to heal.
Manchester's heart may be aching, but the musicians who came out to help Grande celebrate the lives of those lost are nurturing the city's vibrant spirit when it needs it the most. Bieber may seem like an unlikely candidate to have one of the evening's most heartfelt moments, but his simple call to honor the victims was simply stunning.
As he said, "I'm not going to let go of hope, I'm not going to let go of love." And it doesn't look like the people of Manchester are either. It should be noted that Bieber seemed to be holding back tears as he spoke, which only made the sentiment ring truer.
The attack on Manchester was devastating, there's no denying that, but seeing artists like Bieber act with so much love makes it that much easier to see all of the goodness and hope that will always exist in the world.