Justin Bieber Just Teased New Music With The Most Adorable Instagram Video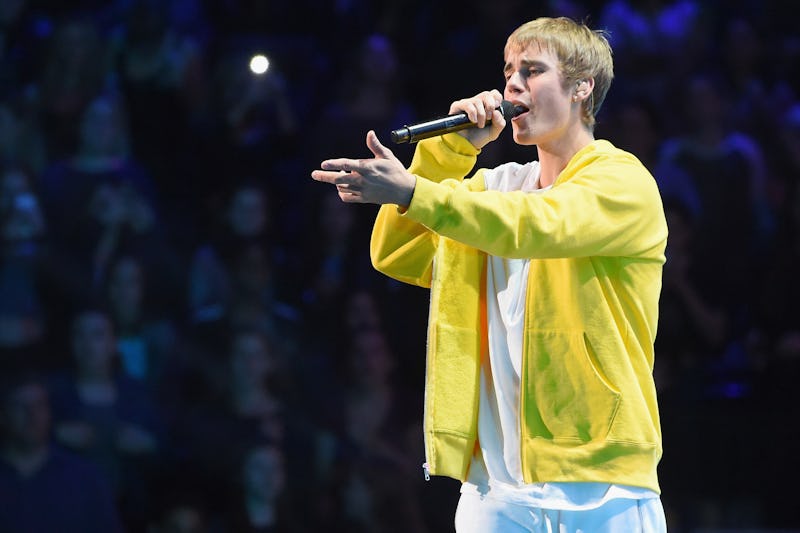 Nicholas Hunt/Getty Images Entertainment/Getty Images
Justin Bieber hasn't released an album in three years, but that might be about to change. The "Sorry" singer shared a video on Instagram suggesting that his fifth studio album might be on the way. Justin Bieber just teased new music — and he used a funny video from a young fan to do so, making the announcement all the more intriguing.
In the video Bieber posted, a little girl says to the person filming — presumably her mom or guardian — that Justin Bieber "quit" his singing career. "I'm talking about Justin Bieber quit," the child says in the video. When the person filming asks why, the child suggests that Bieber was "too tired" to keep making music.
It's not clear if Bieber knows this child or how he got the video. And it looks like the young fan might be basing these opinions off of something that an older relative or caregiver mentioned about the Grammy winner. Whatever the case, Bieber wants to set the record straight — he hasn't "quit" the music industry just yet. He captioned his Instagram post,
"Don't believe everything you read sweet little girl you will hear something from me sooner than you think."
That definitely sounds like Bieber's planning to release new music soon. And considering the fact that his last album, Purpose, was released in 2015, the news is a long time coming for fans.
Bieber has gone through a lot lately, with the most noteworthy life change being his marriage to Hailey Baldwin. It looks like his relationship with the model might have inspired some new songs. And if his latest Instagram caption is any indication, fans will be hearing those songs sooner rather than later.
Naturally, plenty of fans were thrilled about the news. The comments on Bieber's Instagram post includes plenty of excitement. And fans tweeted about the fact that Bieber might be releasing a new album soon.
Fans have been curious about Bieber's future in music ever since he canceled the remaining dates on his Purpose tour in July 2017. In a post on his website, the "What Do You Mean?" singer said that the tour's cancellation was due to "unforeseen circumstances." But it looks like Bieber might be ready to move on from the Purpose era and make a new comeback in the musical space. And his fans are on board.
Bieber didn't share a timeline for just when this new music might drop, but it's possible that it could happen before the end of the year. And surprise music isn't uncommon in the industry, either. This past June, Beyoncé and JAY-Z released a surprise album, Everything Is Love. Plus, Ariana Grande released her song "thank u, next" less than three months after her album Sweetener came out. So if Bieber did release new music within the next few weeks, it wouldn't be a total surprise.
Whenever he decides to share his new music, it looks like Bieber's fans are more than ready to give it a listen. And considering how happy he and Baldwin seem to be, there's bound to be at least one love song in the mix.