Ariana Grande's "Thank U, Next" Will Make You So Proud Of How Far The Singer Has Come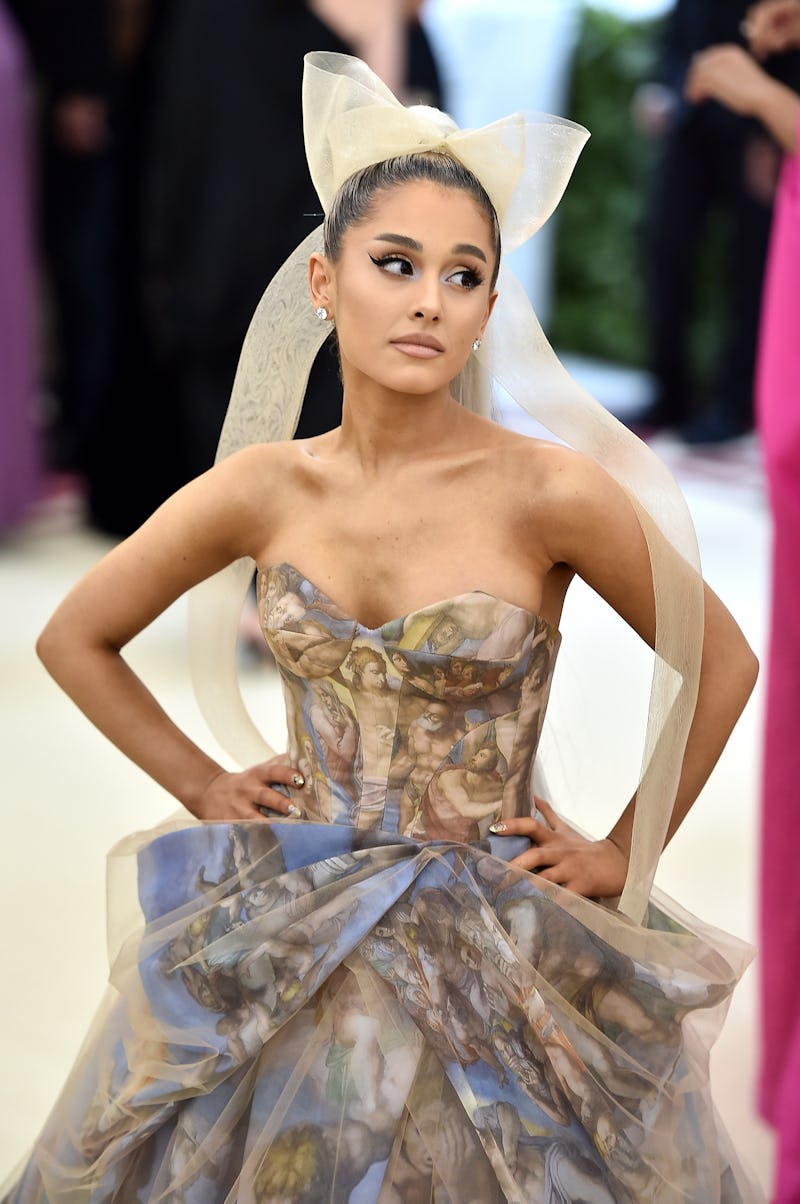 Theo Wargo/Getty Images Entertainment/Getty Images
After weeks of teasing that she had new music on the way, Ariana Grande released her new single "Thank U, Next" on Saturday, Nov. 3. While the song name drops several of Grande's exes, it also appears to serve as a huge source of closure for the Sweetener singer, who recently called off her engagement to Saturday Night Live star Pete Davidson. Although Grande had been hinting about her new project for some time, the tune notably dropped a half an hour before the first episode of SNL since her split from Davidson, according to Variety. The timing of the song's release is note-worthy given her now-deleted tweets that appear to have been in response to an engagement joke made by her ex-fiancé in a recent SNL promo on Nov. 1.
Grande's personal life has been the subject of many news stories over the past year. The former Sam & Cat star broke up with longtime boyfriend Mac Miller in May 2018, and subsequently got engaged to Davidson just weeks after that. Following Miller's untimely death from an apparent drug overdose in September, Grande's relationship with Davidson would dissolve a little over a month later.
In light of those recent events, it seems that Grande is channeling all of her energy into this project as she moves forward. In her lyrics for "Thank U, Next," Grande not only addresses her breakup with Davidson, but also references Miller, as well as her other high profile romances with rapper, Big Sean and dancer, Ricky Alvarez.
While the tune stands out for its focus on Grande's past relationships, the song's ultimate message appears to be one of self-love for the Sweetener singer. The 25-year-old gets straight to the point in the song's opening, singing:
"Thought I'd end up with Sean / But he wasn't a match / Wrote some songs about Ricky / Now I listen and laugh / Even almost got married / And for Pete I'm so thankful / Wish I could say thank you to Malcolm / Cause he was an angel"
As the song progresses, Grande reveals some of the things that she's learned from her past. She continues,
"One taught me love / One taught me patience / And one taught me pain / Now I'm so amazing / Say I've loved and I've lost / But that's not what I see / So look what I got / Look what you taught me / And for that I say"
Proving that she doesn't harbor any hard feelings for anyone in her past, Grande's "Thank U, Next" chorus explains that there's no looking back as she heads into the future. Grande shares,
"Thank you, next (Next) / Thank you, next (Next) / Thank you, next / I'm so f*ckin' grateful for my ex"
Prior to the song's debut, Grande posted a tweet revealing that there would be a song on her fifth album called "Thank U, Next." In the message, Grande also confirmed that the album and song would share the same title, responding to a fan's inquiry who asked, "song or album?" After quoting the tweet, Grande wrote: "issa song and an album .... you'll get the song first"
The phrase "thank u, next" has seemingly become Grande's mantra over the past few days. She also used the term during her reported Twitter response to Davidson's promo.
Grande's new single comes less than three months after the release of her fourth studio album, Sweetener and appears to be a major source of healing for the former Nickelodeon actor, who recently explained that working on music ultimately "fixes everythin" for her.
For Grande, it seems that music is the best medicine. With "Thank U, Next" Grande has shared a gift that keeps on giving to both herself and the Ariantors who need to hear her message.