This Story From Justin Timberlake's Book Is Relatable To Anyone In A Tricky Dating Situation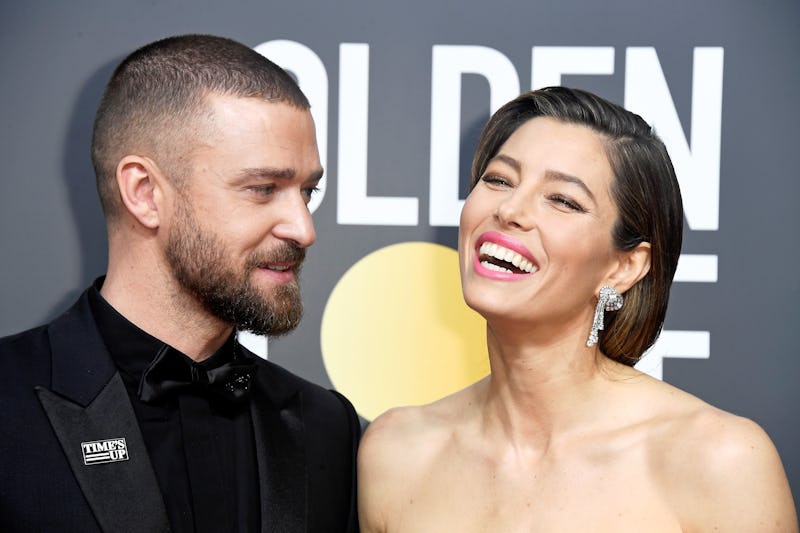 Frazer Harrison/Getty Images Entertainment/Getty Images
You probably best know Justin Timberlake as a Grammy winning musician, or if you're me, as a member of boyband *NSync and the father of the spring season's very best meme. But now Timberlake can add author to his long list of accolades with the release of his first memoir, Hindsight & All the Things I Can't See in Front of Me. Out now from Harper Collins, the book is the first time that the 37-year-old has taken pen to paper and opened up about his upbringing, his career, that Britney Spears-inspired break-up track, and his relationship with his wife, actress Jessica Biel.
Although we've been seeing their pictures splashed all over the media since they first started dating in Jan. 2007, and they haven't shied away from praising each other on social media, the couple have kept many of the details of their courtship private. But Timberlake is finally letting fans in on the rom-com worthy aspects of their relationship, including a very sweet anecdote about how he learned that Biel was pregnant with their first child, son Silas. But let's back up a little bit, because there are even more adorable details on the road to parenthood.
According to an article in EW, Timberlake writes in his book that he and Biel first met at a surprise party and sparks flew when Timberlake made a sarcastic joke that Biel was the only one to laugh at. Despite their obvious connection, Timberlake didn't ask for her number that night, but they soon reconnected when Biel attended one of Timberlake's concerts with a mutual friend. They began talking on the phone, but didn't begin dating until they saw each other at the Golden Globes.
Timberlake also relates in the book that he and Biel still dated people at the very beginning of their relationship. He writes: We were both still seeing other people, keeping ourselves safe from getting hurt, from really putting ourselves out there. It took a bit for both of us to admit to ourselves that were were really, really that into each other." All millennials living and dating in big cities just breathed a collective sigh of #relatable at that one, am I right?
It's not all that unusual to wait a while before making things "exclusive." Elite Daily asked six women about their thoughts on the subject, and most of the women agreed that taking a little more time (a month or longer) to decide is ideal.
Of course, as we all know, Timberlake and Biel managed to make it work and they eventually married in 2012. By 2014, it was revealed that Biel was pregnant with the couple's first child. But how did Timberlake find out? Apparently, over FaceTime.
Hindsight by Justin Timberlake, $25.47, Amazon or Indiebound
An excerpt from Timberlake's book about the sweet moment is quoted in EW:
"She answered with this look on her face, and I knew exactly what she was going to say. Instead, she just held up the pregnancy test, and we both started bawling. I ended the tour early so I could be at home and take care of my family."
See, it's like I said: Timberlake and Biel basically have a relationship made in rom-com dreams and they've just been out there hiding it from all of us this entire time. If you want to hear more insights from Timberlake's long and storied career and the many romantic moments in his life with Biel and their adorable son, you check out Hindsight, on shelves now.