Fans Have Declared Justin Timberlake's New Track Is The Song Of The Summer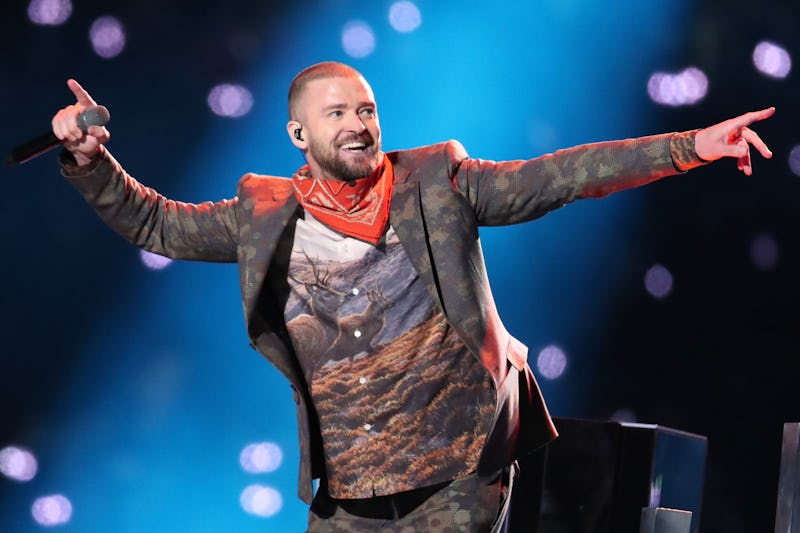 Christopher Polk/Getty Images Sport/Getty Images
Justin Timberlake has stepped out of the woods - and he's headed to the beach. The musician dropped a brand new track on Tuesday, and Timberlake's fans are dubbing "SoulMate" the perfect summer song.
The song begins with the singer declaring, "Summer stars now," over a skittering beat and tropical synths. "I love your heartbeat givin' me rhythm / And I can feel your frequency, so unique / In other words, such a freak, set me free," Timberlake sings, as he makes his case for a summer romance.
"I wanna be your soulmate for the night," he pleads. "Let me put my soul on you, it's only right / Let me pull you up out your body, into mine / Let me be your soulmate for the night."
Timberlake just released his most recent record, Man of the Woods, in February - which was met with some mixed reactions from listeners - which incorporated elements of country and Americana into the rhythmic pop Timberlake is known for, but "SoulMate" marks a departure. With its breezy, island-inspired sound, the song sees Timberlake ditching his flannel shirts for swim trunks, and the musician's fans are here for it. Many tok to Twitter to share their reactions, voicing their excitement and naming the tune the song of the summer.
@tcg_music wrote, "Let me be your soulmate for the night" I'M IN LOVE WITH THAT SONG!! YOU MADE MY DAY!!!!! DOPE SUMMER SONG IT'S A HIT!!!! I'M SO PROUD OF YOU AGAIN AGAIN AND AGAIN!!!" alongside fire and heart-eyes emojis, and @Tammi_inCo said, "YAASSS! You gotta love when @jtimberlake drops a very summer appropriate surprise on us!"
@Stormviking010 also tweeted, "Mad I'm at work cause I need to keep Justin Timberlake's #Soulmate on repeat.. JT said I'm still here y'all & gave us a new summer bop in the process," and @Leaux_Samone said, "Justin done messed around and blessed me with a summer bop! Aaaaaayye!" with a couple flame emojis.
The musician, who is currently on the European leg of his Man of the Woods Tour, recorded the song just last week in the Bahamas with production duo Nineteen85 and James Fauntleroy, according to Vulture. The pair is known for their work with Drake on tracks like "Hotline Bling" and "Hold On, We're Going Home," and in an interview with Complex published Tuesday, Timblerlake said he and Drizzy - who released his double album Scorpion on Friday - just might be hitting the studio together.
"There's like two or three tracks on every G.O.O.D. Music release that I really, really am feeling," the singer, who previously worked with Drake on his 2013 track "Cabaret," told the publication. "I love Scorpion, I think it literally just like answered anything. I think The Boy came correct with that one. We've talked about [collaborating again] a lot. I don't wanna say too much because I don't wanna jinx it, but we've talked about it a lot."
While his new album has only been out for a few months, he also hinted that he had plans to work with Pharell again, with whom he recently reunited while working on tracks for Man of the Woods.
"I feel like we just got back together, there's so much more to do and so many more sounds to explore together," Timberlake told Complex.
While there's no telling exactly when fans might hear more new music from Timberlake - or that possible Drake collab - the singer is set to bring his Man of the Woods Tour stateside in September, and here's hoping he'll incorporate "SoulMate" into his set when he does.