Why Evan Peters Is Playing His Most Chilling 'AHS' Role Yet In 'Cult'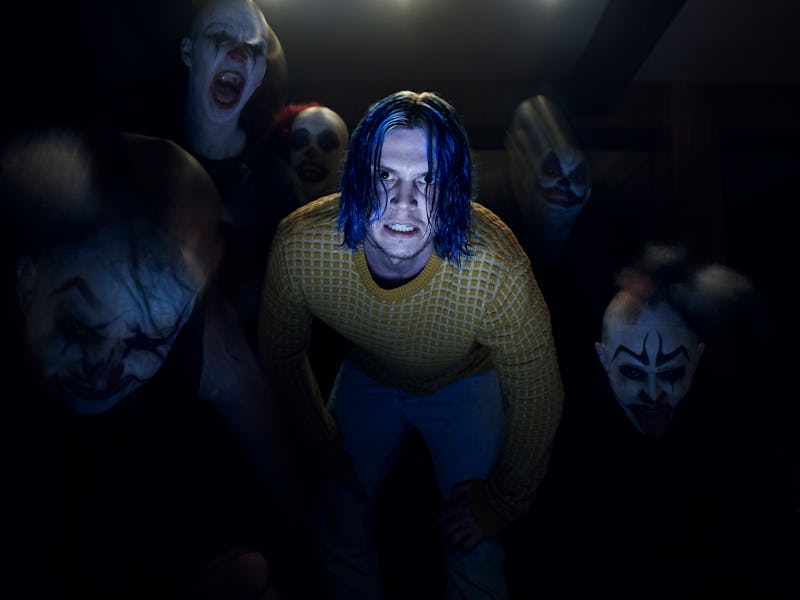 Frank Ockenfels/FX
Evan Peters' latest American Horror Story character may be his scariest yet. In what could easily serve as Peters' season-long audition for The Joker, the actor anchors the new season. Peters' character on AHS: Cult, Kai Anderson, isn't a real person but chances are you feel like you've heard of someone like him before. Maybe you even feel like you've met him. That's because Peters' performance as Kai is a quintessential representation of one of the scariest monster of the 21st century: the angry internet troll.
When crafting the latest season of American Horror Story, Ryan Murphy and his creative team formed an interesting challenge for themselves. American Horror Story: Cult is the first season of the series to feature no supernatural elements whatsoever (or so they say), instead opting to find the terrifying aspects of real life. This, apparently, includes scary murder clown sex cults which, while unlikely, are technically not supernatural.
And the fictional Kai Anderson may feel like an extremely exaggerated version of an enthusiastic Trump supporter, smearing his face in Cheetos dust to celebrate his presidential victory and openly endorsing domestic terrorism at town hall meetings. However, Kai's words aren't far off from the worst that can be found on the internet. AHS: Cult takes that hateful rhetoric and turns it into a flesh and blood figure.
Kai takes the racist, sexist, homophobic, antagonistic language of the worst type of internet troll and infects the real world with it. In the premiere, he attempts to poison his community with fear, encouraging his local town government to prevent the local Jewish center from being protected by police. He leans into his ignorance, refusing to empathize with the plights of others. It might even have been fun and entertaining to watch if it weren't so familiar. And that makes Kai all the more terrifying.
In the wake of Trump's campaign and win, it can feel like the hatred that has been bubbling up on certain dark sections of the internet is no longer concerned with anonymity. Kai seems like someone who would fit right in alongside groups who are intent on "taking back" America from minorities and immigrants. He assaults and insults lesbians on the street, calls for the burning of Jewish buildings, and throws condoms filled with urine at a group of Latinx workers — but why? It seems that Anderson truly hates those groups, but what is the driving force behind his actions?
The truth seems to be that Anderson isn't interested solely in white supremacy, he's interested in Kai supremacy. He is embracing hatred of LGBTQ+ individuals, people of color, and women for the sake of capitalizing on the fear of those in power that embracing equality will lead to them losing their power. In Kai's perspective, fear is the ultimate motivator. He may not be good at anything other than making people angry, but in many ways, the success of Trump's run showed that anger is a very powerful motivator.
Kai is fake, but no-avatar trolls on Twitter, who tweet out violent bigotry are real. The events on that August day in Charlottesville were real. So though Peters' character is not based on any real person, he can be seen as being representative of many. That's what makes him scarier than Tate Langdon, James Patrick March, or any other character that Evan Peters has played on American Horror Story. Kai is a monster unlike anything seen on AHS before, because there are probably people who might just call him "honest." And that thought is scarier than any murderous clown.