Kamala Harris Has A Powerful Message For Survivors Leading Up To The Kavanaugh Vote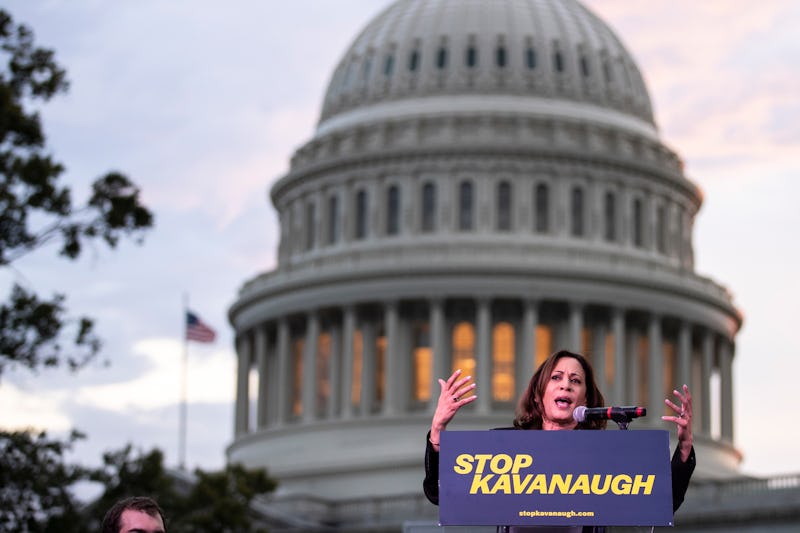 Drew Angerer/Getty Images News/Getty Images
On Friday, Democratic California Sen. Kamala Harris' tweet on the Kavanaugh confirmation process had an uplifting message for sexual assault survivors. Harris has been at the forefront of all hearing and debates about Kavanaugh's nomination to the court because she's a member of the Senate Judiciary Committee, the panel that vets potential federal judicial nominations.
"To all survivors of sexual assault: We hear you. We see you," Harris tweeted on Friday afternoon. "We will give you dignity. Don't let this process bully you into silence."
After Dr. Christine Blasey Ford accused Kavanaugh of attempted sexual assault when they were both teenagers — which Kavanaugh has repeatedly denied — Harris and other Democratic senators have sought to bring more information to light about the accusation.
On Friday, Harris elaborated on her tweet during her speech on the Senate floor, saying the investigation into Ford's allegation should have been more comprehensive to support assault survivors. "This should have been a search for the truth. They should have been allowed to do their full job. But instead the White House did not allow it," Harris said on the Senate floor, according to the San Francisco Chronicle. "This was not a search for the truth. Instead, this was about politics and raw power to push through an unfit nominee."
Harris also criticized the FBI investigation into Kavanaugh.
"There's been a lot of conflation around here about the subject and the need for an investigation into Dr. Ford's allegations," Harris said in her Senate floor speech. "Ours was not a search to determine whether a crime occurred, ours was not a search to determine whether we had enough facts to prove beyond a reasonable doubt that a crime had occurred."
But even before Friday's cloture vote and Saturday's confirmation vote, Harris has been critical of how Senate Republicans and the White House have handled Kavanaugh's nomination. Ford said that Kavanaugh's friend Mark Judge was present at the time of the alleged assault, so Democratic Connecticut Sen. Richard Blumenthal put forth a motion to subpoena Judge. Judge has denied being at such a party. "I have no memory of this alleged incident," Judge said in a letter sent in mid-September via his attorney, according to CNN.
In response to Republicans' refusal to subpoena Judge in September, Harris and other Democrats walked out of the Judiciary meeting in protest. "There are too many questions left," Harris told reporters outside the Judiciary Committee meeting. "That's why I couldn't sit there any longer."
Harris was joined by Sens. Sheldon Whitehouse (Rhode Island), Mazie Hirono (Hawaii), and Blumenthal.
"Hope can't be lost. We can never lose hope. We certainly can never lose the fight. My message to my friends and family of San Francisco is let's just stay vocal, let's stay active, let all of our voices be heard. That's part of the beauty of what happened. Dr. Ford was not going to be suppressed or silenced," Harris told KGO-TV, the San Francisco ABC affiliate. "She had the courage to let her voice be heard. Let her be an inspiration to the rest of us."
If you or someone you know has been sexually assaulted, call the National Sexual Assault Telephone Hotline at 800-656-HOPE (4673) or visit online.rainn.org.
Read More About Brett Kavanaugh's Confirmation
The Reason Supreme Court Justices Serve For Life Is Right In The Constitution
This Is How Your Senator Voted On Brett Kavanaugh
SCOTUS Justices Can Be Impeached, But That Doesn't Mean It'll Happen To Kavanaugh
Opinion: "Believe Women" Means Nothing If You're Not Doing Anything About It