These 'Reputation' Lyrics Sure Sound Like Taylor Swift's Going After Kanye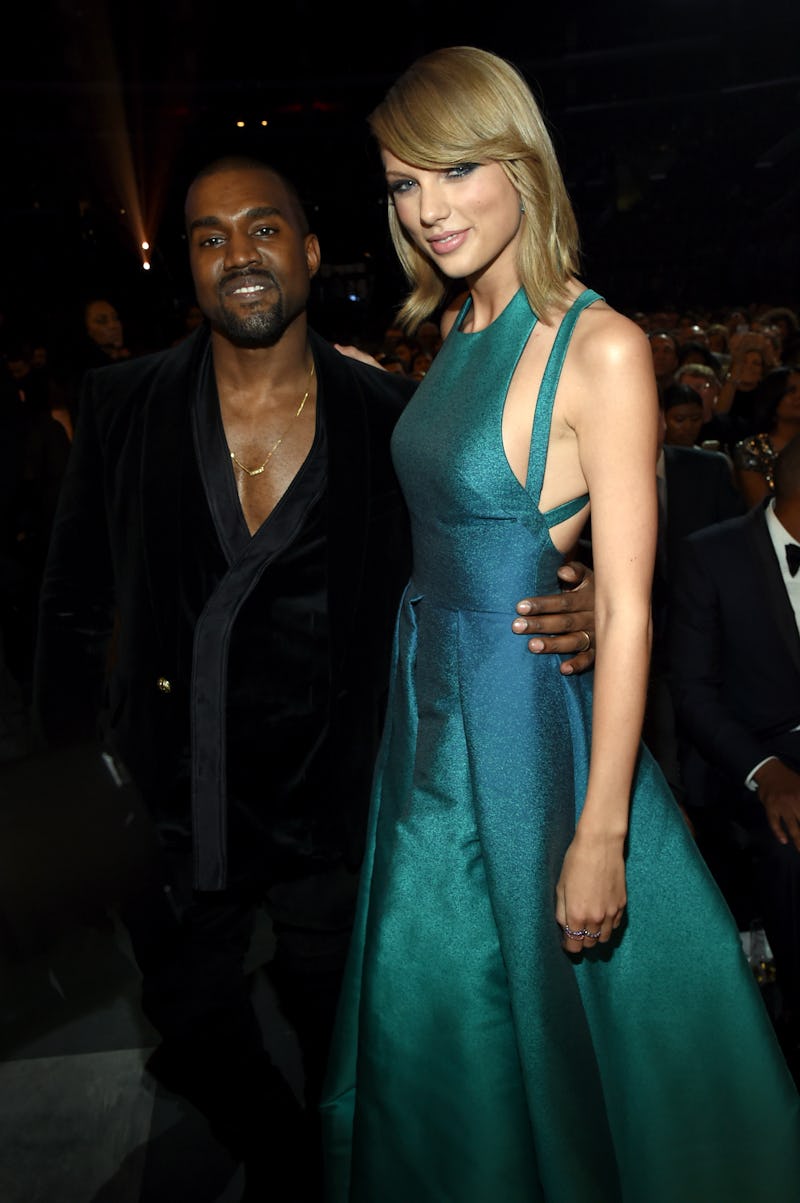 Larry Busacca/Getty Images Entertainment/Getty Images
A new Taylor Swift album is officially here, so let the analysis begin. As soon as the singer's latest music dropped, fans listened for Kanye West lyrics and references on Reputation, scattered throughout the tracklist. Given Swift and West's seemingly never-ending feud, it's not out of the question that she might subtly (or in some cases, not-so-subtly) throw some shade his way. After all, as soon as she released "Look What You Made Me Do," their feud was back in the spotlight.
Of course, like any song, lyrics are open to interpretation. But here are the words that Swift sings that most likely seem directed toward the Life Of Pablo singer, or at least according to the internet. Knowing Swift's history of keeping her lips sealed, there's no way she'd come forward and outright say these songs are about West, or his wife, Kim Kardashian. Yet the clues may be in the context, so you can draw your own conclusions.
Here are all the Reputation lyrics that are raising fans' eyebrows by seemingly being directed at 'Ye. Again, it's all open to interpretation, but see for yourself.
1. "I brought a knife to a gunfight / They took the crown but it's alright / All the liars are calling me one"
This line from "Call It What You Want" could be a dig at the whole West and Swift feud over the song "Famous." In the track, West asserts, "I made that b*tch famous," which led to a whole bunch of back-and-forth over whether Swift gave him permission for the lyric. While she claims she didn't know he'd call her that, Kardashian dropped a Snapchat video in which Swift's heard seemingly approving of the track.
2. "I don't like your little games / Don't like your tilted stage"
"Look What You Made Me Do" appears to reference West, specifically the stage from his Saint Pablo tour. Could it just be a coincidence?
3. "It was so nice being friends again / There I was giving you a second chance / But then you stabbed my back while shaking my hand / And there-in lies the issue / Friends don't try to trick you / Get you on the phone and mind-twist you / And so I took an ax to a mended fence"
In "This Is Why We Can't Have Nice Things," this seems to be a nod to her seemingly making amends with West at the 2015 VMAs, only to have the feud reignite. The "get you on the phone" line definitely sounds like a nod to the whole phone call incident that later blew up in her face, via Kardashian's aforementioned Snapchat.
4. "Ah, and you heard about me / Oh, I got some big enemies"
This lyric from "End Game" is vague enough, but wouldn't West count as a pretty "big" enemy in the industry?
5. "They're burning all the witches, even if you aren't one / They got their pitchforks and proof / Their receipts and reasons / They're burning all the witches, even if you aren't one"
While "I Did Something Bad" may be about an ex (cough, cough, Calvin Harris), these lyrics also sound like they could apply to the whole Kim K dropping receipts on Snapchat about the West "Famous" debacle.
6. "Reputation precedes me, they told you I'm crazy / I swear I don't love the drama, it loves me"
For the record, West never called Swift "crazy," but the whole allusion to drama in "End Game" could be a nod to their ongoing beef. Especially since it's the feud with him that's become a big part of her reputation.
7. "I've got a list of names and yours is in red, underlined"
Given their feud, it would make sense if West's name was among those that Swift has on her metaphorical list that she mentions in "Look What You Made Me Do."
8. "They say I did something bad, ah / Then why's it feel so good? / They say I did something bad, ah / But why's it feel so good?"
This is yet another "End Game" line that could be a reference to West and her receiving the blame in the whole Snapchat video situation. Plus, the title "End Game" does sound somewhat similar to West's "Blame Game" from My Beautiful Dark Twisted Fantasy.
If the lyrics are about West, chances are he'll respond in his own way, in his own time. Just wait and see.