Karamo & Jonathan Had The PERFECT Response To Twitter Wanting Post Malone On 'Queer Eye'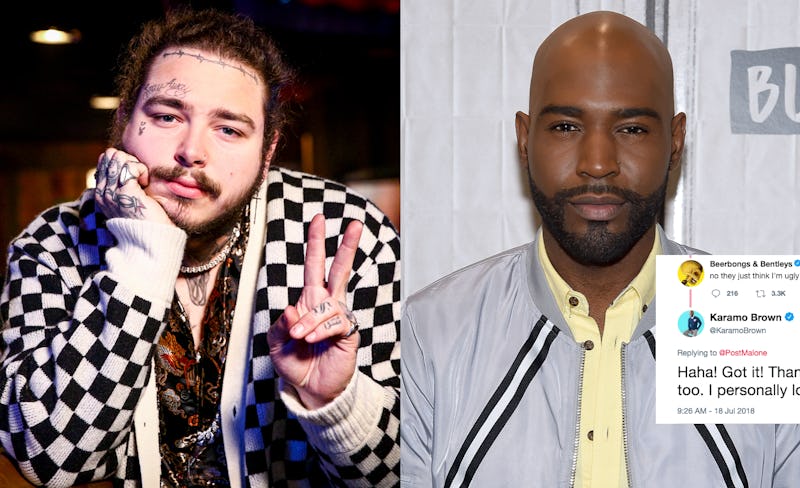 Rich Fury/Getty Images Entertainment/Getty Images; Jamie McCarthy/Getty Images Entertainment/Getty Images; Karamo Brown/Twitter
Queer Eye has two entire seasons worth of episodes that prove that it's so much more than just a makeover show. And the Queer Eye response to the campaign to makeover Post Malone are what the show is all about. Earlier this week, fans started a campaign for Post Malone to be on Queer Eye for a makeover, and the rapper's reaction couldn't be anymore perfect. The whole thing started when, according to People, a now-deleted tweet was directed at Queer Eye's Karamo Brown asking the Fab Five to give the 23-year-old entertainer a style revamp. The query prompted Brown to question: "Lol why does everyone want @PostMalone to be on the show. Did he request it?"
Instead of being offended by the fan's remarks, Post Malone, whose real name is Austin Post, seemed to not take the comments too seriously, jumping into the Twitter exchange to clear things up for the Netflix show's lifestyle expert, replying:
"no they just think I'm ugly and smell lol. love the show tho guys, keep crushing it"
Brown then wrote back, "Haha! Got it! Thanks Man. You Keep killing it too. I personally love you style and music."
The way they handled the situation was truly admirable, particularly in this day and age of social media where throwing shade is a completely commonplace factor.
After both Post and Brown proved that they were true class acts amid the situation, Queer Eye's grooming expert Jonathan Van Ness took to Twitter to address the "key" factor that Post "didn't ask for a makeover."
Complimenting Post's style, Van Ness wrote:
"Also living for @KaramoBrown response on @PostMalone, he cute he handsome & didn't ask for a makeover which is [key emoji]. I love his wavy hair and face tats he's unique & I'm here for it #queereye"
Despite the rapper's conclusion on how fans feel about his look, it seems that some of the requests for Post's makeover weren't meant to be taken as shade. One response from Twitter user @tsusnami shared best wishes for the entertainer writing: "SIR we don't think you ugly we just want you to reach your full potential."
Despite the chatter, there were some who felt that the Texas-based "Rockstar" performer should stay just the way he is.
While other are such big fans that they would just love to see Post appear on the Netflix series.
The friendly Twitter exchange between Post Malone and Brown comes on the heels of Netflix's announcement that Queer Eye had been renewed for a third season. The show, which is a reboot of the Bravo series Queer Eye for the Straight Guy, began filming Season 3 earlier this week, revealing that they would be relocating from the Atlanta, Georgia area, where they filmed the first two seasons, and will now be taking their talents to Kansas City, Missouri, for their 8 episode return to Netflix in 2019.
Brown documented their first day back on Instagram Wednesday, July 18, sharing a group photo of the Fab Five with the caption, "We are so excited to start shooting again!!!! Season 3 baby!!!! @queereye #Fab5"
While the entire cast of Queer Eye always seem to carry positive vibes, it appears that Brown may have a little extra compassion when it comes to the betterment of mankind. In a new interview with LinkedIn, Brown revealed his passion for politics and said that he's thought about running for office in the future. He explained:
"Going from social services to this… but now that I'm in television and I'm succeeding and it, I think my second dream job that I've always played and toyed with is the idea of politics. I love politics and I've always thought about running for office one day."
Although fans may have their own personal thoughts about Post Malone's looks, it's great to see that the rapper and the guys from Queer Eye can agree that him being comfortable in his own skin is all that matters.