Kat Von D's New Everlasting Nude Lippies Are Here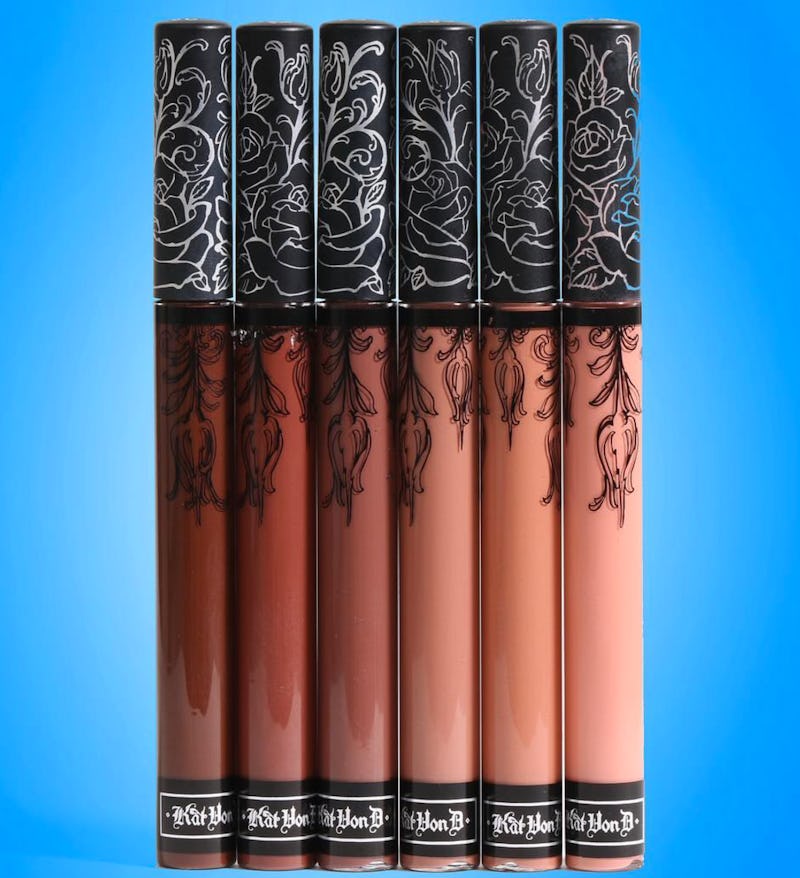 Nude is an attitude, courtesy of Kat Von D and Sephora. As part of the brand's Everlasting Liquid Lipstick expansion, which will include 25 new shades of long-wearing, matte liquid lippies, Kat Von D is introducing several new nudes at Sephora.com on Tuesday, Jan. 24. Along with Sanctuary, a nude sepia shade which dropped early as part of the Everlasting Flashpromo, the new KVD Everlasting nudes include Ophelia, Hawkwind, Crucifix Ludwig, and Muneca. They are all gorgeous in their own way, with a variety of tones and depth.
Since the new Everlasting lippies are launching in staggered fashion and on different dates, let's get all the "nude" info under one roof.
As mentioned, the nudes are dropping via Sephora.com as of today. They will be available at Sephora stores on Thursday, Feb. 2.
Kat Von D Everlasting Liquid Lipstick, $20, Sephora
The KVD Everlasting nude shades will also be available as a bundle and at a discount next month, as well. More details on that are forthcoming.
But for now, proceed to preview the hues. You know, if you don't want to do a bold red lip on Valentine's Day, the KVD nudes are a lovely and statement-making alternative, especially if you don't want to leave red kissmarks everywhere.
Can you choose a favorite?!
This caption runs through the details regarding the KVD Everlasting nudes.
Now you have seen the Everlasting nudes in tubes and on lips.
Dayum! KVD and her team really did work to offer up a variety of nude options. Ludwig remains my fave. What about you?
Oh look! It's a swatch of new (Ludwig, Muneca, and Ophelia) vs. previously existing (Bow N Arrow and Noble) shades.
The KVD Beauty team is making it hard to pick just one.
When Kat Von D revealed all 25 shades on her personal Instagram, she also revealed that a nude bundle was coming.
Here is the caption, which says the nudes will be sold on their own and in a discounted bundle via Sephora in February. That price is TBD.
If you can't wait, pick your fave nude hue now and come back for the bundle next month. KVD Everlastings stay put and won't dry out your lips, making them worth it. Cue the Fifth Harmony song.
Images: Kat Von D Beauty/Instagram (TBD); Kat Von D/Instagram (1)