This Clip Of Kate Middleton Congratulating Meghan & Harry Will Make You Even More Excited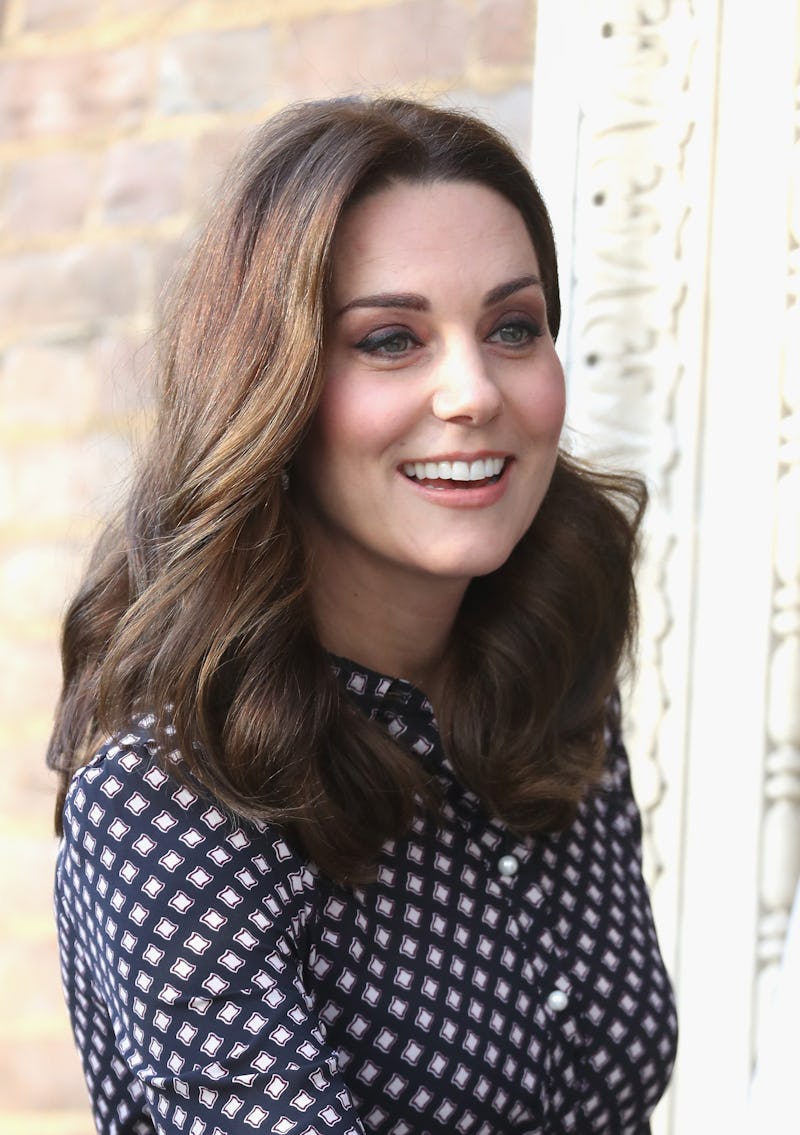 Chris Jackson/Getty Images Entertainment/Getty Images
As a whole, 2017 has been kind of rough in the news department, but on Monday, there was finally a little bit of sunshine when Clarence House announced there's another royal wedding in our near future. And now that Kate Middleton has commented on Prince Harry and Meghan Markle's engagement, it's pretty clear that she's just as excited as the rest of the world is about their impending nuptials. The royal family: They're just like us.
According to People, Middleton was making her first public appearance after the news broke early Tuesday morning at London's Foundling Museum when reporters caught up with her to ask her thoughts on the engagement. Unsurprisingly, Middleton was happy to share how thrilled she is for the couple, gushing about what an exciting time this is for them. If anyone would know about getting engaged to a member of this family and suddenly becoming royalty, it would be her, after all.
She said:
"William and I are absolutely thrilled. It's such exciting news. It's a really happy time for any couple and we wish them all the best and hope they enjoy this happy moment."
Her words were caught on video, too, and of course, she was all smiles as she greeted the reporters and photographers.
It wasn't that long ago that Middleton was in Markle's position, so she's uniquely qualified to know what this time will be like for her and Harry. It's good to hear that she's on their side, because chances are Markle will need some advice from someone who's been there at some point.
This isn't the first time Middleton and William have spoken out about Harry and Markle's engagement. Shortly after the announcement was made on Monday morning, they issued their official statement through the Kensington Palace Twitter account, saying, "We are very excited for Harry and Meghan. It has been wonderful getting to know Meghan and to see how happy she and Harry are together."
After giving her congrats to Harry and Markle in front of the museum, she went inside and learned about the history behind it — it celebrates the UK's first children's charity and first public art gallery — and she took the time to play with kids who were in the nursery at the museum. In the photos that have already made their way to Twitter, it looked like she was having a blast working on art projects with them. Are these kids even aware how cool this memory will be for them as they get older?
And the children aren't the only lucky ones in this situation, either. Get pumped about your brother-in-law's engagement, then go hang out with really cute kids the next day? Middleton's having the ideal week.
All around, it seems like the entire family couldn't be happier about the news. Not only did Markle's parents issue a statement about how excited they are for their daughter, but the Queen did too, even saying that she's "delighted" about the engagement — and if the Queen approves, obviously this union is meant to be.
Now that Middleton is expecting her third child, it seems like he or she will arrive right around the time that Markle and Harry's wedding is supposed to happen in spring 2018, since she's due in April. It's hard to say if this means they'll have another tiny little wedding guest to add to the list, but either way, whatever Middleton's involvement is going to be in their big day, it's definitely something for fans to look forward to.
Hopefully, there are plenty of photos of these future sister-in-laws attending events together on the way. Since they already seem to get along, it's going to be so much fun seeing their friendship grow now that they're becoming part of the same family.