Sorry Haters, Rumours About Kate's Royal Wedding Dress Have Been Shut Down For Good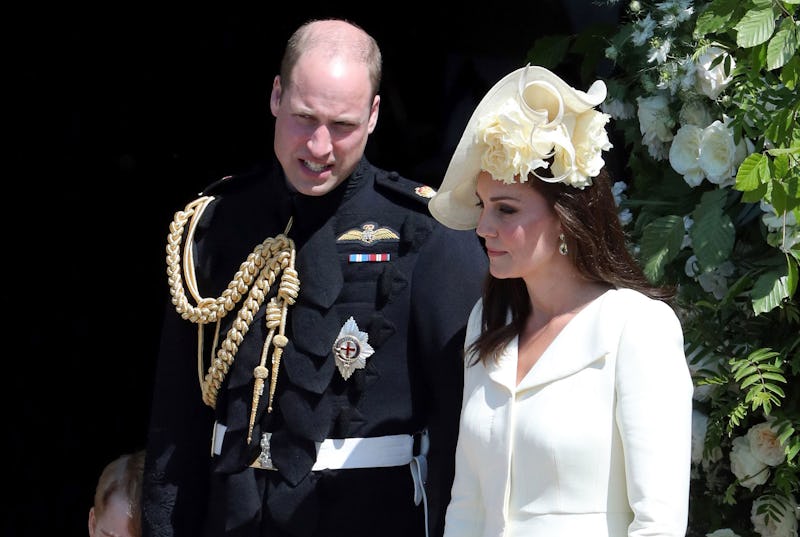 WPA Pool/Getty Images Entertainment/Getty Images
Cast your mind back, if you can, to the wedding of Prince Harry and Meghan Markle. While most headlines that day focused on the bride's gorgeous Givenchy gown, Kate Middleton's royal wedding dress caused a stir too. Why? Because it appeared that the Duchess of Cambridge was wearing a recycled tailored Alexander McQueen coat dress that she'd been spotted in three times before. Cue the conspiracy theories.
At first, some suggested that Kate resorted to a recycled look so not to upstage the bride. Then, more controversially, others thought that she didn't go all out with a brand new look because she didn't take the wedding seriously. Yep, there were actually rumours that the duchess used her wedding outfit as a code snub to Markle and her brother-in-law Prince Harry.
Well, I hate to rain on anyone's parade, but it looks like the gossip was wrong. Reports are now suggesting that Kate wasn't wearing a recycled dress. As reported by Elle, Jessica of @royallyaddicted2 on Instagram, noticed some subtle differences. The 36-year-old had in fact just chosen an outfit that looked very similar to the cream ensemble she had previously worn to Princess Charlotte's christening in 2015, the 2016 Trooping the Colour parade, and on a trip to Belgium in 2017. For Harry and Meghan's big day, Kate's number was definitely a pale yellow hue. The previous design looks to be cream.
As the eagle-eyed royal fan noted, the details on the two outfits are also different. Yes, the neckline, bodice, and sleeves look similar, but Kate's wedding outfit had three buttons hidden on the sleeves. The other McQueen design didn't feature any buttons at all.
The Instagram user, 22-year-old Jessica, noted that this isn't the first time that the Duchess has asked for two similar-looking designs to be created. Kate has previously been seen wearing a Preen cocktail dress in red and black along with a pleated Emilia Wickstead design in both pink and turquoise.
On the day of the royal wedding in Windsor, Kate accessorised her pristine Alexander McQueen dress with an Philip Treacy hat and Jimmy Choo heels. Although the royal looked great and appeared to be in good spirits, the gossip mill began turning almost immediately.
Some people praised the Duchess of Cambridge for allowing the cameras to focus on Markle. "Truly the nicest gesture she could show her now sister-in-law. Absolutely nothing to see here! Focus on the bride!" tweeted fashion journalist Elizabeth Holmes. Another said that Kate having "a go to special occasion dress" just made her "more relatable (if that's even possible)."
However, there were also some negative comments. The Sydney Morning Herald published an opinion piece labelling Kate's wedding look as a "poor choice." In it, writer Melissa Singer said that "buying a new frock for your brother's wedding is the right thing to do" and criticised the Duchess for choosing a colour that was wrongly viewed as white for a wedding.
Other people on Twitter fell into the cream-hued trap, agreeing that no one should wear white to another woman's wedding. "Absolutely furious for Meghan seeing how close Kate's outfit is to being white!!!!!!! Duchess of Cambridge or not she would be THROWN out of my wedding," tweeted one royal wedding watcher.
This conversation was no doubt super frustrating for everyone involved. The Duchess of Cambridge did not wear a white dress to another woman's wedding. She did not recycle an outfit to give the impression that she couldn't care less or didn't approve of the big day. Instead, she chose a simple look that was reminiscent of another; a look that she clearly feels comfortable in. Good for her. Now can we all move on?