Kate Middleton Just Rewore Another Favorite Dress & It's SO Good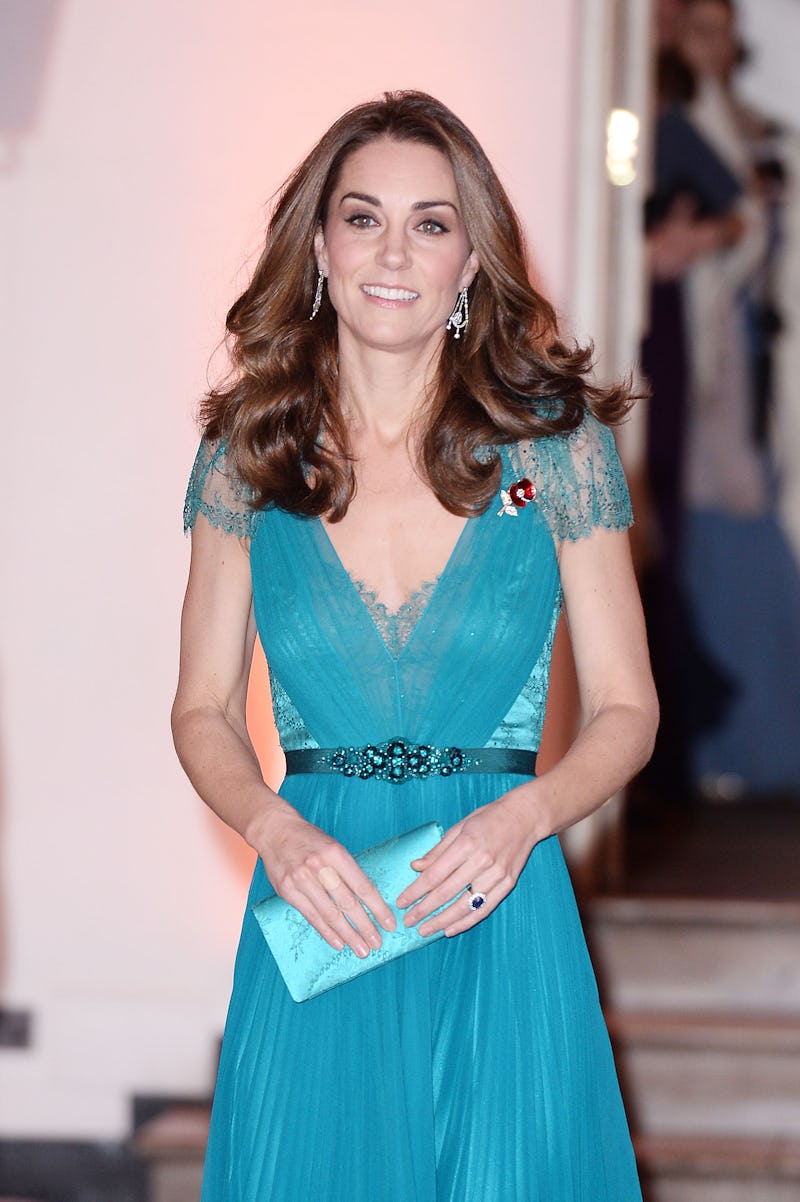 Jeff Spicer/Getty Images Entertainment/Getty Images
Kate Middleton is no stranger to rewearing some of her favorite pieces in her wardrobe. She's done it again. Kate Middleton's Jenny Packham dress at the 2018 Tusk Conservation Awards was actually a rewear from a whopping six years ago according to British Cosmopolitan. Apparently, when Middleton really loves a piece, it's not going anywhere.
The Packham dress makes total sense as one to wear more than once, too. The dress features a classic a-line silhouette with a jeweled belt that cinches the waist and has gorgeous lace detail along the neckline and cap sleeves. Not only is the design a classic that will never go out of style, but the stunning teal color is totally eye-catching. Basically, if you had this dress in your closet (don't we all wish), you'd probably be wearing it again, too.
Middleton paired the dress with a pair of diamond drop earrings and a matching teal clutch that Cosmo reports is actually the same one she wore the first time she wore the gown back in 2012. Of course, she wore her sapphire engagement ring that famously belonged to her husband Prince William's mother, Princess Diana. As for her hair, she kept it down in her signature loose waves that perfectly framed her face.
She looks gorgeous, right?
Turns out that Middleton may just be in a re-wearing Jenny Packham kind of mood. According to Marie Claire, this is the second time this month that Middleton has reworn a Jenny Packham favorite. On Nov. 1, at an event celebrating Armistice Day at the Imperial War Museum, Middleton rewore a classic, navy sheath dress from Packham that she'd worn during a royal visit to Canada. She did, however, make a bit of change to the look.
The first time Middleton wore the dress, it featured a collar at the neckline that made it seem a bit more formal. In the latest version, the collar is removed, and Middleton chose to style her hair differently. Instead of wearing her hair up as she did the first time, her signature waves were back.
Of course, Middleton isn't the only member of the royal family who enjoys a good rewear. Fellow duchess Meghan Markle has also been wearing some of her favorite brands and styles more than once. In fact, during her royal visit to Australia with husband Prince Harry, Markle rewore several items. While Middleton seems to recycle her dresses quite a bit, for Markle, it seems to be shoes.
The Duchess of Sussex rewore multiple pairs of shoes, such as her Sarah Flint pumps, Rothy's flats, and Aquazzura heels while in Australia. Don't think that's all, though. She also rewore both a Stella McCartney dress and an Alexander McQueen blazer. Clearly the two duchesses have some wardrobe favorites, and it turns out they may be more like everyone else than you thought.
If you've ever looked into your closet and thought you had nothing to wear, just think back to Middleton and Markle. Sometimes rewearing a favorite is just as good as wearing something brand new.