Kate Winslet Just Spoke Out About Woody Allen & Fans Are Wishing She Hadn't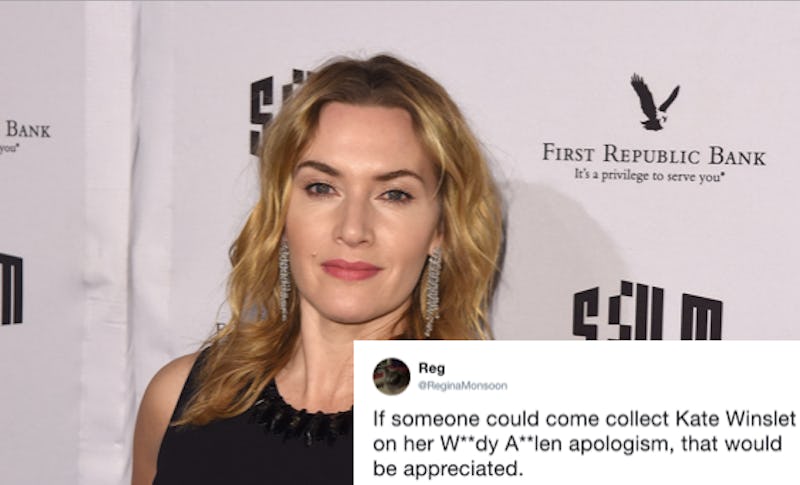 Kate Winslet's latest comments about director Woody Allen are... not great. In a recent interview with the Sydney Morning Herald, The Wonder Wheel star joked that she thinks Allen is "on some level a woman," adding that she believes he writes "such memorable female characters" because "he's very in touch with that side of himself." Given the allegations against Allen that were detailed in a New York Times piece by Dylan Farrow in 2014, this remark reads rather tone-deaf. (Allen has repeatedly denied the allegations.) Understandably, the reactions to Winslet's assessment of Allen have been heated.
Like other actors who have signed on to work with Allen even after the sexual abuse accusations, Winslet's decision to star in Wonder Wheel has raised eyebrows. When the New York Times asked Winslet back in September if the allegations against Allen give her pause, she replied,
"Of course one thinks about it. But at the same time, I didn't know Woody and I don't know anything about that family. As the actor in the film, you just have to step away and say, I don't know anything, really, and whether any of it is true or false. Having thought it all through, you put it to one side and just work with the person. Woody Allen is an incredible director. So is Roman Polanski. I had an extraordinary working experience with both of those men, and that's the truth."
Shortly after this interview was released, Variety asked Winslet about the reaction to her comments on Allen. She told the publication,
"I don't read how people respond to things. We're always as actors going to say the wrong thing. I think it's better to respectfully step away from the discussion."
And when asked about whether or not the allegations against Allen impacted her choice to star in Wonder Wheel, she replied, "Um. It's just a difficult discussion. I'd rather respectfully not enter it today."
It looks like she isn't done praising Allen. In the aforementioned interview with the Sydney Morning Herald, Winslet said,
"I think on some level Woody is a woman. I just think he's very in touch with that side of himself. He understands the female characters he creates exceptionally well. His female characters are always so rich and large and honest in terms of how they're feeling and he just knows how to write dialogue for them to communicate all that."
Winslet's most recent assessment of Allen has got people really, and rightfully, angry.
People Want Her To Stop
Like what, indeed.
They Really, Really Want Her To Stop
Ugh, that excerpt is rough.
It's Not A Good Look
Eesh.
Dylan Farrow's Latest Op-Ed Is So Important
On Thursday, Dec. 7, the Los Angeles Times published an op-ed by Dylan Farrow titled, "Why has the #MeToo revolution spared Woody Allen?" It's an essential, upsetting, and powerful read.
Winslet's Comments Have Been Called Gross
Which, yep.
Winslet's Comments Have Also Been Called Creepy
And yep.
And She's Been Called A Woody Allen Apologist
Come on, Winslet.
Here's An Important Note
As many have pointed out, Winslet has spoken out against Harvey Weinstein, but not Allen.
People Feel Strongly About What She Said
Very strongly.
Her Words Have Not Been Taken Lightly
"Kate Winslet is cancelled" has been a popular reaction.
And Finally, An Important Question
But really.
In Farrow's latest op-ed, she says powerful men like Allen are protected, writing, "In this deliberately created fog, A-list actors agree to appear in Allen's films and journalists tend to avoid the subject." The allegations have not impacted his career; the fog continues to loom overhead. He still has another film starring Selena Gomez and Jude Law slated to hit theaters in 2018. If Winslet's comments prove anything, it's that the conversation about Allen and the claims against him is no where near over.