All The Times Katie Holmes & Jamie Foxx Have Been Spotted Together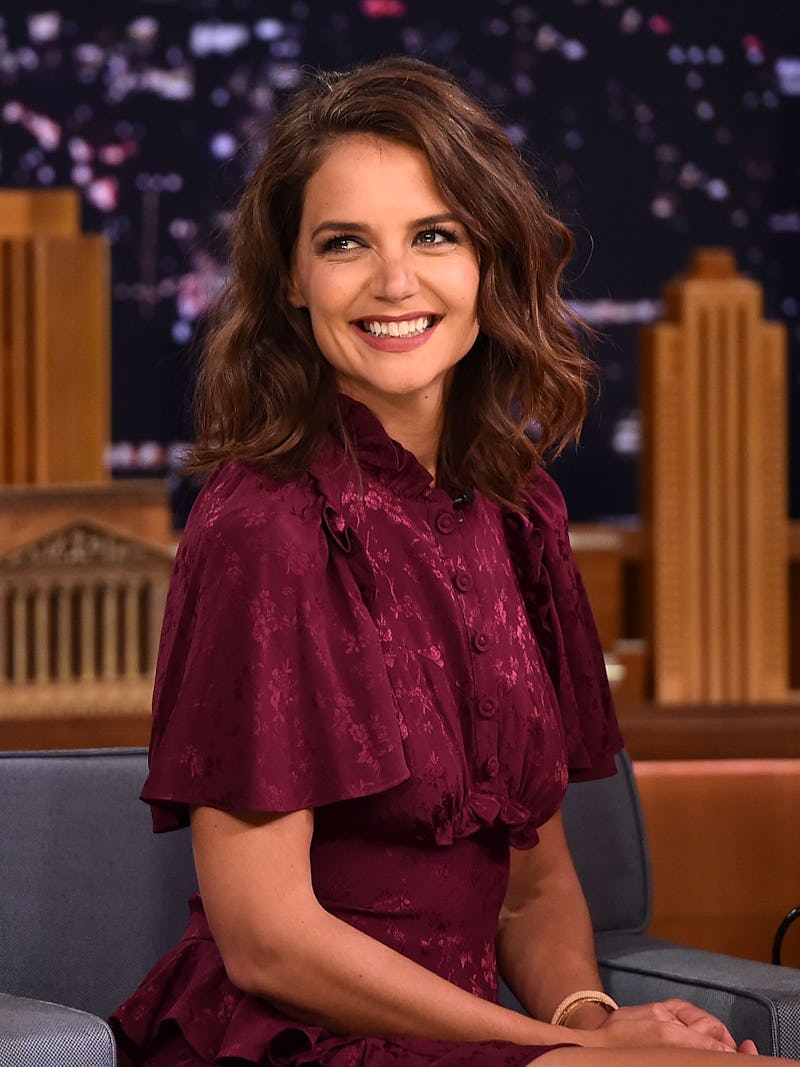 Theo Wargo/Getty Images Entertainment/Getty Images
After years of speculation, actors Katie Holmes and Jamie Foxx have seemingly taken their rumored romance public. In photos recently obtained by TMZ, the two were photographed holding hands on the beach in Malibu, which seems to confirm that they are together. (Bustle has reached out to reps for Holmes and Foxx on the dating rumors and the new photos, but has yet to receive a response.) With these new images, it only seems appropriate to discuss the other times Holmes and Foxx have been "spotted" together.
For the past four years (yes, four years!), rumors have been swirling that these actors are indeed a couple. In March 2015, People reported that several sources had spotted Holmes and Foxx "spending time together for well over a year." If they are dating, they're one of the most secretive celebrity relationships probably ever, and they've done an amazing job at staying out of the public eye and deflecting reports left and right.
After they were first spotted together in 2013 and dating rumors circulated, Foxx told Entertainment Tonight: "[The rumors] are one hundred percent not true. In fact, it's quite hilarious because we simply danced at a charity event along with a lot of other people." Even if they didn't start seeing one another on a romantic level at this point in time, it does seem that something is going on currently.
As for all of the past times they've supposedly spent time together, well, they are bit different than Holmes and Foxx walking hand-in-hand on the beach. Most of the time, the actors aren't even photographed together, but only random reports surface of the two reportedly being seen together — or in the same area as each other. That's right, there's usually was hardly any photographic evidence, and if there was, the images weren't the clearest. Apparently, that's how good they are at avoiding cameras — if that is their intent, of course.
For never being photographed as clearly as they were in Malibu, Holmes and Foxx sure have been "spotted" together a lot.
August 2013: The Charity Event That Started It All
This is when the dating rumors began. At a 2013 charity event benefitting Harlem's Apollo Theater, sources told Us Weekly that Holmes was dancing on stage with both Foxx and Ellen DeGeneres. Apparently, the former Dawson's Creek star was the one who asked both of them to dance. At the time, an insider told Page Six that Holmes and Foxx were "old friends."
February 2014: Super Bowl Weekend
According to a February 2014 report from Page Six, the duo spent time together during the Super Bowl, when the Seattle Seahawks beat the Denver Broncos. A source said, "But he and Holmes also spent time together during Super Bowl weekend, although they attended the game separately."
March 2015: Hand Holding
In March 2015, Us Weekly shared what appears to be the first photo of Holmes and Foxx holding hands. You can see the full image here. This picture was reportedly taken in February of the same year.
December 2016: A Cabo Birthday Celebration
In December 2016, Us Weekly reported that Foxx and Holmes flew to Cabo San Lucas, Mexico to celebrate her 38th birthday. "It was a quick trip in honor of Katie's birthday. It was only them and two pilots on the plane," a source said, before claiming, "They stayed in one of the most private suites at the hotel, separate from other guests and entered by a small path. They wanted to be very discreet and had everything delivered to their room and taken care of by a personal butler."
January 2017: Ringing In The New Year
Apparently, Holmes and the Oscar winner also spent New Year's Eve together on Dec. 31, 2016. As reported by Us Weekly, several sources revealed to the outlet that they celebrated the holiday as a couple in Miami, Florida. They reportedly dined together in South Beach and "an eyewitness" revealed that they were even seen "holding hands while walking near the pool" at the hotel.
April 2017: Eating Dinner In New York
In April, Foxx and the Logan Lucky star were reportedly spotted having dinner together in New York City, as shown in an image shared by celebrity blog Fameolous (via E! News). It's not the best photograph, but that sure looks like Holmes.
May 2017: It's All About The Eiffel Tower
It seems that they may have spent some time in Paris in May, per People. Foxx was reportedly in town filming Robin Hood and Holmes met up with him at a hotel. A source told the E! News, "Jamie wrapped filming on Robin Hood and Katie flew in to Paris to meet him for a few days." The source added, "Tom Cruise was filming Mission Impossible 6 only a few blocks away, but Katie and Jamie stayed inside their hotel... and didn't leave."
June 2017: Less Than A Mile From Each Other
In June, they made headlines for seemingly being in the same area as one another at the same exact time. That's right, they weren't even together, but still made headlines. An eyewitness dished to E! News that Holmes was supposedly seen walking into a Century City Mall parking garage and Foxx was seen outside the Century Plaza Hotel, which are apparently only less than one mile away from each other.
August 2017: Sweets For His Sweet?
In August, the Daily Mail reported that Foxx rolled up to Holmes' Los Angeles home and reportedly brought her "a bag of sweet treats from Menchie's." Per eyewitnesses, Foxx was spotted in his Mercedes SUV heading to Holmes' "multi-million dollar home."
There you have it. Obviously, some of these reports could totally be rumors and who knows if they've really been in a relationship for four years seeing as they've never confirmed anything. That said, now that they have been seen holding hands on the beach, Holmes and Foxx could easily be spotted together more often — if they're choosing to be a lot more open about their personal lives.