Katy Perry's Gets Political In Her Latest Single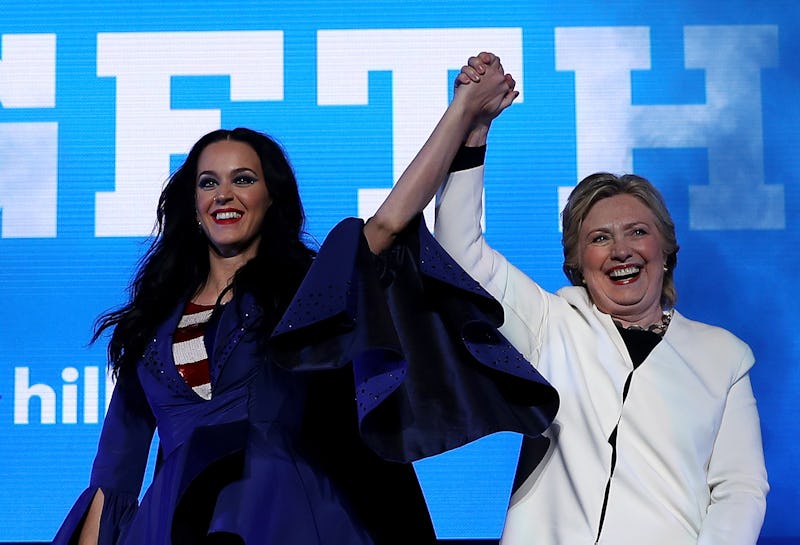 Justin Sullivan/Getty Images
Just in time for her performance at the 2017 Grammys, Katy Perry released "Chained To The Rhythm," a brand new single. On the surface, the song sounds like an ode to dancing filled with all of the bubblegum sweetness that the public has come to expect from Perry. However, once you listen to the "Chained to the Rhythm" lyrics, you'll realize that this pop star is using her new song to be politically subversive.
Knowing that the singer was an incredibly vocal supporter of Hillary Clinton puts the lyrics of "Chained to the Rhythm" into some serious context. On Twitter, Perry herself called the song "purposeful pop," and it's absolutely commentary on life in the time of President Donald Trump. Sure, it sounds like she's simply encouraging you to dance and drink like "Last Friday Night (T.G.I.F.)" or something, but she's actually being critical of the apathetic and escapist nature of humans in these troubling times.
The lyric video released on Feb. 9 with the single also confirms this. Even though Perry frequently releases lyric videos for her singles, the video for "Chained to the Rhythm" takes it up a notch by using imagery to back up the meaning of the lyrics from her and featured artist Skip Marley. (Marley happens to be the grandson of Bob Marley, who was the master of infusing political statements into his catchy songs.)
The use of the hamster mindlessly eating whatever is put in front of him and watching another hamster on TV run on a hamster wheel begs to be compared to Americans falling into the trap of accepting President Trump and his rhetoric on their TVs every day. And even without Mr. Parsons the hamster (who, according to the description on YouTube, was not harmed and only ate hamster-safe food), the lyrics speak for themselves as Perry starts with:
Are we crazy?
Living our lives through a lens
Trapped in our white-picket fence
Like ornaments
So comfortable, we live in a bubble, a bubble
So comfortable, we cannot see the trouble, the trouble
This idea of complacency has been discussed as one of the reasons that Donald Trump was elected president. As Perry was part of the Women's March the day after his inauguration, she has shown that she's going to continue to fight for equal rights for all Americans. This is in contrast to many people who may not agree with Trump's views, but have passively chosen to accept them by not taking action.
Like the first verse, the chorus starts innocently enough, but the meaning changes swiftly:
Turn it up, it's your favorite song
Dance, dance, dance to the distortion
Come on, turn it up, keep it on repeat
Stumbling around like a wasted zombie
Yeah, we think we're free
Drink, this one is on me
We're all chained to the rhythm
Is the distortion Perry is singing about a reference to Kellyanne Conway's infamous alternative facts? Even if the song was written before Conway said that, you get the gist. Later, Perry also sarcastically tells the listener to put rose-colored glasses on and just keep partying.
If her lyrics were too subtle for you, when Marley steps in — singing about liars and greed — there is no doubt in my mind that "Chained to the Rhythm" is about resisting Trump's presidency:
It is my desire
Break down the walls to connect, inspire
Ay, up in your high place, liars
Time is ticking for the empire
The truth they feed is feeble
As so many times before
They greed over the people
They stumbling and fumbling
And we're about to riot
They woke up, they woke up the lions
While Marley uses stronger words than Perry, since he explicitly states, "We're about to riot," don't think for one second that she isn't in full agreement with those lyrics. So, when you find yourself singing and dancing along to the earworm that is "Chained to the Rhythm," know that Perry didn't intend for it to be enjoyed as pure entertainment. "Chained to the Rhythm" is satire and Perry wants you to feel her scorn.