Kazuo Ishiguro's Nobel Prize Has Inspired Twitter Users To Share Their Experiences With His Work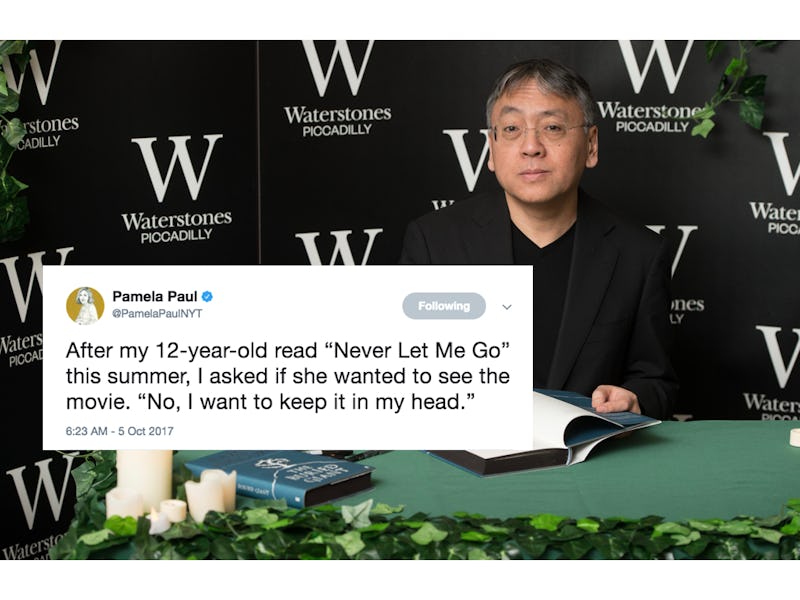 Ian Gavan/Getty Images Entertainment/Getty Images; Pamela Paul/Twitter
British author Kazuo Ishiguro has just been announced as the winner of the Nobel Prize for Literature, one of the book world's most prestigious awards. Which means that the books world is going absolutely crazy on Twitter right now. Last year's decision to give the prestigious award to folk singer Bob Dylan in 2016 was a controversial one, so nobody really knew what to expect this time around. After all, if there's anything readers love, it's drama. The announcement had many glued to their live-streams at 7 a.m. EST to hear the announcement from Sweden.
The Nobel Prize is often a hard one to predict, but last year's unexpected twist opened up the floodgates to some wonderfully bizarre predictions. In fact, many of us weren't even sure the laureate was going to be a writer at all. So hearing Ishiguro's name was almost a sigh of relief to many readers at home, and fans of his are especially psyched to see the author get some well-deserved recognition. Now that we know who the laureate is, we can celebrate his amazing work.
Of course, book Twitter was aflame with predictions, reactions, and tons of fun facts. So, take a look at some of the best tweets in response to this exciting announcement.