Kendall Jenner's New Comments About Stormi Show Just How Special Their Bond Is Already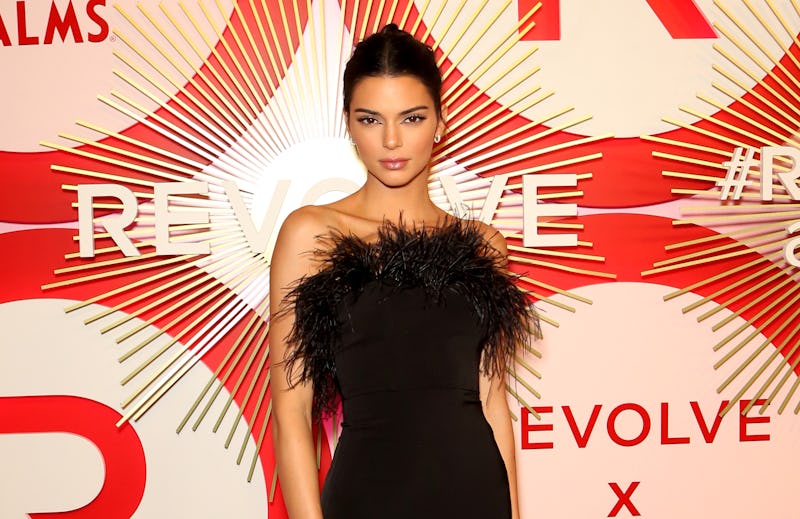 Gabe Ginsberg/Getty Images Entertainment/Getty Images
And the award for most dedicated auntie on the planet goes to: Kendall Jenner, who apparently finds time to bond with her siblings' many children in between catwalk appearances. Any doubts? Kindly refer to Kendall Jenner's new comments about Stormi, as reported by E! News Saturday night, Nov. 10. After reading through them, it sounds like there's a whole lot more to Kendall and Stormi's relationship than the expected aunt and niece bond.
Speaking to E! News on the red carpet at this year's Revolve Awards in Las Vegas over the weekend, Kendall — who took home a trophy for Icon of the Year, as E! noted in its report — gushed about spending time with her adorable little nieces and nephews. Yep, all nine of 'em. "I just love connecting with them," she told the outlet of her siblings' sweet kiddos.
And while it's clear the model has a whole lot of love in her heart for each and every member of the Kar-Jenner clan's youngest generation, she told E! that her relationship with Stormi, Kylie Jenner's daughter, feels particularly special to her. Continuing, Kendell reportedly talked about the "nice bond" she's developed with the 9-month-old, saying,
"I find a very special connection with Stormi."
According to E!, Kendell said the unique closeness she feels to Stormi could be partially due to the fact that "she's my younger sister's daughter." That would make sense, since the rest of the Kar-Jenner kids — just so everyone's on the same page, that's North, Saint, Chicago, Mason, Penelope, Reign, Dream, and True — were each brought into the world by Jenner's older siblings. (Kim, Kourtney, Rob, and Khloé Kardashian, respectively, plus their various significant others.) So, when Stormi was born last February to Jenner's little sis, stepping into this newfangled "auntie" role probably felt especially meaningful to her.
Kendall's latest comments on her and Stormi's relationship echo some similar ones she made to People over the summer during a philanthropy event in Los Angeles last July. "I love all of my nieces and nephews," she told the publication. But, even back then, when Stormi had only been around for a little more than five months or so, Kendell said their "really special connection" was already forming. Chronicling what sounds like a wildly wholesome chill session with her teeny tiny niece, she explained sweetly,
"I was hanging out with [Stormi] the other day at lunch, and we were just sitting, and she was just so comfortable with me. It made me so happy."
Again, that was way back in July, so it's nice to hear that the bond the model spoke about to People is, evidently, still growing between herself and Stormi. And while it definitely doesn't seem like she's picking favorites when it comes to her nieces and nephews (not by any means; check out E! News' report for Kendell's equally sweet comments about hanging out with Kourtney's oldest son, Mason), the fact that she's taking her relationship with her little sister's firstborn so seriously is about as admirable as it is swoon-worthy.
Who else can't wait to watch this adorable auntie-niece connection blossom?