Kendall Jenner Is Trying To Make Von Dutch Hats Cool Again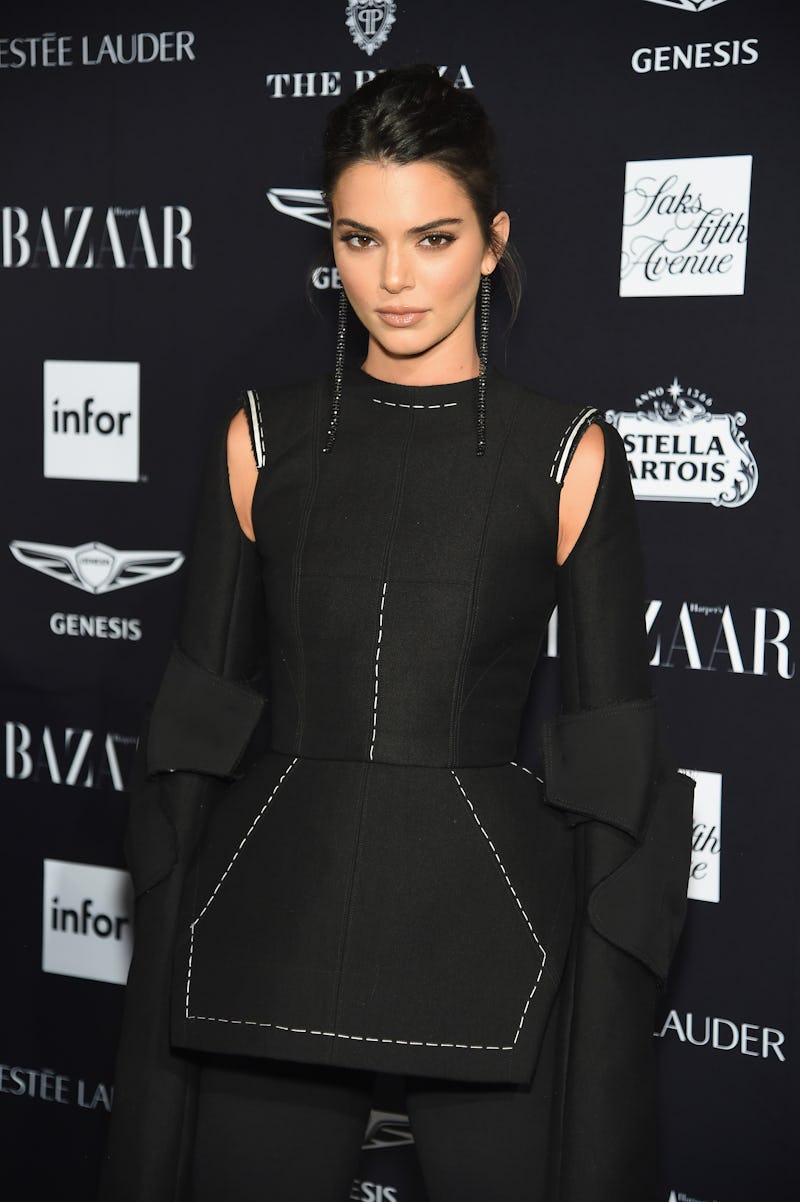 Dimitrios Kambouris/Getty Images Entertainment/Getty Images
An '00s signature style is baaaack — sort of. Kendall Jenner wore a Von Dutch hat to Drake's 2000s-themed birthday bash in Los Angeles earlier this week. It was legit the most '00s thing ever. Jenner rocked a glittery pink trucker hat that nodded to a brand that was absolutely everywhere — like on heads and bodies of Paris Hilton, Britney Spears, Lindsay Lohan, and Nicole Richie, in the aughts.
The trucker cap called attention to Jenner's mega long and extra dramatic black hair extensions. Her hair usually hits at the shoulder. But for the party, she was rocking waist-length locks.
The model was on point with her accessories and it was the ultimate '00s uniform. She paired the Von Dutch cap with a hobo bag tucked under arm and aviator shades. Both were emblematic of the era's fashion and the celebs that dominated the tabloids and nightlife scenes with both their antics and ensembles.
Jenner also rocked a cropped tank top and flared jeans, which were also totally reminiscent of the decade. Hers was a full service '00s costume that was incredibly loyal to the party's theme.
Like many fashion trends and "right now" brands, Von Dutch's popularity eventually waned. Still, there is plenty of nostalgia for the brand and its glamsual accessories.
Jenner served up quite an inspired lewk. She is very much a child of the '00s — having been born in 1995. While she was a bit young when most of these styles were at their apex, she no doubt remembers and felt the influence of the era.
Here's a close up of her super long extensions and her sparkly and sequined hat. It wouldn't the most shocking thing in the world if Jenner had slathered on some Bath & Body Works Cucumber Melon lotion, swiped on a slick of gloss from a Lancome Juicy Tube, and/or spritzed her strands with Victoria Secret Amber Romance before heading out to Drake's fete.
A flip phone, be it the one in her hand or the emoji in the pic, was also a symbol of the '00s. The only thing missing was a Juicy Couture velour track jacket or an Ed Hardy top.
P. Hilton circa 2003 was certainly a source of inspo for Jenner's costume — at least with the shades and bag.
So was Lindsay Lohan during her '00s heyday.
Jenner's little sister and style mogul Kylie Jenner has resurrected the brand — on herself and via her Instagram circa 2016, at least.
Kylie was born in 1997 so she was a bit young to actually experience early '00s fashion. However, she clearly demonstrated reverence for the brand that dominated the decade.
While Jenner modernized the Von Dutch trucker cap with the a super RN athleisure ensemble of a hoodie, leggings, and kicks, one cannot help but wonder if she raided the clothing storage or archives of her big sisters Kim and Khloe Kardashian for that hat.
Kylizzle was all about Von Dutch in 2016.
So were a lot of celebs in the '00s.
Von Dutch certainly enjoyed the celeb spotlight a decade ago. For one night and while at a party, Kendall Jenner staged a Von Dutch comeback and fashion Renaissance. It may have been for a mere moment but it will certainly leave you drunk with nostalgia.