This Kerry Washington Speech Will Motivate You To Keep Fighting & Raising Your Voice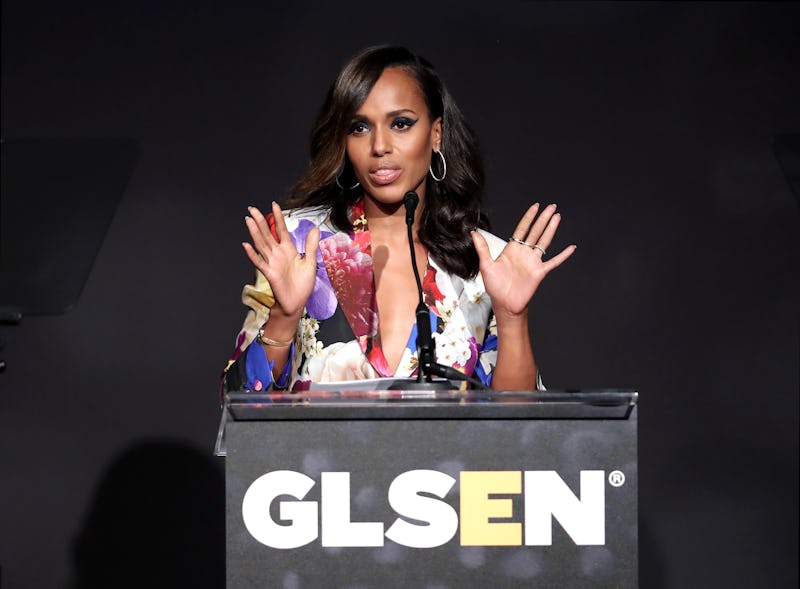 Rich Polk/Getty Images Entertainment/Getty Images
Actor and activist Kerry Washington blasted the Trump administration recently while accepting an award for making an impact on the lives of LGBTQ youth. Speaking to attendees of the 2017 GLSEN Respect Awards, Washington called out the White House's recent efforts to reduce protections for LGBTQ Americans, and offered an encouraging message to millennials, young leaders, and allies of the LGBTQ community. The Scandal star was being honored with the Inspiration Award, according to Entertainment Weekly, and the speech she delivered further proves why the star deserved to win such an award. Washington's motivational words were truly inspiring both to attendees of the event, and to those of us reading about it online.
"Sometimes I feel as if we are living through a horrific dream," Washington said to the crowd during the award ceremony, which took place in Los Angeles on Friday, Oct. 20, the Daily Mail reported. "It is a communal nightmare," she continued. Her powerful statement is one that rings true for so many LGBTQ Americans and allies, who have watched as the Trump administration has taken a very different stance in multiple court cases regarding LGBTQ rights and protections than the Obama administration.
Just a few weeks ago, Attorney General Jeff Sessions reversed an Obama-era decision that prohibited workplace discrimination based on a person's gender identity. It was the latest in a string of moves by the Justice Department that advocates have viewed as an attack on LGBTQ rights. Sessions also reversed federal guidance that protects transgender students, and, as the Los Angeles Times reported, this past summer Sessions made a decision to intervene in a discrimination case by arguing that LGBTQ discrimination is not covered by Title VII of the Civil Rights Act of 1964.
Referencing these kinds of decisions, Washington's speech continued,
"The flames of terror and exclusion are being ignited by some of our most powerful leaders. These people who have been entrusted with the protection of our rights, the rights of all of us, the rights of we the people, have chosen instead to traffic in hate. We've gone from a White House lit in all the colors of pride to a White House that literally preaches division and discrimination."
As the actor noted, while Obama was President, the White House was beautifully lit in rainbow colors to celebrate gay pride, but the Trump administration didn't even acknowledge pride month. "And so sometimes I worry," Washington explained, "because the stakes are high and fear is rampant."
The GLSEN Respect Awards aim to showcase the advocacy work of students, educators, and individuals who have made an impact on the lives of LGBTQ youth, according to JustJared. While speaking to the attendees, Washington also took a moment to encourage the young members of the audience. "You are inspiring that change, in your work," she said. "You are collectively helping our country to become a more perfect union. And not just for some of us, but all of us."
Washington also spoke to the importance of LGBT-friendly school environments, saying,
"The research is clear. By creating school environments that embrace queer inclusivity, understanding, and acceptance, you not only empower LGBTQ students, you help all students. When you ensure the protection of one, you make space for all. You transform your schools into places where everyone belongs — where everyone is free to learn, and where everyone can feel loved."
Washington then reportedly took a moment to address the parents, family, and friends of the students in attendance. "Now, to the grown-up, sexy folks in the room," she joked. "Just because they are so amazing," she said, referring to the students in the audience, "does not mean that we are off the hook. As we take stock of this present moment, and think about how we can contribute to a more perfect union. I think what GLSEN is teaching us is that we must remain strong, and hopeful." Indeed, it is important to stay strong during times when we may feel discouraged.
Singer and actor Zendaya was also a recipient of an award, and spoke to EW about her desire to urge her fellow millennials to "understand the power" of their voices. "To every student that is here," Zendaya reportedly said on stage, "I want you to know that I admire you. This award is really for us. Because we are the game-changers."
In today's current political climate, it's empowering to hear from stars like Washington and Zendaya, who encourage us to use our voices to resist efforts to reverse protections for LGBTQ Americans.