Khloé Acknowledged Those Tristan Cheating Rumors While Putting Haters In Their Place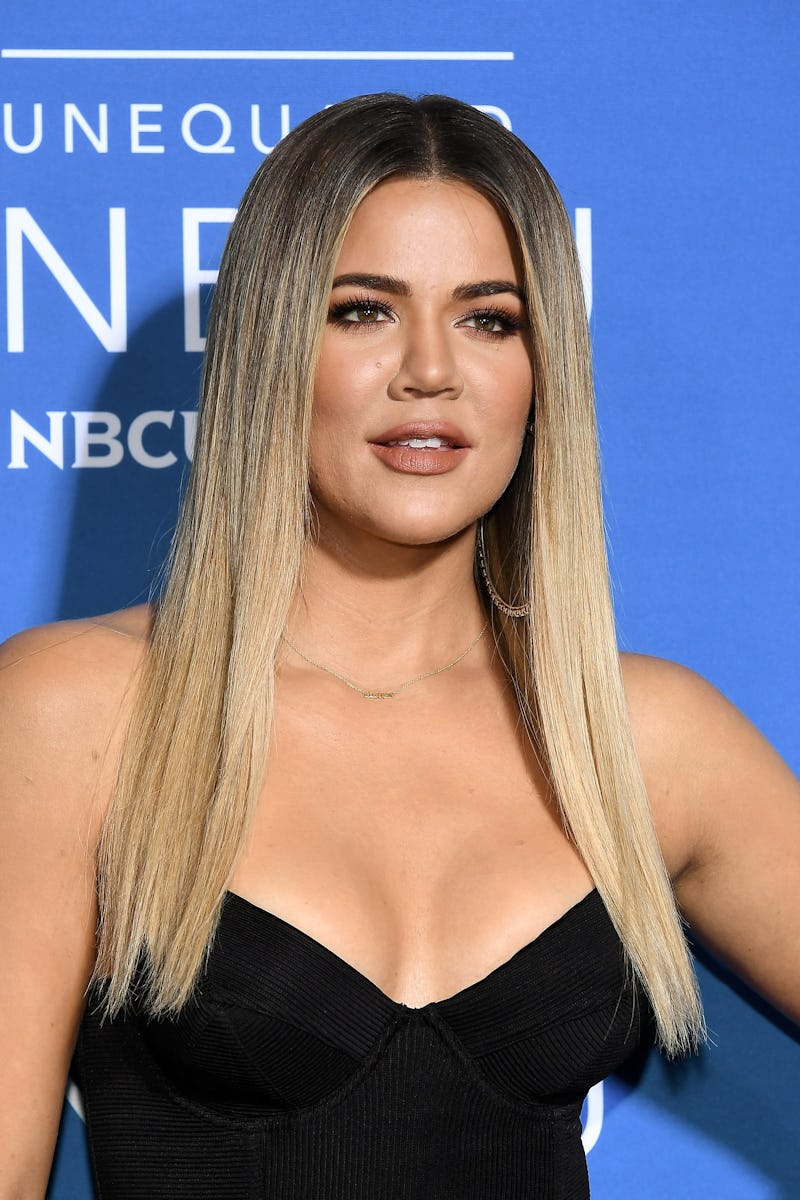 Dia Dipasupil/Getty Images Entertainment/Getty Images
Khloé Kardashian fielded some hurtful comments about her relationship with Tristan Thompson on Instagram on Tuesday. As People pointed out, Khloé acknowledged the Tristan Thompson cheating scandal during an IG exchange when responding to a few fans' assumptions about their relationship. Her words prove the strong-willed supermom is continuing to do what her fans know she does best: rise above the negativity, and dole out some on-point wisdom about the merits of checking your facts and respecting the privacy of others in the process.
The sour exchange between Khloé and two Instagram users was seemingly prompted by a Perez Hilton article published earlier that day with the headline "Khloe Kardashian and Tristan Thompson are reportedly talking MARRIAGE." Apparently, Perez Hilton's IG account tagged Khloé in the post (at least that's what it seems like, based on her comments), and she was pretty upfront about the fact that the story's marriage claims weren't true. "Who makes up this crap you guys post??" she wrote in the comments section.
Unfortunately, Khloé's initial comments on those conceivably false marriage reports spawned a string of replies from IG users who proceeded to grill her about her relationship with Thompson. Trailing Khloé's "crap" comment, one IG user came for her romantic decisions point-blank, calling her "pathetic" and insinuating that she's "become weak over a man." Ugh.
After Khloé reminded the hater not to trust every speculative report they read online, another popped into the post's comments section. "So she's acting like Tristan didn't cheat?" the second user wrote. Replying to that comment, Khloé set the record straight. "I'm not acting as if Tristan didn't cheat," she wrote, seeming to acknowledge the infidelity rumors that began to circulate earlier this year — just days before Khloé gave birth to her first daughter True on April 12 — for the first time.
But as @theshaderoom's Instagram account pointed out in a recent post, it was Khloé's next sentiment that really managed to sum up the crux of the issue at hand here. Ostensibly referencing her earlier comment calling the speculative marriage story "crap," Khloé clarified in her follow-up retort, telling Instagram Hater No. 2 exactly what she meant by that:
"I'm saying the story about marriage and anyone insinuating they know what we speak about privately is 'crap.'"
Because even if the cheating rumors are true, that's still pretty obviously a private matter, and it's neither Khloé nor Thompson's responsibility to share that sort of thing with the public. Given that logic, it seems safe to say it was probably pretty frustrating for Khloé to see a string of posts and comments about the state of hers and Thompson's private relationship — especially because many of them managed to debase her personal choices in the process.
"Not upset by commenters. Not upset by anything," Khloé wrote, wrapping up her exceedingly smart IG retort with some wisdom. "Only pointing out when blogs create stories for you all to believe when it's just simply untrue," her comment finished.
As those who've been following Khloé and Thompson's relationship in the news this year already know, Tuesday night's heated back-and-forth echoes a similar one that cropped up on Twitter back in May. (A little less than two months after rumors of Thompson's alleged infidelity first got started. It's also worth noting that, at this point, neither Khloé nor Thompson had commented on the rumors at all.) Replying to a Twitter user who shared some not-so-nice thoughts about Khloé and the state of her relationship with Thompson, the reality star reminded everyone, once again, about the dangers of making assumptions.
"Assuming anything is anything but wisdom," she wrote back. And that, pretty much in a nutshell, seems to be the most important takeaway here. Regardless of what's actually going on in Khloé and Thompson's private relationship, it seems really critical for fans to keep in mind that theirs is a private relationship, even though they're both public figures.
Just like Khloé said, at the end of the day, it's pretty much impossible for anyone to know anything about hers and Thompson's relationship without hearing it from them first. In lieu of that confirmation, we might as well chock the rest up to hearsay.