Khloe Kardashian's Newest Tweets About The Tristan Thompson Drama Are So Real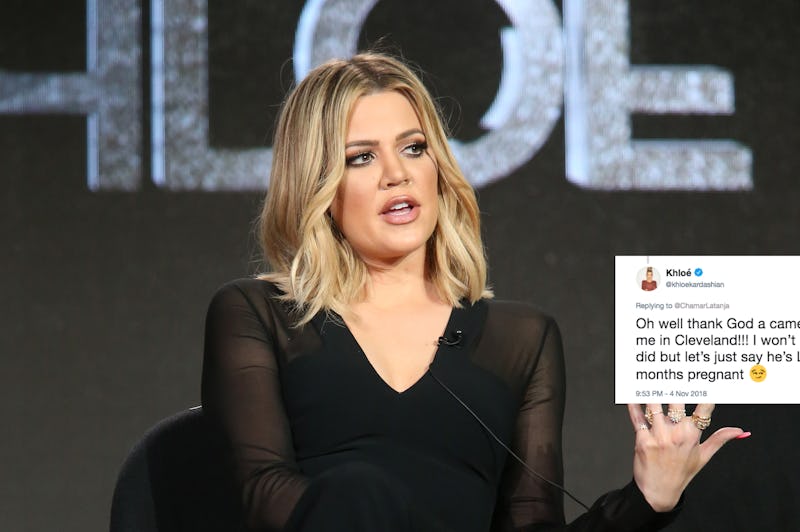 Frederick M. Brown/Getty Images Entertainment/Getty Images; Khloe Kardashian/Twitter
She's been relatively tight-lipped about the very public drama that went down just days before she gave birth to her daughter, but — man, oh man — not anymore. Khloé Kardashian's tweets about Tristan Thompson during Sunday night's episode of Keeping Up With the Kardashians were brutally honest and surprisingly revealing, as People reported. In fact, it might have just been the most honest she's been about the cheating scandal to-date.
So, just in case you need a quick refresher, the long-story-short of it all is that Thompson was allegedly cheating on Khloé right before their first daughter, True Thompson, was born. The news originally surfaced on the afternoon of April 10 — alongside some pretty damning videos via TMZ and the DailyMail. This was just two days before Khloé gave birth on April 12.
Up until yesterday, Khloé hadn't really addressed the scandal head-on in public. Before the November 4 episode of KUWTK aired, however, she shared a lengthy Instagram post, admitting to fans that the episode would be an "uncomfortable and super emotional one" for her to watch. But despite the pain of having to relive that experience, Khloé surprised fans by live-tweeting the episode. And, wow, she sure got a lot off her chest.
The episode depicted the Kardashian-Jenner crew's reactions as they learned of the scandal — well, every save Khloé herself, who was sans-cameras in Cleveland preparing to give birth. In the moments following her family's reactions to the news, one fan tweeted to Khloé, "You're sisters are so logical & supportive! I quite honestly would've had my boots on & actually going to fight, which I know can make the situation worse," she wrote. "It's good that they were calm for you." In response, Khloé revealed, "Oh well thank God a camera was NOT with me in Cleveland!!! I won't put in writing what I did but let's just say he's LUCKY I was9 months pregnant."
Damn. Imaginations were probably running wild with that one. But, wait — there's more. After another fan confessed that she was "trying to remain positive" about the drama in the episode, Khloé replied, "Hahaha baby, I'm about to get pissed again too! Lol you are talking me down."
In yet another tweet, the 34-year-old's feelings got even more raw as she relived the scandal, writing, "Oh my God my heart is racing! So crazy how emotions never die! You may forgive but forgetting is not possible." The realest, right?
One fan, in particular, couldn't quite understand why the family would choose to air all this very personal drama in front of the cameras. After offering their condolences, though, Khloé cleared things up right away. "Thank you love!" she wrote. "I appreciate that! But HE made it public. Not us. So I had to publicly deal with all of this SMH." The tea was hot last night, y'all.
However, it wasn't all fire and brimstone from the new mom's tweets. She also revealed to fans how she handled the situation at the time, and explained why she wanted Thompson there at True's birth — despite his reported infidelities.
In a series of posts, Khloé explained that she wanted True to "have videos and pictures of her daddy there ... I want her to know she is LOVE and my happiness!" Beyond that, the star continued, saying that she "wasn't going to let ANYONE disrupt anything less than what [True] deserved," and that she "chose to be mature" [and] "strong for True."
All these tweets gave fans a real insight into what Khloé was feeling in the days leading up to True's birth, and fans shouldn't expect the realness to end there. Sunday night's episode was just one of two parts that focuses on True's birth and the cheating drama. Next week, Khloé will relive the rest of it — assumedly while live-tweeting — so, hold on to your hats, dolls. It's going to be a bumpy (and hopefully just as revealing) ride.