Why Khloé Kardashian & Tristan Thompson's Cheating Scandal Feels So Weirdly Personal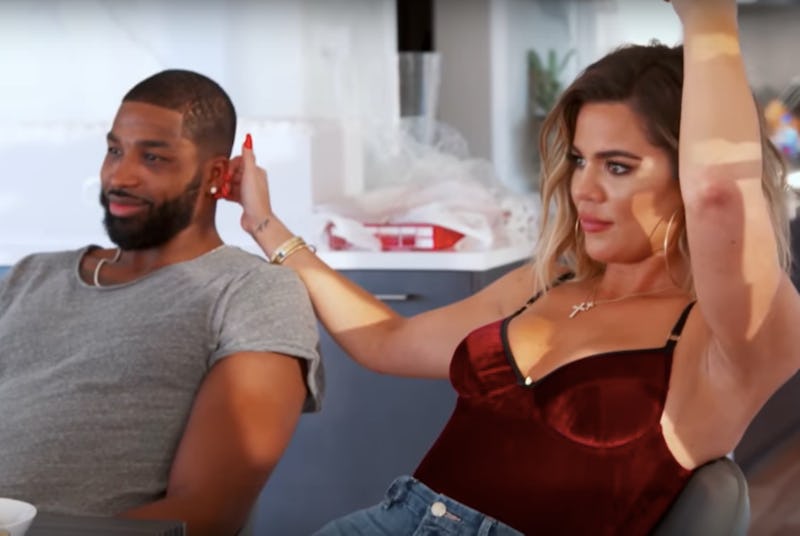 E!
On the afternoon of April 10, a video of Tristan Thompson seemingly cheating with a non-Khloé Kardashian woman surfaced online via the Daily Mail. In the video, a man wearing a hood is seen with a woman at a club and they might be kissing, they might not; it might be Thompson, it might not. At this point, it was easy enough to try and deny that what was being reported was what was actually happening. But when another video surfaced hours later of what appeared to be Thompson, uh, canoodling with two women at a D.C. hookah bar, my feeling was of anger so pure that it made me sick to my stomach. The emotion consumed me in a way it doesn't normally when I react to celebrity news. And I wasn't the only one.
Fans took to Twitter to express their disgust for Thompson — "Good morning to everyone except Tristan Thompson" was a popular one — and his Instagram posts were filled with poop emoji and jokes like "I hope you step on a Lego." And at the Cleveland Cavaliers player's game on the night of April 11, fans reportedly booed from the stands.
But why do we even get distressed about this scandal to the point where we can feel slightly nauseated? Why do we oscillate between aggressive denial and complete and utter rage? We don't even know these people. (At least not in real life.) But the thing with this particular situation is that the details are so terrible, so in-your-face, that they hit harder than any scandal before because of pure empathy.
I had a visceral reaction thinking about the idea that Kardashian heard this news while sitting at home nine months pregnant. (In fact, the reports came out only two days before she ended up giving birth.) There's a very good chance that Kardashian heard the news the same way the rest of us did: online. Recently, the 33-year-old has been in Cleveland, where she shares a home with Thompson, as she waited to go into labor. She could very well have been scrolling through Twitter when she saw the videos like the rest of us did, which is truly heartbreaking. Imagine if Thompson was there with her, or in the next room. What would you do? It's terrifying to think about and so easy to empathize with.
"This was a baby she always wanted," Dr. Kathryn Smerling, a New York City-based Marriage and Family Therapist, says in a statement to Bustle. She suggests that the situation "humiliated" Kardashian and that "fans felt that." She explains, "I think that Khloé Kardashian comes across as sympathetic and a sensitive person, and fans know she doesn't deserve this."
And there are the videos, specifically. The fact that we can see the reported cheating sets this scandal apart from one where we just have accounts from "sources." You can see the man who is supposedly Thompson put his head between a woman's breasts and see her touch him between his legs. Again, imagine watching your own partner do that and knowing the rest of the world was watching too and try not to squirm inside.
The thought of dealing with this — the cheating and the media attention — while knowing she would be birthing a baby at any moment is nauseating for me, someone who, aside from a feeling of connection with Kardashian as fan, is entirely removed from this situation. I put myself in her shoes without even thinking about it and felt like I would want the baby to stay in, just a little longer. Just until things calmed down. It was almost like I could physically feel it. And it's truly because the idea of this situation is that awful. It's the kind of thing that you want to somehow figure out isn't real.
But, of course, there is that element of fandom and connection. That's a huge part of this, too. Those of us who watch Keeping Up With the Kardashians or follow celebrity news do know Kardashian, even if we've never met her. Yes, that act of knowing is partially an illusion; the same illusion people have with any celebrity who they admire, respect, envy, love, or any number of things we feel about celebrities. But when it comes to Kardashian, the feelings we have are not the same as with any other celebrity. Because of her status as not even just a reality TV star, but a reality star who has been on TV for 11 years and who has been incredibly open about her personal life, fans of Kardashian know her far better than we do pretty much any other celeb save her own equally famous siblings.
"When people see a celebrity frequently on TV, not only does the frequency increase familiarity and interest (and often liking), they can develop a sense of connection," says Dr. Pamela Rutledge, the director of the Media Psychology Research Center. "This is called a parasocial relationship. It is amplified by the illusion of reality on reality TV and by the intimacy of social media ... The Kardashians cultivate the kind of ubiquitous media presence that enhances this relationship with fans."
And they're still doing this even during the scandal. While Kardashian and Thompson haven't commented on their new daughter or on the cheating allegations, Kardashian's sisters and mother have posted about the baby and her friend Khadijah Haqq McCray shared an Instagram that was seemingly about the cheating reports. These updates make it even more apparent that fans are living through this whole thing with Kardashian in real time.
Over the past 11 years, fans have learned so much about Kardashian, from her dirty sense of humor to her fierce loyalty to her family. Devastatingly, fans already knew very well how much she craved being a mother someday, and how she felt like Thompson was the perfect person for her to welcome a child with. We knew that she wanted to marry him eventually. We got to watch Thompson interact with her family, and her with his. We knew that he had fathered a child with an ex-girlfriend who had the baby once he was dating Kardashian, but based on what Kardashian told viewers about her own relationship with him, we were also convinced that it probably wasn't a red flag. Maybe this was just one those imperfect situations that happen in life. Reality TV show and professional basketball career aside, these two are still real people, right?
And after spending so many years with her, KUWTK fans know Kardashian better than we know a lot of people in our own lives — certainly better than most co-workers or friends-of-friends. Which is to say, when it turns out that the man who she (and you) believed was the love of her life, seemingly cheated on her multiple times while she was pregnant and the news comes out when she's about to give birth at literally any moment, it gives you a distinct feeling. For me, the following Sex and the City GIF came immediately to mind:
Or as Rutledge explains it: "When Thompson is caught cheating on Khloé, he is offending all Khloé's fans, just as if he were cheating on their best friend or, in some cases, cheating on them personally." She continues, "Cheating on a woman during late-stage pregnancy is a big transgression from a woman's perspective. It violates some very basic relationship needs such as trust and ability to support. It's worse during pregnancy because it calls into question both the partners' commitment and the role of the father as caretaker of the woman and his child."
Smerling takes things a step further and adds another complicated layer to the situation, but one that would surely hit home for many fans. "He didn't do it in a subtle way; he it in a very public way, almost like he wanted to get caught," she says. "In my experience, when people do things like [what Thompson allegedly did] in such a public and obvious way, it indicated to me there is no regards for the relationship."
And as a fan, it really feels like being tricked. We went on this journey with Kardashian, were introduced to Thompson, told he was a good guy, saw him being genial and loving on KUWTK, and then the rug was torn out from under us. The story was supposed to go a certain way, and it was a way that would be the perfect ending for Kardashian and our vision of her.
Even if Kardashian stays with Thompson, for some period of time, things are now totally and suddenly turned upside down. But while it might feel like a bad ending now, the truth of the matter is, this is real life, so this isn't an ending; it's a plot twist. And so, even if we think our feelings of rage will pass, in a few short months, her reality show will revive them yet again.
(Bustle reached out to Kardashian and Thompson for comment regarding the cheating scandal, but did not receive a response.)