Khloé Kardashian's Latest Vacation Photo With True Will Make Your Heart Melt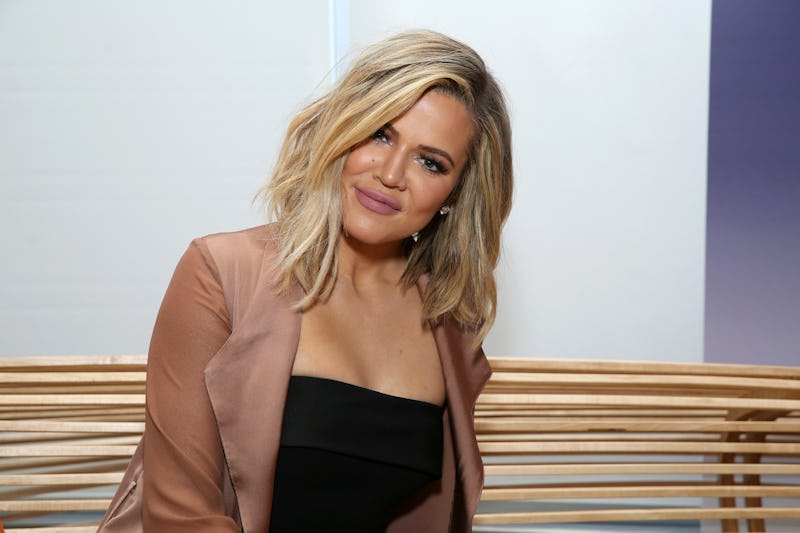 Cindy Ord/Getty Images Entertainment/Getty Images
Life is tough for newborn Kardashian-Jenner kids. Just kidding — they've pretty much got it made. While growing up in the public eye won't always be easy, for now they get to enjoy super cool vacations with their super famous parents. Take, for example, Khloé Kardashian and True's sunset photo from Bali. It's enviously beautiful, of course, but Kardashian's caption also proves that she's not taking these well-earned mommy-daughter moments for granted.
The new mom captioned the Oct. 30 Instagram post,
"In my life, I don't believe I have ever seen a sunset more beautiful than the ones I witnessed in Bali. Black sand beaches that sparkle and cotton candy sunsets. Thankful for the memories baby True and I are creating."
Khloé and her sisters Kim and Kourtney — along with at least some of their kids — have been vacationing in Bali for the last several days. They've all been sharing photos of their family trip, but Khloé's latest snap with baby True is one of the sweetest yet.
Taken on one of Bali's black sand beaches, Kardashian sports a tank top, sweats, and slides. Her daughter is decked out in a neon pink top that kind of perfectly complements the sky. Coincidence? Maybe. Whatever, it's super cute.
Kardashian has definitely been embracing her new life as a mom ever since True was born back in April. She regularly posts pictures of her little girl on social media, and her candid, emotional captions will basically make your heart explode with joy.
In July, Kardashian shared an absolutely adorable photo of True mid-yawn, and wrote, "Mood PS why are rolls soooooo cute on babies?!" Good question. Why *are* they so cute? Don't you just want to squeeze them?
In August, the 34-year-old star posted a picture of True donning a sparkly, star-spangled tiara. The caption read, "You don't know this yet but you're my best friend for all eternity!" Are you dying at all the cuteness yet? Dead? Buried in the ground? Well, just wait — there's more.
There's this adorable pic of True in a head wrap and leopard-speckled bathing suit, which Kardashian captioned with some lyrics — "I've Got Sunshine On A Cloudy Day. Talking About My Girl" —  from The Temptations' song, "My Girl."
And there's this one of True sticking her tongue out, where she wrote "You are my sunshine! My only sunshine." Anyone else sensing a theme? Is True's real name secretly like, Sunny or something?
Then, in what may be the end-all, be-all of precious mommy posts, Kardashian shared a simple snap in October of True sitting up and smiling. The little lady looks lovely in her color-coordinated dress and headband, but it's the caption that will wreck you.
"I probably dreamt about you my entire adult life," Khloé wrote. "You have exceeded every expectation I had of you! This is LOVE."
It's truly almost too much to handle. Pun intended, by the way. In all seriousness, though, it's so incredibly endearing to see the positive impact that True has had on Kardashian's life.