The Reason Khloé Is Letting Tristan In The Delivery Room Is So Mature, Yet Heartbreaking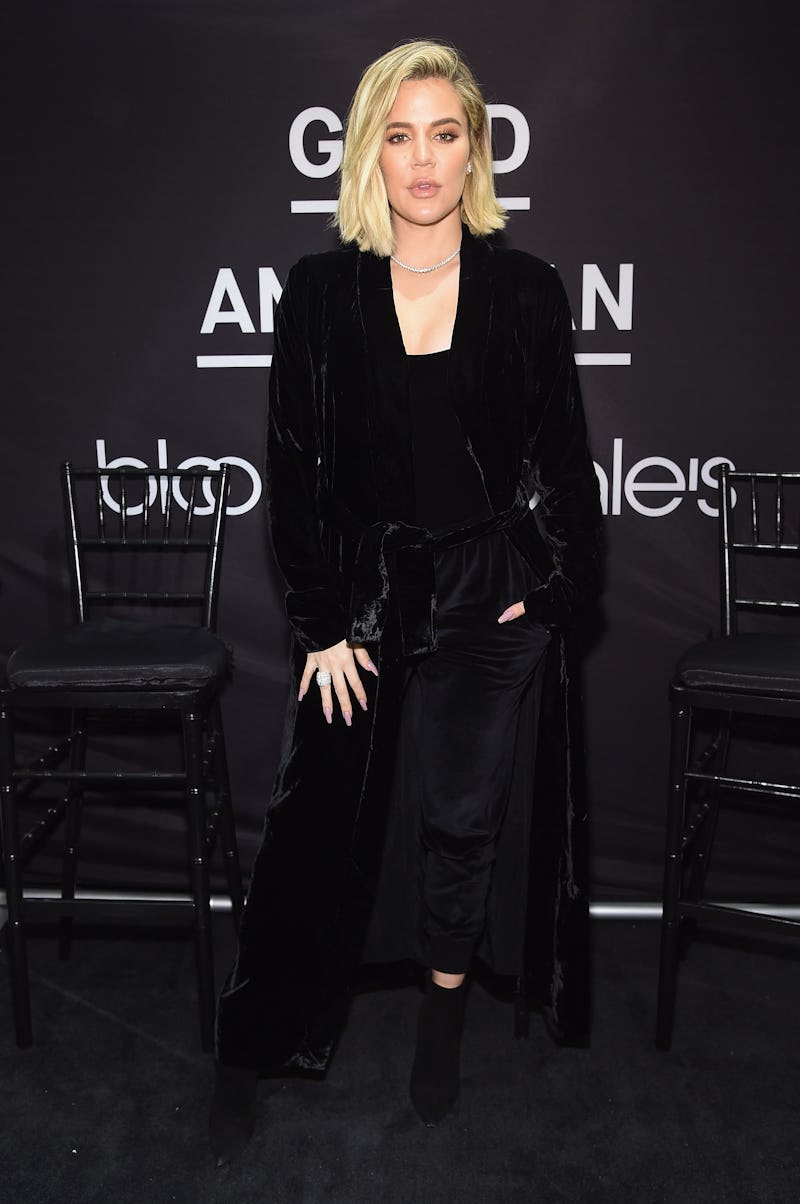 Jamie McCarthy/Getty Images Entertainment/Getty Images
With Khloé Kardashian in the last month of her pregnancy, she could go into labor at any time. And despite the rumors that her boyfriend and the father of her baby has been cheating on her, TMZ reported that Khloé will allow Tristan Thompson in the delivery room. This claim comes from "sources familiar with the situation," not Kardashian herself. But if it is actually true, it's a majorly mature — if not slightly devastating — decision by Khloé. (Bustle reached out to representatives for Khloé and Thompson about the cheating rumors, but did not receive an immediate response.)
Going through labor is stressful enough without intense media scrutiny surrounding your partner's rumored cheating, but this is sadly where Khloé finds herself right now. Yet, TMZ's sources said that she is going to put "her feelings on hold" during her delivery and permit Thompson to be in the room with her. Thompson is already a father since he has a 1-year-old son with his previous girlfriend Jordan Craig. (Thompson and Khloé began dating while Craig was pregnant.) And TMZ is reporting that Khloé doesn't want to take away from the bond between father and child that could form during the birth.
And that rationale isn't wrong. As Dr. William Sears explained in an article on Attachment Parenting International's website, father-baby bonding in the delivery room can impact both parties. Not only does it give the dad the chance to form an attachment with the baby by cradling and comforting them, but research has shown it makes the father more nurturing in return, and this is especially true when they are newborns, Sears pointed out.
Khloé recently wrote on her app that she has been in the delivery room for all of her sisters' deliveries, including Kylie Jenner's recent labor. She obviously thinks being present for the birth of close family members is important. And it makes sense that she would want her baby's father there when she delivers. But it's a rather gracious move if the cheating rumors turn out to be true.
Reports about Thompson's potential infidelity started on April 10 when the U.K.'s Daily Mail released a video of Thompson partying in New York City on April 7. While the footage is unclear, the publication claimed that the NBA player can be seen kissing a woman in a nightclub. TMZ then released a surveillance video from October 2017 that they claim shows Thompson cheating on Khloé with two women at a Washington, D.C. hookah lounge. Minutes after sharing the footage from October, TMZ released another video from Thompson in New York City in April that reportedly shows the woman from the club going back to his hotel room.
As none of the rumors have been confirmed, it's unclear what Thompson and Khloé's relationship status is at the moment. While fans have assumed that Khloé will break up with Thompson, that might not be the case. And then this news that Khloé will allow him to be present for the birth of their child could be no news at all.
Khloé is nine months pregnant, so she wrote on social media that she is unable to fly. (As The Bump notes, air travel isn't normally recommended for pregnant women after 36 weeks.) And People had reported a month ago that Khloé had established herself in Cleveland and would be giving birth there since Thompson plays for the Cleveland Cavaliers. Reports have stated that her family will be traveling to Cleveland for the birth of her baby, so they'll be present just as she was for her sisters.
On April 11, TMZ also reported that Khloé was experiencing early contractions. Yet again, this news wasn't confirmed, but regardless, it's no secret that she is due to give birth sometime soon. After all, on April 9, Khloé posted a photo of her and Thompson kissing with the caption, "We are ready whenever you are little mama," referring to their baby girl. (Khloé unveiled the sex of her baby during a March episode of Keeping Up With The Kardashians.)
Whether they are true or not, these cheating rumors being so prominently featured in the media must be taking its toll on Khloé. But her focus right now should be on giving birth, and no matter if Thompson is in the room or not, Khloé won't be alone since her family will be right by her side as always.