Apparently Khloé Is Rooting For A Kourtney & Scott Reunion, Based On This Intriguing Insta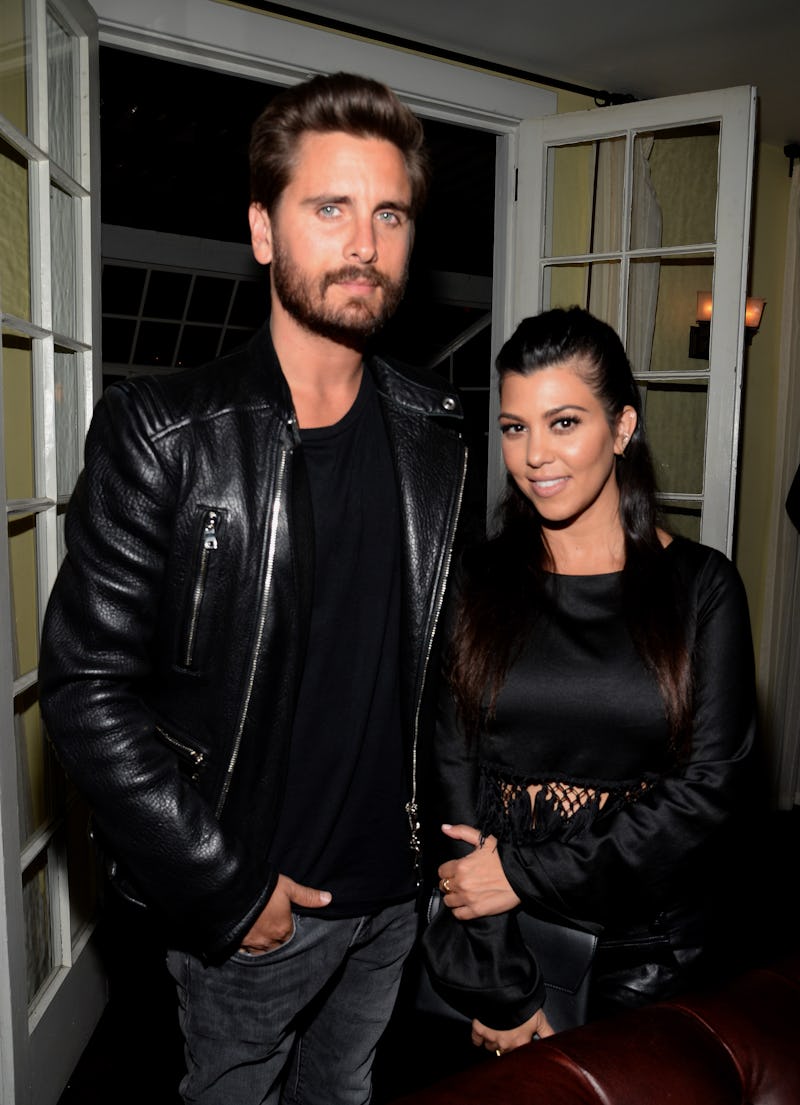 Chris Weeks/Getty Images Entertainment/Getty Images
The Kardashian-Jenner family celebrated Kylie Jenner's 21st birthday on Thursday and with the party came some eye-catching moments, including one featuring Kourtney Kardashian and Scott Disick. For example, Khloé Kardashian took an Instagram of Kourtney and Scott, and well, it may just surprise fans. Believe it or not, but in the Instagram Story video (you can see a screenshot of it below) it seems like Khloé is suggesting she wants Kourtney and Scott to get back together. Say what now?
As shown by Khloé, the Keeping Up With the Kardashians stars sat by each other at dinner. Khloé also captioned her Instagram, "A girl can dream." Hmm... what is she trying to say? Does this mean the reality star wants her sister to get back with Scott? Kim Kardashian also took a video of Kourtney and Scott and said on her Instagram Story, "Oh, just like an old married couple on your phones!"
Of course, Khloé could be totally teasing about the fact that Scott and Kourtney used to be a couple and are now sitting by each other at Kylie's birthday dinner. Plus, there are reports that Kourtney is recently single, so Khloé could just be having some fun. There's no doubt the Revenge Body host has a good sense of humor.
On Aug. 7, TMZ reported Kourtney and Younes Bendjima had broken up after nearly two years together. At the time of the report, TMZ also shared photos of Bendjima with another woman in Mexico, which the publication described as "rebound pics." The site also reported Kourtney was responsible for them splitting. (Bustle previously reached out to Kourtney's agent for comment regarding the split, but did not receive an immediate response.)
Bendjima took to his Instagram Story shortly after breakup rumors surfaced and defended the photo with the woman. In response to a Daily Mail article claiming that the model was rebounding with the woman in the photos, he wrote, "They really want me to be the bad guy. F*ck your Hollywood bullsh*t (can't have friends no more." He also said in a separate post, "I'm not attached to this 'life' so you can't touch me. I know who I am where I'm from and where I'm going and that bothers you." It appears Kim and Khloé even responded to Bendjima's comments and defended their sister.
Now that Kourtney is reportedly single, many might want her back with Scott. However, Scott is definitely still with Sofia Richie. Plus, a source told Us Weekly, "Nothing with Scott is rumored or even remotely on the horizon at all, so while people will inevitably try to spin it and say he'll try and get back with her, they aren't going to." The source added, "Scott will always love and be there for Kourtney and is just happy that they are on good terms for the sake of their kids. He has Sofia and doesn't want to be bothered with any drama."
An insider also told People about Kourtney's thoughts on rekindling a romance with Scott, "This is not going to happen. Kourtney will never get back with Scott."
In July 2015, Kourtney and Scott split after nine years together. Since then, she's made it clear he will forever be family, especially for the sake of their three children, Mason, Penelope, and Reign. In August, Kourtney told People, "I think Scott will always be family, and so we really try to have a good relationship for the kids."
It really doesn't seem like Kourtney and Scott will be getting back together anytime soon. As for Khloé's Instagram, she really could be joking. Really, it's just nice that the former couple can be in the same room and celebrate Kylie, someone they both love.