Dream & Khloé Kardashian Hanging Out Is So Cute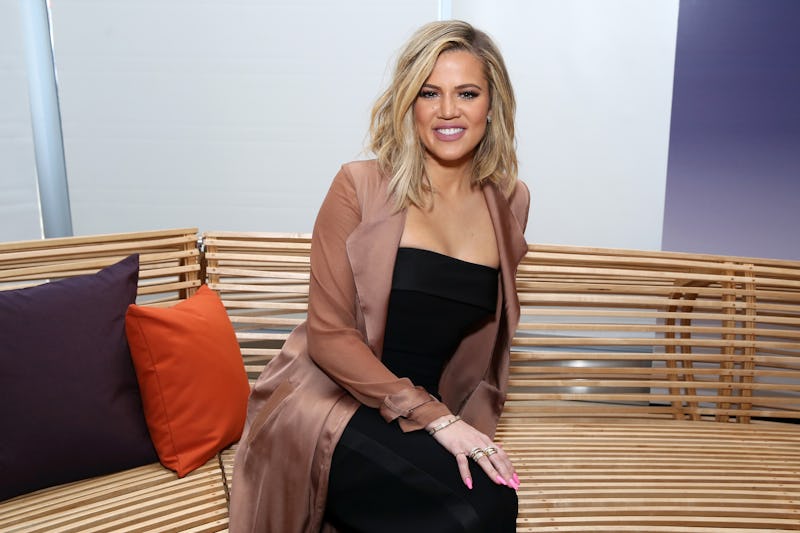 Cindy Ord/Getty Images Entertainment/Getty Images
When it comes to Rob Kardashian's relationship with Blac Chyna, it's fair to say that there's been some drama. In particular, as seen on their shows, the Kardashian sisters took a while to warm up to the idea of their little brother's new bae. As complicated family dynamics go, the Kardashians win every competition hands down. But, in a new photo posted to Instagram, Khloé Kardashian is holding Dream, Chyna and Rob's baby, and it already looks as if she's the best aunt ever. All dressed in red sportswear, with Kylie Jenner looking on, it seems more than possible that baby Dream's beautiful presence has started to repair frayed relationships.
It's hardly surprising that the Kardashians have found it difficult to process their brother's new girlfriend. After all, Rob's fiancée, Chyna, already has a son from her previous relationship with Tyga, who is now dating Jenner. And before Tyga started dating the youngest sister, Kim Kardashian was good friends with Chyna, but not anymore. Needless to say, Chyna's presence caused some ructions in the family, but the arrival of baby Dream may have changed all of that. Judging by the baby's incredible smile, and how comfortable she is with two of her aunts, it's clear that she is totally loved by the whole family.
Khloé kept her Instagram post simple, with the photo's caption saying "Dream", with a heart eyes emoji next to the baby's name.
It'd be hard to stay mad at anybody with Dream Kardashian's smile in the room, so hopefully the Kardashians have totally made amends with Chyna, and she's now part of the fam.