Khloé's Pictures Of True & Penelope's Cousin Moment Are Absolutely Adorable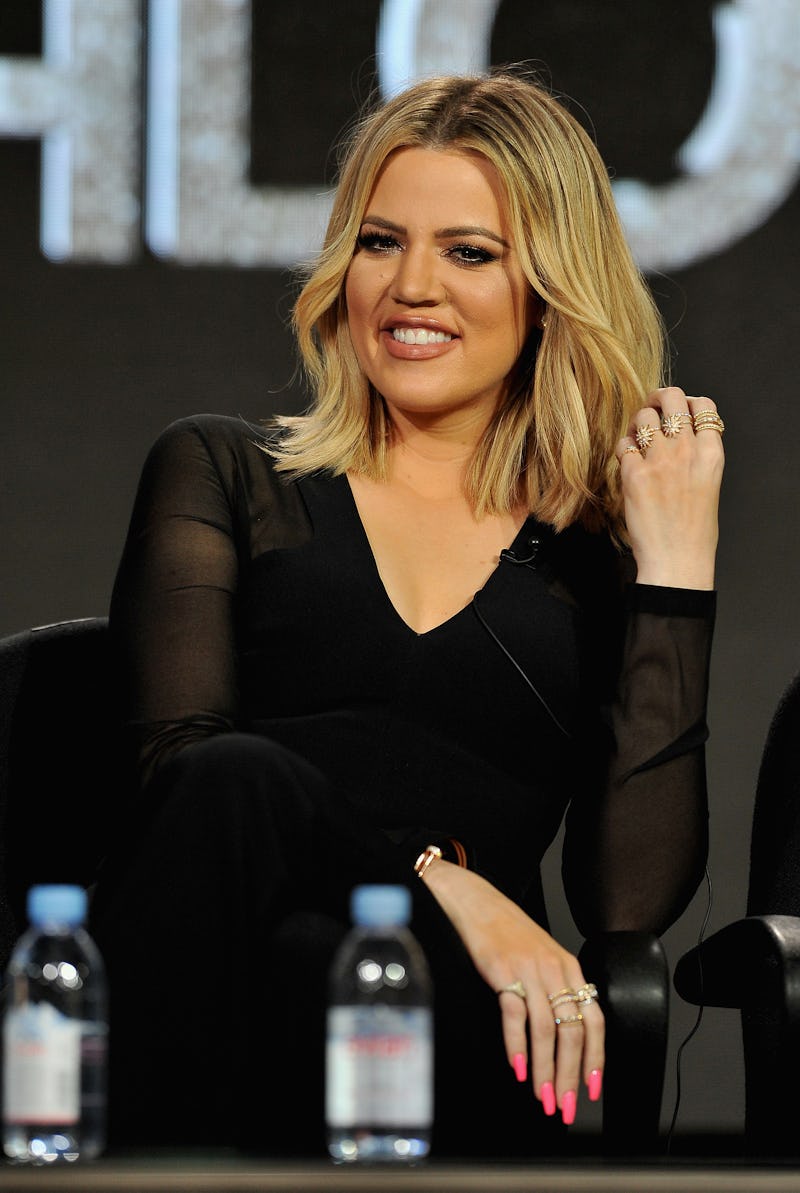 Jerod Harris/Getty Images Entertainment/Getty Images
It's a moment Khloé Kardashian has been waiting for. On Wednesday, Khloé shared photos of True and Penelope having a cute cousin moment. Thankfully, the reality star was nice enough to share the images on Instagram with her followers. Believe it or not, but the pictures of the cousins are more adorable than you could've imagined. They show Kourtney Kardashian and Scott Disick's daughter taking photos of her baby cousin, who's totally content and loving the mini-photoshoot. Clearly, True is already embracing part of the Kardashian-Jenner lifestyle.
Next to the photos, Khloé gushed,
"These are the moments I've been waiting for!!! [three heart eyes emojis] how blessed am I?!?! P is an incredible photographer! And True is a very good baby model lol (she sort of had no choice)."
Ever since the Kardashian-Jenner sisters have become mothers, they've made sure their children have maintained a strong connection, just like Khloé, Kourtney, Kim Kardashian, Kylie Jenner, and Kendall Jenner have over the years. Even North and Penelope are best friends.
One day, True, Stormi, and Chicago, who were all born in the same year, will also probably be super close. There's a good chance the already famous babies will also look up to their older cousins as role models one day. Heck, Penelope and True are already bonding.
Making sure True spent more time with her cousins was one of the reasons Khloé was happy to move back home to Los Angeles after spending awhile in Cleveland, Ohio before and after True's birth.
On July 10, Entertainment Tonight reported the Keeping Up With the Kardashians star wrote on her app, "I'm over the moon about being home! Of course, I missed my actual house immensely while I was in Cleveland — there's nothing like enjoying your own home." She continued, "I'm most excited about being so close to my family," Khloé further explained. "Getting the kids together and having True do all of her classes with her cousins is a great feeling!"
Kim was also excited for Khloé's move back. She told Access Hollywood in June, "It's very good to have Khloé back. I feel kind of bad. They came in town on Sunday, and the whole family — we spaced it out so she wouldn't be too overwhelmed. First it was Kourtney and all of her kids, then me and all of my kids, then my mom, Kylie. It was just like, everyone was just coming over to see the baby and wanting to introduce my kids to their new little cousin. So it was really good to see her and have her back."
The family also already had a "cousin photo shoot." Kim first discussed the photo shoot with Entertainment Tonight on June 5. "Me and Kylie and Khloé are planning like one of those kids photoshoots," she said. On July 1, a fan asked Khloé on Twitter, "When are we going to see pictures of True, Stormi, and Chi??" To that, Khloé replied, "We had a cousin photo shoot TODAY!!!! It was the CUTEST."
However, fans might never see those cousin photos. On July 30, after a fan asked Kim when they would reveal the pictures, she tweeted, "It was just a private shoot for us to have memories. I don't think we will be posting. I will discuss with my sisters."
Maybe one day Kim, Khloé, and Kylie will be kind enough to share the photos taken of Chicago, Stormi, and True. If not, fans should just be happy that they even post photos of their children with the world, including ones featuring cute cousin moments.