Kim Kardashian & Beyoncé May Have Finally Squashed Those Feud Rumors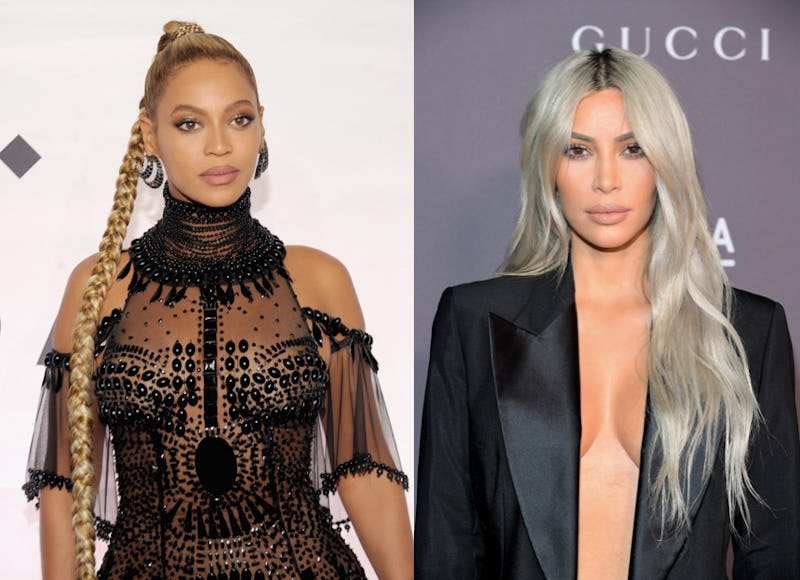 Brad Barket/Getty Images Entertainment/Getty Images; Charley Gallay/Getty Images Entertainment/Getty Images
As much we all probably hate to admit it, there's nothing like a celebrity feud to bring the internet together for some entertainment — except when two of your favorite celebs are rumored to hate each other. It can be hard to think about your faves not getting along, but the news of Kim Kardashian and Beyoncé hanging out at Serena Williams' wedding might be enough to squash those pesky rumors about their rocky relationship once and for all. According to TMZ, these two were "more than cordial" and even "exchanged hellos, hugged and showed off some pics of their kids in the VIP section."
Williams married Reddit co-founder Alexis Ohanian in a ceremony fit for a queen on Thursday in New Orleans. The romantic affair was attended by a ton of celebrity guests including Kardashian and Beyoncé who, according to E! News, came face-to-face with each other at the event. Onlookers claim that Beyoncé and Kardashian "were standing at the VIP bar together, ordering a glass of champagne before celebrating the bride." It's obviously not clear what the two chatted about at the bar, if they chatted at all, but hopefully the news of them coming face-to-face can put any rumors of a feud to rest.
Beyoncé and Kardashian obviously aren't the best of friends, but fans have suspected that there has been bad blood between them since Kardashian began a relationship with Kanye West in 2012. Most of their suspicions have been come from rumors of them attending events but not making efforts to talk to each other. Some people also questioned the status of their "friendship" when they were both seen sitting in the same row at the 2012 BET Awards, but were being separated by their husbands. (Although, that could simply be because the ceremony came right on the heels of West and JAY-Z's Watch The Throne tour, and the rappers were just enjoying being chummy with each other.)
One major thing that has fans of both celebrities the most convinced that there's a rivalry is that the Carters were no-shows at Kardashian's extravagant wedding to West in 2014. Of course, these are all rumors, and neither Beyoncé nor Kardashian has ever spoken about their relationship with each other or these rumored incidents.
But people will still believe what they want to believe about the situation.
Williams' wedding was the first time the two famous ladies have been seen in public together since West very publicly slammed both JAY-Z and Beyoncé last year at one of his final concerts before canceling the remainder of his Saint Pablo Tour. The rapper was performing in Sacramento when he went on a 30-minute tangent about the famous power couple.
"I'mma keep it real with you. Beyoncé — I was hurt… because I heard that you said you wouldn't perform unless you won Video of the Year over me and over 'Hotline Bling,'" he said, referencing the 2016 MTV VMAs. "In my opinion — now don't go dissing Beyoncé, she's great. Taylor Swift is great. We are all great people. We are all equal — but sometimes we be playing the politics too much and forget who we are just to win." He even addressed JAY-Z, saying, "JAY-Z, call me, bruh. You still ain't called me... Talk to me like a man." The rant reportedly ended with West dropping the mic and storming off stage.
The incident happened almost a year ago, and none of the parties involved have addressed it publicly yet. Still, that situation definitely didn't help put those Bey and Kim K feud rumors to bed, and a lot of people are still assuming that there's some bad blood — despite the fact that they both looked perfectly happy at the wedding.
Oh, the drama. There's a big chance that people could just be making a big deal out of nothing, since there's no rule stating that Beyoncé and Kardashian have to be BFFs just because their husbands recorded an album and went on tour together once. Whether they're besties who secretly brunch with each other every Sunday, or acquaintances who only speak to each other on occasion, hopefully we'll soon get rid of this narrative that two of the most powerful women in pop culture are enemies.